Happy Monday!
Dear Fellow Republicans,
We wanted to provide you with a roundup of everything you might have missed from North Dakota's great Republican leaders this past week. Please share with family and friends!
Perrie Schafer, NDGOP Chairman
Photo of the Week
Last week, Lieutenant Governor Tammy Miller met members of the Mandan Girl Scout Troop 87058 at the State Capitol.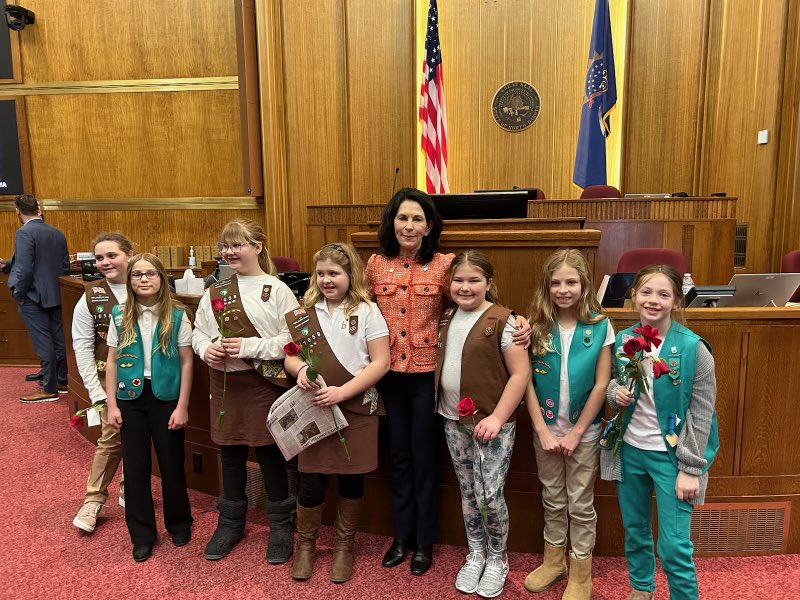 RNC
Great visual from the RNC about our checked out Commander-in-Chief: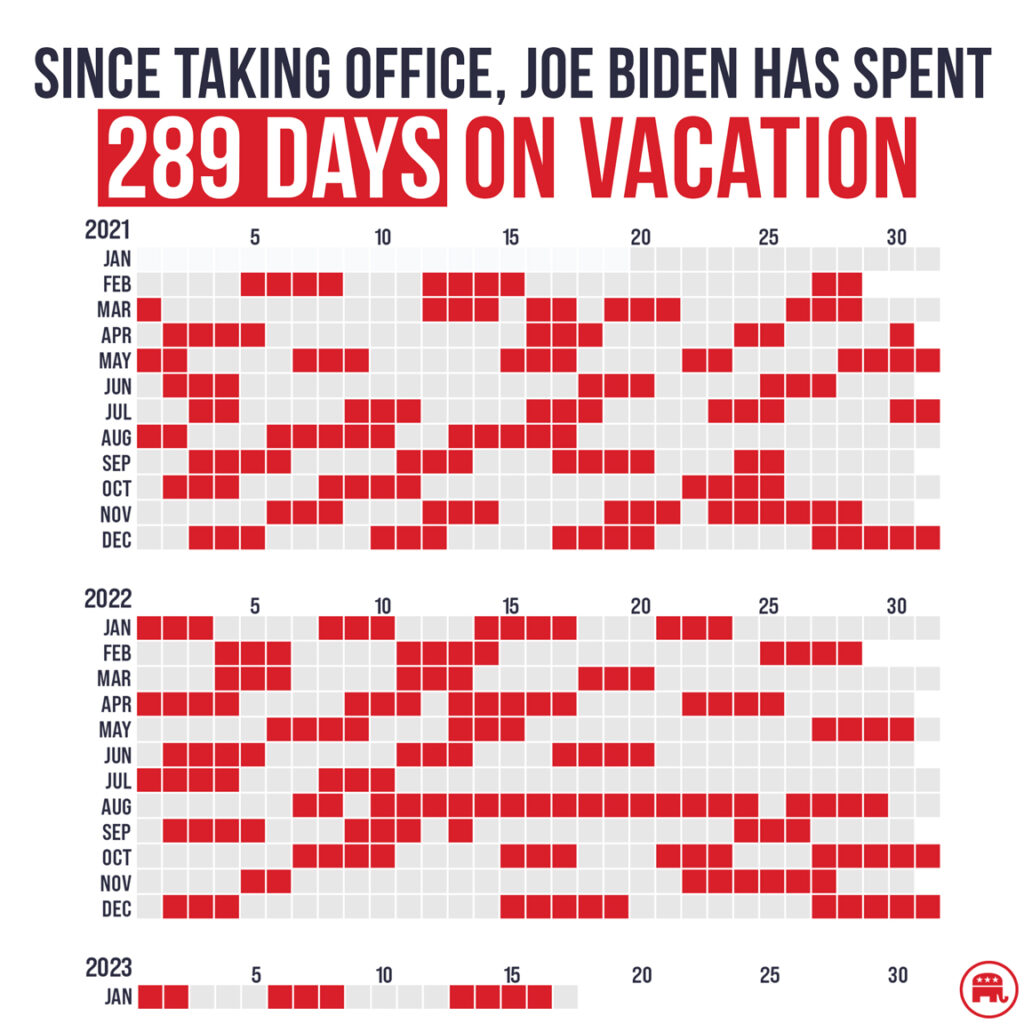 NDGOP
Check out chairman Perrie Schafer's address to North Dakota Young Republicans!
ND 68th Legislative Session
North Dakota
New Lt. Gov. Tammy Miller good for business across state, say eastern North Dakota business leaders
Grand Forks Herald
Brian Johnson, CEO of Choice Bank and a co-chair of the Valley Prosperity Partnership, said he and others in the VPP — a group of business and community leaders with a goal of pursuing economic opportunity to benefit the Red River Valley — are excited about Miller's appointment. "We're grateful for the former lieutenant governor's service to the state and certainly believe Tammy, through her qualifications and being in the Burgum administration here the last couple of years, is well prepared to have a firm grasp on the issues for the state of North Dakota as a whole," he said.
Burgum, Hoeven, Goehring Disappointed with Final WOTUS Rule
NewsDakota
"After North Dakota led the fight against the Obama administration's misguided WOTUS rule, it's disappointing that the Biden administration is doubling down on this overreaching policy," Burgum said. "The EPA's reworked version of WOTUS has the same problems as its predecessor, violating landowner rights and creating confusion for farmers, ranchers and industry by adding red tape and erroneously classifying almost every stream, pond and wetland as a federally managed water. The result will be higher costs for food, fuel and other consumer goods with no substantial benefit to the environment. North Dakota has some of the cleanest water in the nation, and this proposed rule threatens our state's legitimate authority to protect our own waters from pollution. It's a prime example of federal overreach that ought to be withdrawn, or at least delayed until the U.S. Supreme Court issues a decision in the Sackett v. EPA case related to Clean Water Act jurisdiction. We look forward to supporting North Dakota's attorney general in challenging this new rule." Agriculture Commissioner Doug Goehring said, "I am disappointed that this administration is taking a step backward, which will infringe on our state's sovereignty and will federalize almost all of North Dakota's water. North Dakota prides itself on the effective management of its waters for its citizens. I will work to protect the unique interests of North Dakota's landowners, farmers, ranchers and other stakeholders in opposing this rule and the regulatory uncertainty it creates."
Vision Zero at five years
The Williston Herald
"The past five years have reinforced that personal responsibility is a key element in the success of Vision Zero. When we are all moving toward the same goal of zero fatalities by wearing a seat belt, driving distraction-free and following all traffic safety laws, lives are saved," said Gov. Doug Burgum. "We're deeply grateful to our state agencies and all stakeholders who have partnered with us to make our roads safer in North Dakota."
AG bans Nevada company from sales in North Dakota
The Bismarck Tribune
The state Consumer Protection Division began investigating the business after getting a complaint from an elderly customer who said she paid $844 for a product she thought would treat macular degeneration. The woman said she never received the product, and Nu Life said the transaction was for cosmetic makeup. Nu Life refused to refund the woman's money, and also refused to cooperate with the division's investigation, Wrigley said.
North Dakota's state tax return season begins January 23, the same as the federal startKX News
"The start of the tax season varies each year," Kroshus said. "However, like many states, North Dakota opens filing season in conjunction with the IRS." Kroshus added his office is prepared for another substantial tax season. Last year, the state tax office processed over 474,000 North Dakota individual income tax returns, most of them online. "In 2022, 92 percent of North Dakotans filed their individual income tax returns electronically. We continue to encourage taxpayers to e-file, as it is the fastest and most secure way," said Kroshus. "Filing electronically can improve taxpayers refund process through security, accuracy and timeliness."
Washington, D.C.
Fufeng national security issue continues to raise concerns
Minot Daily News
Senators John Hoeven and Kevin Cramer, both R-ND, have expressed their concern prior to and after the CFIS review, and we think rightly so, that the project has security concerns due to its proximity to Grand Forks AFB.
Sen. Cramer received Life Protector Award
The Williston Herald
U.S. Senator Kevin Cramer (R-ND) received the Life Protector Award from the North Dakota Right to Life (NDRL) and issued the following statement: "Thank you for the honor of this award and your commitment to advancing the work it represents. It was wonderful to be in the company of individuals so dedicated to being voices for the voiceless, and I look forward to supporting efforts to protect life in the 118th Congress."
Debt Ceiling Stalemate
KFYR-TV
The federal government has found themselves between a rock and a hard place. They have reached the debt ceiling and only have until June to either negotiate to increase the debt ceiling or let the county default on loans, which has never happened. Representative Kelly Armstrong says, there will need to be give and take to reach a deal. "Everybody needs to recognize that the Democrats don't control all three branches of government anymore, and they're going to have to negotiate with Republicans," said Rep. Kelly Armstrong.
Backpay for soldiers discharged refusing vaccine?
KX News
"We negotiated that those requirements are no longer needed in order to serve, which is really important. Particularly because we have a readiness issue, we have a recruitment issue. That was the first step. The second step is ensuring that, as we learn more and more about this and how this works, we have to do whatever we can to treat those people fairly. At the same time, recognizing that the military chain of command is really really important in force readiness. So, it's going to be up to congress to have those hearings, figure out what the appropriate way forward is, and get people whole again that really should have never been penalized in the first place," said Representative Kelly Armstrong.
Hoeven readies agenda for next Farm Bill
The Ripon Advance
"This year, Congress will begin writing a new Farm Bill, and we're working to ensure North Dakota's farmers and ranchers have a voice in that process, resulting in strong farm policy that our producers can rely upon," Sen. Hoeven said. The senator also plans to address supply chain constraints to ensure producers have access to reliable transportation services, including rail and ocean carriers, according to his staff. "Producers need to be able to get their products to market," said Sen. Hoeven. "The delays we've experienced in both rail and ocean carrier service represented a real challenge for our farmers and agri-businesses." In response, he said the subcommittee members will continue pressing the Surface Transportation Board and railways "to ensure reliable rail service continues for North Dakota's shippers."
Burgum, Hoeven, Goehring Disappointed with Final WOTUS Rule
NewsDakota
"The Biden administration's new WOTUS definition is a costly federal overreach that we cannot afford," said Hoeven. "President Biden continues to push America down the wrong path with higher taxes and burdensome regulations that will stifle needed energy development and only make inflation worse. We should instead take a states-first approach to protecting our land and waters that respects private property rights and will help reduce costs across the economy, including for our agriculture and energy producers."
Hoeven Addresses North Dakota Grain Dealers Association
NewsDakota
"This year, Congress will begin writing a new Farm Bill, and we're working to ensure North Dakota's farmers and ranchers have a voice in that process, resulting in strong farm policy that our producers can rely upon," said Hoeven. "At the same time, producers need to be able to get their products to market. The delays we've experienced in both rail and ocean carrier service represented a real challenge for our farmers and agri-businesses. That's why we sponsored and passed our Ocean Shipping Reform Act to help this nation's exporters, while also pressing the Surface Transportation Board and railways to ensure reliable rail service continues for North Dakota's shippers."