Dear Fellow Republicans,
We wanted to provide you with a roundup of everything you might have missed from North Dakota's great Republican leaders this past week. Please share with family and friends!
Sandra Sanford, NDGOP Chairwoman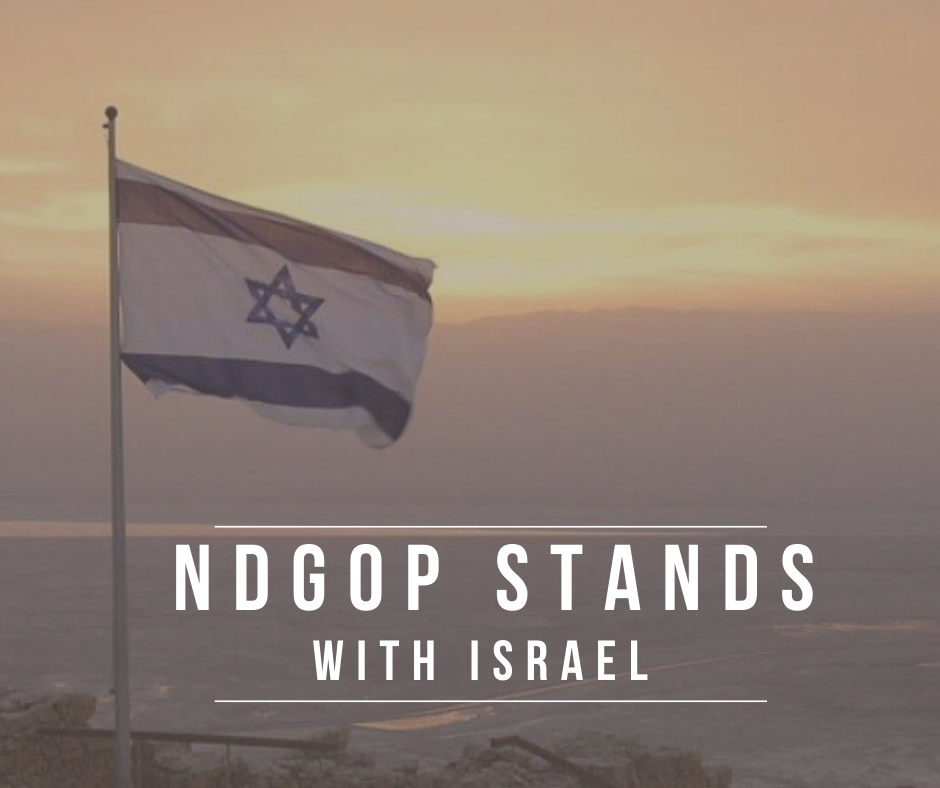 WE STAND WITH ISRAEL
Governor Doug Burgum: "Iran and its terror sponsors in Gaza are showing the world their true face: pure evil. Israel is at war with brutal terrorists and the United States must provide maximum support to our democratic ally. Our prayers go up for the all the victims of these horrific attacks. We also must remember who pays for this terrorism: Iran. An Iran that is billions of dollars wealthier thanks to Joe Biden."
Senator John Hoeven: "We condemn this horrific attack by Hamas against Israel and offer our condolences and prayers to all of the victims. We stand with our ally and remain committed to supporting Israel as it defends itself. Further, we must hold Iran accountable for its sponsorship of Hamas and other terrorist organizations. It is imperative that we contain Iran and put the greatest pressure possible on the regime to cease its efforts to destabilize its neighbors and spread violence."
Senator Kevin Cramer: "Today is a sad day, and I pray for all the victims of this unprovoked and senseless terrorist attack on Israel. I stand with our ally in the face of this naked aggression by Iran and its pawn, Hamas, and condemn these terrorist acts. The United States must unequivocally support Israel's right to defend itself from brutal terrorists and those who support their immoral actions."
---
North Dakota
Biden has been 'pouring gas' on the border crisis since taking office: Gov. Doug Burgum
2024 Republican presidential candidate Doug Burgum, discusses a variety of topics on 'Mornings with Maria,' including the border crisis and his bid for the White House.
Recovery Reinvented sheds light on addiction: Keynote speakers share testimonies, experiences
Davis brought up Gov. Doug Burgum's first state of the state address where the conversation of the stigma of addiction was brought up. He said it was a moving moment for him.
Burgum declares October as Cybersecurity Awareness Month
Governor Doug Burgum has declared October as "Cybersecurity Awareness Month" to encourage North Dakota residents and businesses to safeguard their digital environments against continually growing digital threats.
Godfread announces 2024 plan rate changes
"We're releasing these rates to give consumers who purchase their health insurance on the individual or small group markets an idea of what's to come for 2024," Godfread said. "The changes in rates this year are on par with previous years, with no big jumps or decreases in rates."
Your to-do list before the first freeze of the season
The North Dakota Insurance Commissioner, Jon Godfread says, now is a perfect time to check your carbon monoxide detectors too, and replace them if they are more than 10 years old. He says the first frost is a perfect time to prep your home for the entire winter, which can prevent severe damage come next spring.
Gov. Burgum weighs in on how legislature should handle voided OMB bill
"While it's seismic in its effort because it overturns, you know, decades and decades of the way the legislature has done their business, we shouldn't let that disrupt this session because it's a very easy thing for the legislature come back and re-pass the same bills in the form that the Supreme Court is suggesting that they follow," said Burgum.
North Dakota: Regional livestock development and planning grants applications open
"Counties and regional planning councils can use the grants for site analysis and coordinating strategic planning," Goehring said. "The grants will help to accommodate and encourage investment in livestock production, which will in turn complement our farmers and position North Dakota for growth in animal ag."
North Dakota regulators approve more CO2 storage space for Project Tundra
Gov. Doug Burgum said, "If this case had been brought or lost in the 1950s or 1980s, North Dakota would look completely different right now because we wouldn't have an oil and gas industry."
'I Don't Call That Irresponsible Spending, I Call That A Bargain': Doug Burgum Discusses Ukraine Aid
When it comes to sending Ukraine military aid, Burgum points to Ukraine's ability to have already taken "out a huge chunk of [Russia's] capability," adding, "I don't call that irresponsible spending, I call that a bargain." The Republican governor did add a caveat, though: "There's no blank checks — there has to be accountability. We have to track every dollar."
Merchant developers fill 'void' in US interregional grid build-out
Julie Fedorchak, a commissioner on the North Dakota Public Service Commission, stressed that merchant-developed lines are often easier for regulators to approve because they avoid complicated cost allocation "jumbles" at RTOs and ISOs.
Washington, D.C.
ND Republican Sen. Cramer To Run for Another Term in 2024, Dem. Candidate Also Emerges
North Dakota U.S. Sen. Kevin Cramer is already looking ahead to 2024.
The Republican says he is getting ready to run for reelection. He says, quote, " I'm preparing for that possibility." He also says he does not foresee anything that would cause him not to run again.
Sen. Kevin Cramer: North Dakota's deep defense ecosystem
Our ecosystem is robust and growing and it must not slow down. The United States cashed in at the end of the Cold War while our enemies, including Russia, China, North Korea, and Iran have been investing heavily in leveling the playing field for war. North Dakota's defense ecosystem is a crucial part of never letting our enemies achieve that goal.
Annual summit in Grand Forks celebrates the UAS 'ecosystem'
"The summit itself is like Christmas in the UAS world, where the spotlight is collectively on Grand Forks and all that has been done (in the UAS sector) in Grand Forks," Sen. Kevin Cramer, R-N.D…Hoeven, who was North Dakota's governor when the summit began, believes the event excels at creating connections between people in the industry and the resources that exist here.
Senator Kevin Cramer opposes FCC net neutrality rules
U.S. Senator Kevin Cramer joined his colleagues on Friday in a letter to the FCC, expressing strong opposition to a proposal reinstating the regulations of Title II of the Communications Act, on the letter concluded by saying, "We urge you to end this charade and shelve this fifth attempt to adopt the so-called 'net neutrality' regulations."
Reps. Armstrong, Rosendale discuss what's next in speaker saga
Rep. Kelly Armstrong, R-ND, a supporter of McCarthy, said they cannot introduce bills or add amendments until a replacement is found. He said the price of his vote for speaker will be a promise of a rule change to prevent another incident. "Whoever the next speaker is, they have to tell me what happened yesterday never happens again. The most extreme members of our conference are derailing our agenda and continuing to keep us from moving forward with conservative policies because of any particular grievances they have on any particular day," said Rep. Armstrong.