Happy Monday!
Dear Fellow Republicans,
We wanted to provide you with a roundup of everything you might have missed from North Dakota's great Republican leaders this past week. Please share with family and friends!
Perrie Schafer, NDGOP Chairman
Photo of the Week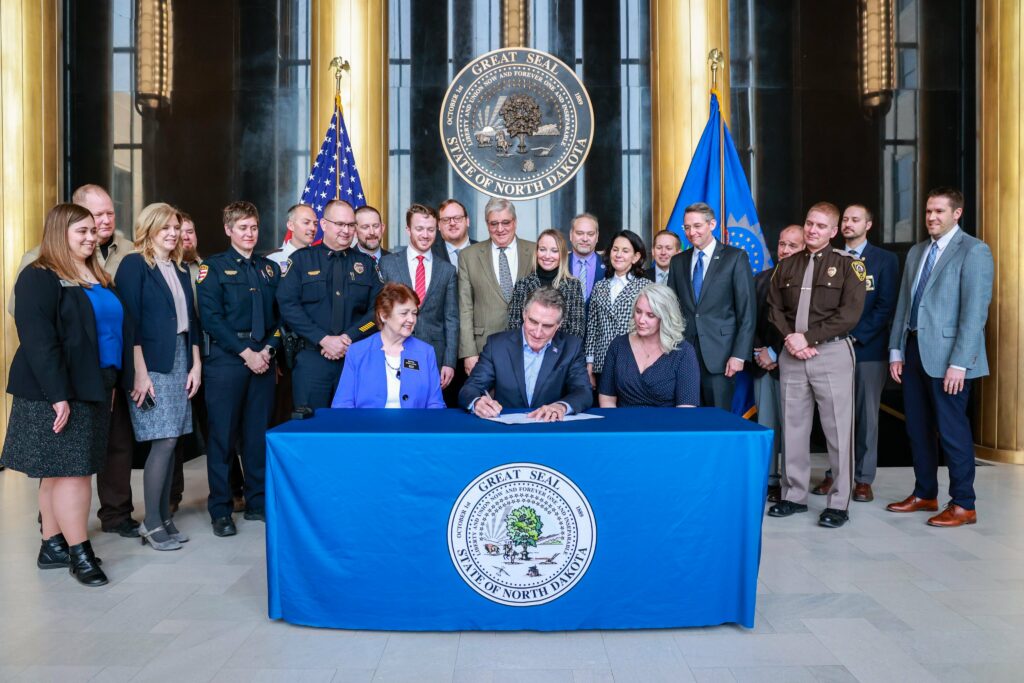 Governor Burgum: Our local law enforcement agencies work hard to keep our neighborhoods safe, and they do that with our full support. HB 1307 demonstrates that 'Back the Blue' isn't just a slogan in North Dakota, it's actually the respect that we have and a way of life for North Dakotans.
RNC
MORE EXCITING NEWS! The GOP will hold its second presidential primary debate of the year at the Ronald Reagan Presidential Library in Simi Valley, Calif., the chair of the Republican National Committee announced Thursday.
Learn more – Perrie
ND 68th Legislative Session
A few bills that have been signed into law to put on your radar! – Perrie
HB1423: AN ACT to create and enact a new section to chapter 4.1-01 of the North Dakota Century Code, relating to a model zoning review task force; and to amend and reenact sections 11-33-02.1, 23.1-01-04, and 58-03-11.1 of the North Dakota Century Code, relating to a model zoning ordinance for animal feeding operations and the North Dakota insurance reserve fund.
Signed by Governor Doug Burgum on April 7th
HB1307: AN ACT to provide an appropriation to the attorney general for a back the blue grant program; and to provide for a report.
Signed by Governor Doug Burgum on April 18th
Helpful Legislative Links
Legislative Committee Hearings and Daily Floor Session Recordings
Bill Index
Capitol Building Map
Senate Floor Schedule
House Floor Schedule
Senate Committee Hearing Schedule
House Committee Hearing Schedule
North Dakota
Gov. Burgum signs three 'Back the Blue' bills
KXNews
On Tuesday morning, Governor Doug Burgum joined state lawmakers to sign three bills they hope will support police officers in North Dakota. This session, lawmakers passed House Bill 1307, which provides $3.5 million in what are called 'back the blue' grants for police and sheriff's departments in North Dakota to hire more officers and give raises. The grant money will be awarded by Attorney General Drew Wrigley. Of the $3.5 million funding, $750,000 must be given to departments with 10 or fewer employees…Governor Burgum also signed Senate Bill 2147 which gives an income tax break to retired police officers and House Bill 1309, which gives the Bureau of Criminal Investigations agents a one percent raise in monthly benefits starting next winter.
Gov. Burgum signs bill to ban foreign governments from buying ag land in the state
Grand Forks Herald
Gov. Doug Burgum has signed a bill to ban foreign governments and businesses they control from buying agricultural land in the state. House Bill 1135 was signed on Thursday, April 20, along with more than a dozen others. The law will go into effect later this year.
North Dakota County Teachers of the Year from Jamestown region named
The Jamestown Sun
State School Superintendent Kirsten Baesler praised the 42 North Dakota educators who have been named as County Teachers of the Year for 2023, saying their passion for serving students and families uphold the state's tradition of excellence in public education. "Our county Teachers of the Year are among our best at educating the next generation of young North Dakotans. They impart knowledge in reading, math, science, and other subjects, and they do it with passion, empathy, imagination, and a spirit of service," Baesler said. "They embody the best qualities of the teaching profession."
EHM confirmed in McHenry County horses
Minot Daily News
Equine herpesvirus myeloencephalopathy (EHM) has been confirmed in two McHenry County horses…"With summer coming, many horses will be moving to events around the region," Agriculture Commissioner Doug Goehring said. "Care should be taken to reduce exposure to other horses and one should never bring a sick horse to an event."
N.D. Gov Signs Legislation Restricting Access To Transgender Healthcare
One America News Network
North Dakota Governor Doug Burgum has signed a legislation that bans transgender health care in the state and makes it illegal to provide gender-affirming treatment to anyone under the age of 18…Burgum (R-N.D.) released a statement saying that the law is "aimed at protecting children from the life-altering ramifications of gender reassignment surgeries." However, he says that medical professionals have testified that these surgeries have not been and are not currently being performed on minors in North Dakota.
North Dakota signs anti-BDS legislation
Jewish News Syndicate
North Dakota has become the 35th state to pass a law countering the boycott, divestment and sanctions (BDS) movement against Israel. The legislation—with nine sponsors and signed by Gov. Doug Burgum—prevents those contracting with the state from participating in boycotts of Israel and bars the state from investing in companies that "would have the effect of requiring or inducing any person to boycott Israel."

Soil Health Cover Crop Grant Program Applications Open Soon
KBMW
The North Dakota Department of Agriculture (NDDA) Soil Health Cover Crop Grant Program will open up for applications next month. NDDA will provide cost-share assistance to producers. "As a conservation program, the primary goal of the program is to protect and enhance soil health statewide," Agriculture Commissioner Doug Goehring said. "In particular, the program targets cropland areas impacted with saline or alkaline soils."
Burgum Signs Bill Providing $25M to Support Ag Diversification
KBMW
"Agriculture is the bedrock of our economy in North Dakota, and supporting new or expanding businesses that want to diversify agriculture will strengthen the industry as well as the communities that depend on farming, ranching and ag processing for jobs and tax revenue," Burgum said. "We appreciate Agriculture Commissioner Doug Goehring, the commodity groups, the Bank of North Dakota and all the legislators who worked to expand this impactful program."…"The increased funding for the ADD Fund will further expand and enhance the agriculture industry in North Dakota," Goehring said. "The money allocated for ag infrastructure will help ensure our rural roads, water, sewer and other projects are in place to support new value-added projects."
Insurance Department releases auto insurance cost survey
Minot Daily News
"We issue this survey every year to paint a picture for North Dakotans on auto insurance rates so consumers can compare with their current policy," said Insurance Commissioner Jon Godfread. "I highly recommend that folks review their auto insurance annually for cost and coverage. A lot can change in a year, so having that discussion with your insurance agent is important."
New law exempts nonprofits like Habitat for Humanity from contractor license fees
Inforum
In the past, nonprofits like Habitat of Humanity would be required to pay fees to start and keep their contractors license up to date. Jim Nelson, one of the executive directors for Lake Agassiz Habitat for Humanity, worked closely with legislators to exempt any nonprofit that builds and sells houses below market value from paying those fees. Gov. Doug Burgum signed the bill on April 4.
Trade mission to Netherlands includes talks of high-quality products and sustainability
AGWeek
A diverse group of more than 40 agribusinesses, farm groups and state departments of agriculture visited the Netherlands in mid April to strengthen trade relationships and look for new opportunities. North Dakota Agriculture Commissioner Doug Goehring said the mission, like others he has gone on with the U.S. Department of Agriculture, was "a hit." "It is a unique opportunity. It is an opportunity to build relationships," he said. "I believe it will serve us well. It will serve the U.S. well, and it will serve the world well."
Drones to help with flood mitigation efforts in North Dakota
Inforum
The Northern Plains UAS Test Site near Grand Forks will be supporting statewide emergency response efforts after the governor's emergency declaration for spring flooding. The test site will leverage Vantis, the state's unmanned aircraft system beyond-visual-line-of-site network at the Grand Sky Business Park, to enhance recovery efforts through flood level monitoring, community awareness tools and a 24/7 Mission Network and Operations Center, according to a press release from Gov. Doug Burgum's office. As a part of those efforts, drones will be used to monitor flood levels, melt rate and ice jams; images and video footage of drone flights will be made available for the public.
North Dakota has first bird flu case of 2023; state cases during outbreak total 25
The Bismarck Tribune
"This is the first case of (bird flu) in poultry in the state this year," Agriculture Commissioner Doug Goehring said. "Protecting our North Dakota producers, who raise approximately 1 million commercial birds yearly, and our many backyard bird owners is high priority."
Washington, D.C.
WATCH: Hoeven Outlines Recent Visit to Taiwan and South Korea on the Senate Floor
Click Here
UND developing 'first-of-its-kind' facility for extracting minerals needed for high tech, national defense
KFGO
The University of North Dakota has been awarded $8 million to design and build a first-of-its-kind facility that will be pivotal in the United States government's push to reduce the country's dependence on China when it comes to refining and producing the materials necessary for making cell phones and new cars, as well as the communication systems like sonar and radar necessary for national defense. "Along with their industry partners and the DOE, UND is on the cutting edge of our energy future," said Senator Kevin Cramer. "This award builds on the group's efforts to research, find, and affordably extract rare earth elements and minerals in North Dakota. The significance of developing this domestic supply chain for national and energy security cannot be overstated."
U.S. Rep. Armstrong visits Fargo for a small business roundtable
Inforum
Armstrong told them that in order to run a successful business, they have to balance employment and revenue. "If you have to pay more people more money, you either hire less people, make less things, or you raise the prices on your things," Armstrong said. According to Armstrong, to fix those problems, the state needs to grow its workforce, and his goal during the whole sit down was to empower owners and promote the importance of their business.
Kenmare airport receives federal road funds
Minot Daily News
Kenmare Municipal Airport Authority will receive $304,000 from the Federal Aviation Administration to reconstruct 1,750 feet of existing access road, U.S. Sen. Kevin Cramer, R-ND, announced. The FAA awarded a total of $2.44 million to North Dakota regional airports from the Infrastructure Investment and Jobs Act. Other airports receiving funding are Jamestown, Linton, Wahpeton, Barnes County, Gwinner, Casselton and Standing Rock Tribe.
Burke-Divide Electric receives federal aid
Minot Daily News
The U.S. Department of Homeland Security's Federal Emergency Management Agency has awarded $1.12 million to Burke-Divide Electric Cooperative, according to U.S. Sen. Kevin Cramer, R-ND. These resources will support repairs to the cooperative's distribution system, which was damaged during a severe winter storm and flooding event from April 22-May 25, 2022.
The GOP's debt relief plan would thwart Biden's climate change bill. The White House's answer: 'Jobs'
Politico
Republicans are seeking to repeal the IRA's zero-emission nuclear power production, clean hydrogen and sustainable aviation fuel tax credits. Their bill would also eliminate the law's bonus provisions aimed at placing solar and wind facilities in low-income communities and that allow some entities to receive direct payments of the credits. "We have to create situations where traditional, reliable, resilient energy can compete in the marketplace," Rep. Kelly Armstrong (R-N.D.) told POLITICO. "If that's getting rid of some of the crazy renewable tax credits in the IRA, I am all for it."
House GOP fail to stop Biden's new water rule – but the courts might
The Washington Post
Republicans have slammed Biden for rapidly finalizing more stringent environmental rules to fulfill his campaign promise of using the federal government to tackle climate change with more urgency. They knew they'd be unable to overrule Biden's veto. But they wanted to "show them in the White House that at least every Republican is on board saying this is good policy and you should listen to us," Rep. Kelly Armstrong (R-N.D.) told us Tuesday afternoon.
North Dakota tribes get money for water upgrades
The Bismarck Tribune
The bipartisan infrastructure law signed by President Joe Biden last year includes more than $80 million to upgrade water systems on tribal lands within North Dakota, according to U.S. Sen. Kevin Cramer, R-N.D. The Three Affiliated Tribes will get $54.4 million, including $20.1 million to build a new Mandaree Water Treatment Plant. The Standing Rock Sioux will get $10.6 million, about half of it to replace asbestos pipe in Cannonball. The Turtle Mountain Band of Chippewa will get $13 million and the Spirit Lake Nation $2.2 million.