Happy Monday!
Dear Fellow Republicans,
We wanted to provide you with a roundup of everything you might have missed from North Dakota's great Republican leaders this past week. Please share with family and friends!
Perrie Schafer, NDGOP Chairman
Photo of the Week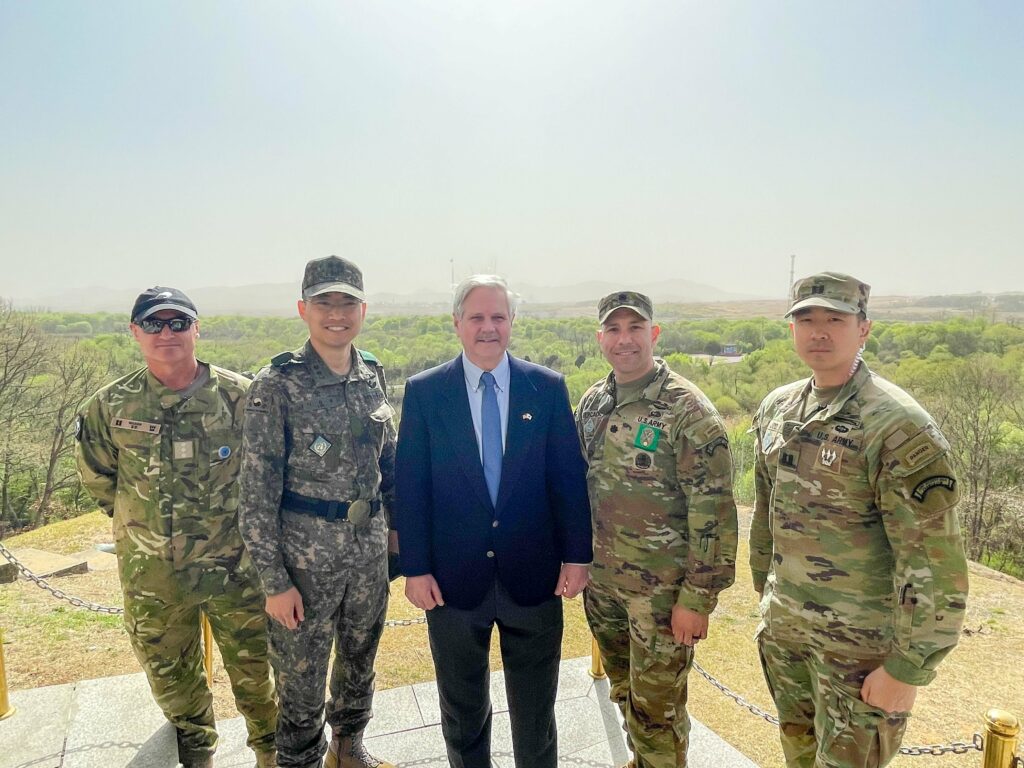 Senator Hoeven:
Met with government, military and agriculture leaders in Seoul to strengthen military and ag trade ties with South Korea as this year marks the 70th anniversary of the alliance between the United States and South Korea.
RNC
BIG NEWS! The  Republican National Committee (RNC) is teaming up with Fox News, the influential conservative youth organization Young America's Foundation (YAF) and the online video platform Rumble, for the first GOP presidential primary debate in the 2024 cycle.
The debate, titled the "Fox News Republican Primary Debate with partners Young America's Foundation and Rumble," will take place during the month of August in Milwaukee, Wisconsin, which is the host city for the  2024 Republican National Convention.
Learn more – Perrie
NDGOP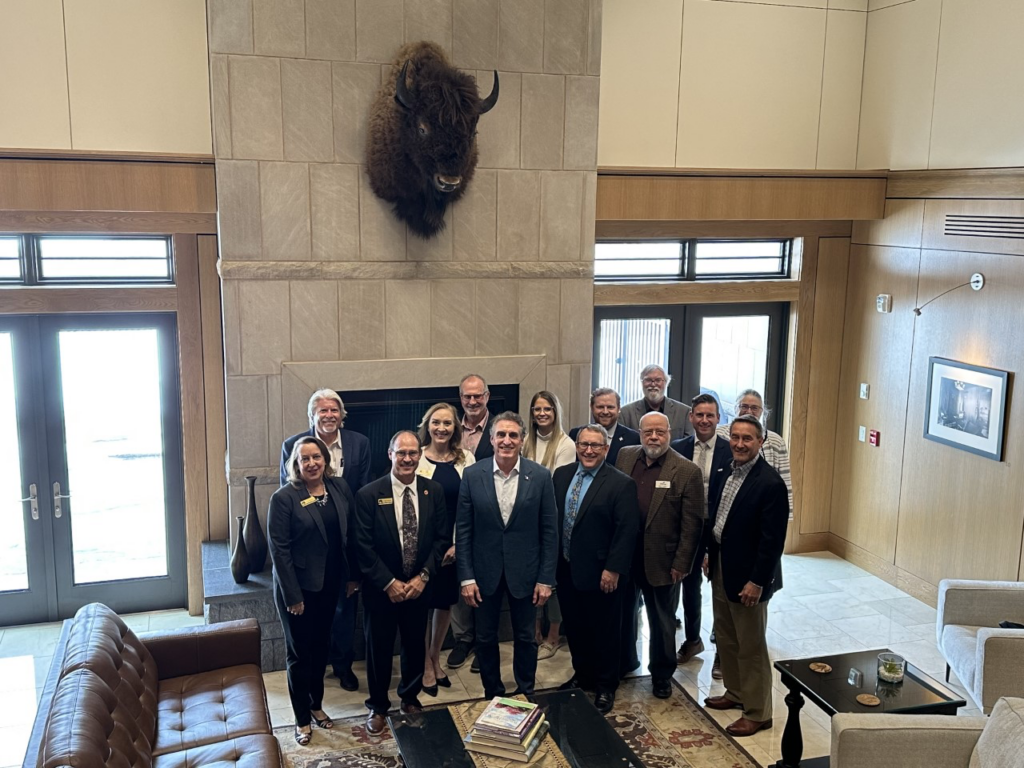 Fellow Republicans,

I wanted to fill you in on a great meeting we had with our Republican leadership in Bismarck this week.

The day began with a meeting with House leadership, followed by a meeting with Senate leadership. After these meetings, we had lunch and a private round table at the Governor's Residence.

Among the many topics we covered were ways to retain a robust workforce, strategies to make childcare more affordable, how to better train students in STEM, and encouraging interest in trades that will keep North Dakota as an economic leader. It is meetings and collaborations like these that keep our efforts strong year after year.
Perrie Schafer
NDGOP State Chair
ND 68th Legislative Session
Just a bill to put on your radar! – Perrie
HB2293: AN ACT to amend and reenact subdivision g of subsection 2 of section 57-38-30.3 of the North Dakota Century Code, relating to an income tax deduction for military pay; and to provide an effective date.
This income tax exemption was signed into law last week and will allow active duty, guard, and reserve members who serve in North Dakota to be exempt from state income tax.
Helpful Legislative Links
Legislative Committee Hearings and Daily Floor Session Recordings
Bill Index
Capitol Building Map
Senate Floor Schedule
House Floor Schedule
Senate Committee Hearing Schedule
House Committee Hearing Schedule
North Dakota
Governor Doug Burgum honors military children
The Williston Herald
Gov. Doug Burgum proclaimed April as "Month of the Military Child" last week and signed two bills related to child care and education that will make North Dakota a more military-friendly state for families, children and students.
Burgum signs $25 insulin bill
KFYR-TV
There's good news for diabetics on the state's health insurance plan. Governor Doug Burgum signed House Bill 2140 Friday, which will cap out-of-pocket insulin payments at $25 per month for people on the Public Employees Retirement System plan. It could affect as many as 2,500 people. If it's rolled out to the public in 2025, it could impact about 60,000 North Dakotans who need insulin.
Students, foreign workers, and the formally incarcerated to help the state workforce
KX News
Governor Doug Burgum recently signed three bills that aim to address our state's workforce challenges. The laws will help students, ag workers, and the formerly incarcerated, contribute to North Dakota's economy.
North Dakota Gov. Signs Bill Preventing Trans-Athletes From Joining Female Sports Teams
One America News Network
Governor Doug Burgum signed two bills into law on Tuesday night that forbid transgender individuals from playing on female sports teams in grades K–12, as well as higher education… Despite the 27,000 kids participating in high school athletics in North Dakota during the past two years, Burgum (R-N.D.) said that "there still has not been a single recorded incident of a transgender girl playing or entering the process to even ask to play on a North Dakota girls' team." Lawmakers have now "resoundingly determined" that additional limitations on girls' sports beyond the ones already in place should be formalized in state law, he said. "Concerns raised last session about such policies jeopardizing the ability to host regional and national collegiate tournaments have not materialized in the roughly 20 states that have passed similar legislation," said Burgum.
Public urged to report pig sightings in North Dakota
NewsDakota
"Feral swine are a growing concern in many parts of the country, not only to public safety, but also due to their ability to spread disease and cause damage to crops and property," Agriculture Commissioner Doug Goehring said. When feral swine are sighted, individuals should not destroy them. Authorities should be notified so it can be determined whether they have an owner, or whether they need to be removed and tested for disease. In 2009, the North Dakota Legislature enacted legislation to prohibit releasing feral swine as well as to prevent activities promoting or supporting the hunting of feral swine.
Cass County's 'Saturn effect' helps region surpass North Dakota in population growth
Inforum
Cass County continued to be North Dakota's population growth engine as it added 3,441 residents between 2021 and 2022 — an increase more than double the state's net gain of 1,327…Tax Commissioner Brian Kroshus called the latest sales tax report, released in late March, an illustration of the "strong, post-pandemic business recovery across the state and a return to normalized conditions."
Wrigley says organizations violated state gaming laws
The Center Square
North Dakota Attorney General Drew Wrigley filed a complaint against several gaming organizations Thursday, alleging millions of dollars in charitable gaming proceeds were improperly diverted. The complaint against Western Distributing, Plains Gaming Distributing and Midwest Gaming Distributing alleges multiple violations, including unlawfully conspiring to facilitate illegal rent payments and interfering with charitable organizations' gaming sites. "The foregoing violations have significantly impacted charitable gaming organizations in North Dakota by creating an unfair advantage for Western, Plains, and Midwest to procure sites for aligned charitable organizations," Wrigley said in the complaint.
Consumers to be refunded in Turbo Tax settlement
The Bismarck Tribune
More than 9,000 North Dakotans will receive refund checks as part of a $287,000 consumer protection settlement with Intuit Turbo Tax, according to North Dakota Attorney General Drew Wrigley. The multistate settlement involved Turbo Tax customers who were tricked into paying for tax preparation services that should have been free, Wrigley said. Checks for about $30 each will go to 9,700 North Dakota consumers.
State-contracted middleman to handle disputes between royalty owners, oil companies in North Dakota
Inforum
Royalty owners have long quarreled with North Dakota's powerful oil industry over access to information and disputed fees, but recently approved legislation means the feuds will soon be channeled to a state-contracted mediator. Gov. Doug Burgum on Wednesday, April 12, signed Senate Bill 2194, which passed through the Legislature with broad support…Starting this summer, Agriculture Commissioner Doug Goehring will be allowed to contract with "local individuals, deemed trustworthy by the mineral owners, lease owners, and mineral companies, to be ombudsmen." The program comes with a price tag of $500,000 over the next two-year budget cycle.
Drought declining in North Dakota as snowpack melts; Bismarck snowpack records come to an end
The Bismarck Tribune
Drought is continuing to ease in North Dakota as the snowpack melts and sinks into the parched soil, though in some areas the runoff is too much and is leading to localized flooding. Meanwhile, two snowpack records in Bismarck have come to an end after five months. All of southeastern and most of south central North Dakota are now removed from any drought category, according to the latest U.S. Drought Monitor map, released Thursday. Moderate drought shrunk in northeastern North Dakota, though it persists in the north central and far west regions…Gov. Doug Burgum on Monday declared a statewide emergency for spring flooding, making state resources including the National Guard available to help in any flood fights in coming weeks. The main concern is in the eastern Red River Valley.
'There is nothing like the joy she brings:' Issue of organ transplants and disabilities spark change
The Dickinson Press
Annalise Duffy of Fargo remembers reading the story of a baby boy with Down syndrome who died while needing a heart transplant but was denied. Duffy said she thought the story happened in another country and was surprised to learn it happened in Florida. It is called medical discrimination, and because several states don't have laws banning it, it's still going on. "Right now, there are 17 states with no legislation in place and North Dakota was one of them," Duffy said. But this week Duffy, her daughter Lakyn, and several other moms watched as Gov. Doug Burgum sign a new bill into law. The new North Dakota law in place prevents discrimination against people with disabilities when organ donation is needed to save or change a life.
North Dakota military veterans honored by naming state highway bridges after them
KFYR-TV
To honor North Dakota, military veterans Governor Doug Burgum signed off to have several bridges named to honor them and raise awareness about their dedication to serving. They will be commemorated with signs from the Department of Transportation. Some of the new bridges that will be renamed are: The Highway 18 Bridge over the Tongue River in Cavalier is being re-named Veterans Memorial Bridge. The Highway 1806 bridge just outside of Canonball is being dedicated to PVT. Albert Grass WWI Bridge. The Highway 30 bridge east of Fessenden over the James River has been named Petty Officer Third Class Patrick G. Glennon Vietnam Bridge. The Highway 6 bridge over the Cannonball River by Breien will now be called PFC Ronald C. Goodiron Vietnam Bridge.
'Divine Journey': N. Dakota to Show Students Medically Accurate Video of 'When Human Life Begins'
Christian Broadcasting Network
North Dakota Governor Doug Burgum has signed a new law mandating that schools show a high-quality video to educate students on preborn human development to students. Burgum's signing of HB 1265 comes after the North Dakota Supreme Court's ruling in March that a state abortion ban will remain blocked while a lawsuit over its constitutionality proceeds. The North Dakota Senate voted 37-9 to pass HB 1265 mandating schools use a medically accurate, high-definition video on fetal human development in middle school and high school classrooms.
Legislature makes support official for Theodore Roosevelt National Park horses, longhorns
The Bismarck Tribune
North Dakota lawmakers have made official their support for the National Park Service to preserve the wild horses and longhorn cattle in Theodore Roosevelt National Park…Gov. Doug Burgum has offered collaboration to preserve the animals in the park. The park is drafting an environmental assessment which will be available for public comment in April or May. A decision should come by the end of next summer.
North Dakota the 47th jurisdiction to join the interstate insurance compact
Insurance Newsnet
North Dakota Gov. Doug Burgum signed legislation Thursday making the plains state the 47th member of the Interstate Insurance Product Regulation Compact. Created by the National Association of Insurance Commissioners in 2002, the interstate insurance compact reviews and approves (or disapproves) individual and group annuity, life insurance, disability income, and long-term care insurance products. Insurers may add North Dakota to submitted or previously approved annuity, life insurance, and disability income product filings beginning in mid-August, the North Dakota Insurance Department said in a news release. "I am pleased to join my esteemed colleagues in the Insurance Compact," said Jon Godfread, North Dakota insurance commissioner and 2023 vice president of the National Association of Insurance Commissioners. "North Dakotans will benefit from the speed-to-market delivery and wide array of product offerings that must meet stringent consumer-centric requirements."
Burgum signs bill allowing cigar bars
KFGO
Gov. Doug Burgum has signed a bill once again allowing cigar bars in North Dakota. Under House Bill 1229, businesses will need to generate 15 percent or more of their income by selling cigars. Cigar lounges will also be required to be fully enclosed and have ventilation that prevents the air from being recirculated or back streamed to nonsmoking areas of the building.
Washington, D.C.
State leaders applaud judicial block of WOTUS
Minot Daily News
"Today's decision by Judge Hovland rightly blocks the Biden administration's overreaching rule that would unlawfully extend federal jurisdiction to nearly every stream, pond and wetland in North Dakota. This rule would create confusion and restrict activities for farmers, ranchers and other landowners while driving up costs for consumers," Burgum said. "North Dakota has some of the cleanest air and water in the nation because we responsibly develop our natural resources and properly exercise our state's authority to protect our own waters from pollution.""This injunction is great news for North Dakota's ag producers as they gear up for planting season," Congressman Kelly Armstrong said. "The Biden administration's WOTUS rule is a red tape disaster that does nothing to keep our water clean. I'm hopeful the court will ultimately throw it out." Sens. Kevin Cramer and John Hoeven also applauded the court action. "Beginning with President Obama, and furthered by President Biden, it is the environmentalist's dream to regulate our water to the raindrop," Cramer said. "Once again North Dakota is among the leaders in the fight to remind them such actions are illegal. Thanks to Attorney General Wrigley, our state is spared from federal mediocrity." "This injunction is a welcome relief from the ever-growing, burdensome regulations being pushed by the Biden administration," Hoeven said. "This expanded WOTUS rule would impose higher costs on critical industries, including agriculture, energy and construction, leading to greater inflation throughout our economy. That's the last thing our nation needs. We worked to introduce and pass a CRA through the Senate to block the WOTUS rule, and will continue working to provide regulatory relief and prevent President Biden from advancing his harmful and costly Green New Deal agenda. At the same time, we are hopeful that the Supreme Court's decision in Sackett v. EPA will resolve the uncertainty created by this federal overreach, while protecting the rights of states to manage their lands and waters."
South Korean agreement helps North Dakota Ag producers
KXNews
Recently, a trip strengthened North Dakota's partnership with South Korea, by helping them become the largest beef exporter in the world…As a member of two U.S. Ag Committees, Senator John Hoeven says, the agreement benefits many North Dakota producers, and he looks forward to continuing America's relationship with South Korea.
Republicans want to make it difficult for Senate to replace Feinstein on key panel
NBC News
Senate Republicans are not inclined to offer Democrats an easy off-ramp to replace Sen. Dianne Feinstein, D-Calif., on the Judiciary Committee as she remains on medical leave with no timeline to return, aides tell NBC News…The situation with Feinstein is unique: She is still a senator and has signaled her intent to stay in office until her term is up in 2025. But there is also no timeline for her return. While it's still unclear who would take her place, Feinstein's replacement could hold the seat for years. Republicans have expressed more willingness to support a centrist candidate. Some have said a good fit would be Sen. Kyrsten Sinema, the Arizona Democrat-turned-independent who has warm relationships with many in the GOP. "I have lots of ideas for Democrats on Judiciary, but they never ask for my opinion. Kyrsten Sinema would be as good as any of them," Sen. Kevin Cramer, R-N.D., said.
Senators push back on rule requiring banks to report social data
The Center Square
Sen. Kevin Cramer, R-N.D., said the rule politicizes lending. "Washington bureaucrats and the Biden administration have fallen so far down the identity politics rabbit hole they actually think banks and lenders should focus on factors like race, gender, and ethnicity instead of the creditworthiness of their clients," said Cramer., who is co-sponsoring the bill. "Our bill blocks attempts to politicize lending and ensures small businesses are not burdened by the CFPB's new costly regulation."
Security concerns to drive North Dakota tech mineral boom
Inforum
China's government has the potential to flood the market and decrease the value of a particular mineral making it less profitable to mine, or restrict access and drive its cost up and reduce availability, since its state-controlled companies monopolize the processing. "I think the China threat is real and it could happen quickly," U.S. Sen. Kevin Cramer said in an interview with NDNC. "We're behind in so many areas, and so many categories, and critical minerals is one of those areas, especially as we expand our space capabilities."
Federal bill to allow North Dakota mineral transfers
Minot Daily News
Sens. John Hoeven and Kevin Cramer and Congressman Kelly Armstrong have reintroduced the North Dakota Trust Lands Completion Act, bicameral legislation to authorize the State of North Dakota to relinquish state-owned lands and minerals contained within the tribal reservations to the U.S. Department of the Interior and, in exchange, receive federal land and minerals of equal value within North Dakota. "The comingling of federal, state, and tribal lands has long prevented North Dakota's resources from being fully utilized," Armstrong said. "Our bill gives the state of North Dakota and tribes more control over lands within their jurisdiction. This will reduce the amount of duplicative regulations and benefit people across our state."…"Our legislation will empower North Dakota to better utilize its mineral rights and develop the energy resources within the state, generating revenue for education and other important priorities," Hoeven said. "As part of these equal-value exchanges, tribes will be able to regain the fragmented lands and minerals located within their reservations." "Fragmented land ownership and mineral rights in North Dakota have hampered our state's resource development for far too long," Cramer said. "Allowing the state to exchange land and minerals with the Department of the Interior and tribes is a common-sense solution to benefit all parties involved."