Happy Monday!
Dear Fellow Republicans,
We wanted to provide you with a roundup of everything you might have missed from North Dakota's great Republican leaders this past week. Please share with family and friends!
Perrie Schafer, NDGOP Chairman
Photo of the Week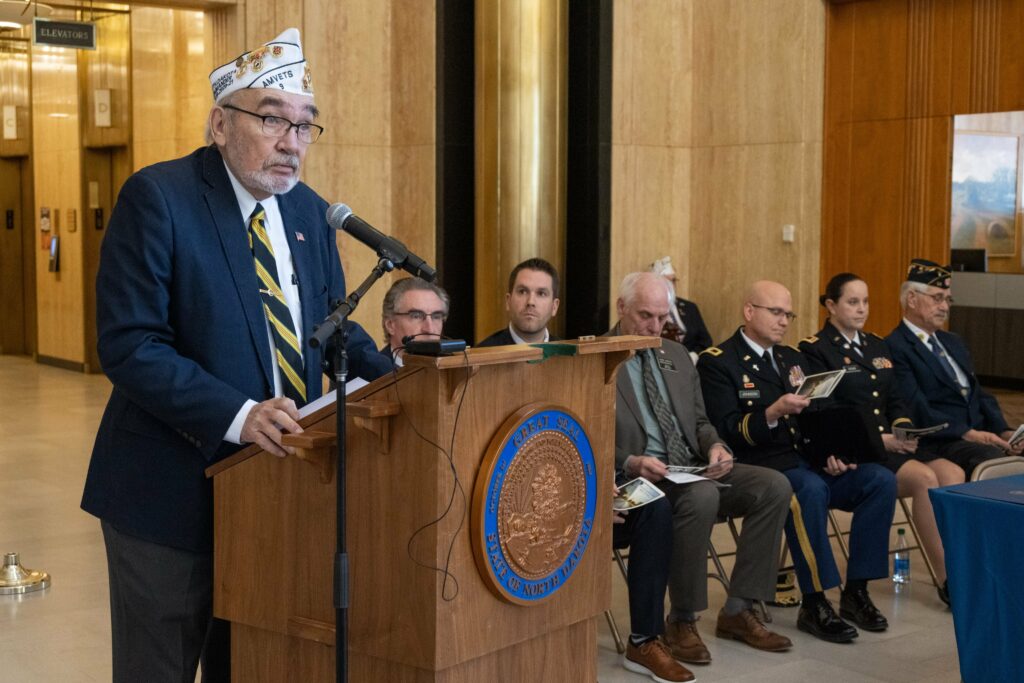 Governor Burgum: Today we observed Vietnam Veterans Day with gratitude for the 3 million U.S. service members deployed to Southeast Asia during the war. Among them were more than 15,000 brave North Dakotans – including 238 who never returned. We will always honor their service and sacrifice. This year marks the 14th anniversary of Vietnam Veterans Day being celebrated as an official North Dakota state holiday.
RNC
Well said, Chairwoman. – Perrie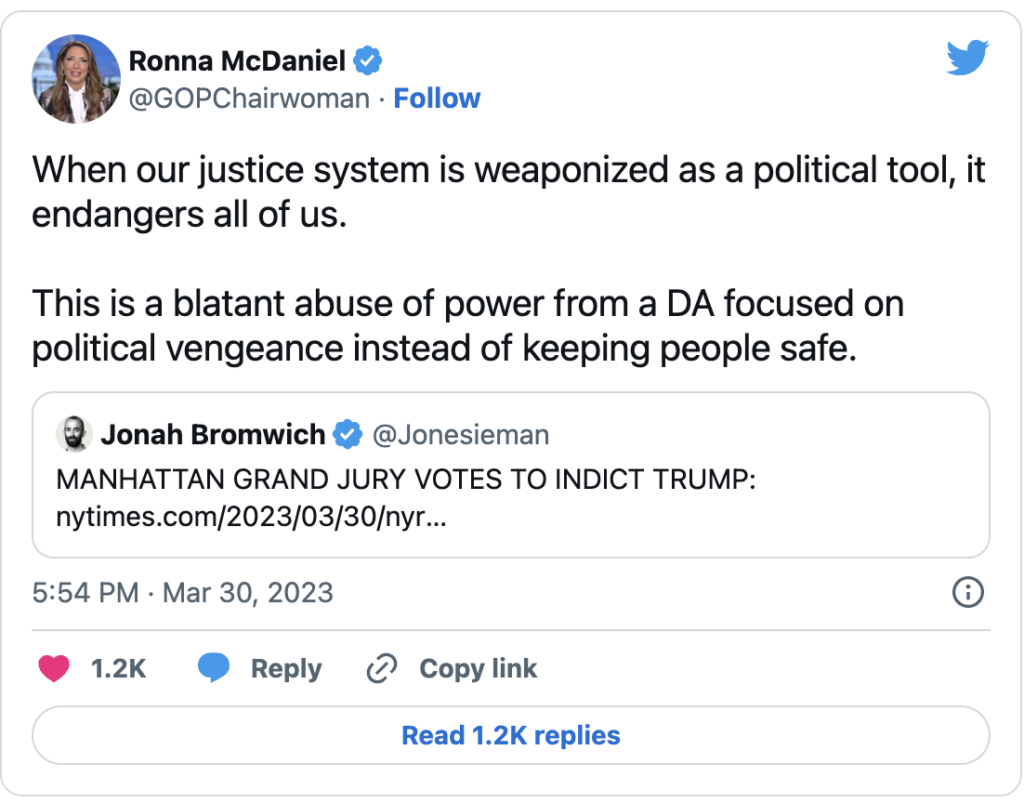 ND 68th Legislative Session
Just a bill to put on your radar! – Perrie
HB2293: AN ACT to amend and reenact subdivision g of subsection 2 of section 57-38-30.3 of the North Dakota Century Code, relating to an income tax deduction for military pay; and to provide an effective date.
This income tax exemption was signed into law last week and will allow active duty, guard, and reserve members who serve in North Dakota to be exempt from state income tax.
Helpful Legislative Links
Legislative Committee Hearings and Daily Floor Session Recordings
Bill Index
Capitol Building Map
Senate Floor Schedule
House Floor Schedule
Senate Committee Hearing Schedule
House Committee Hearing Schedule
North Dakota
Judge Orders Bureau of Land Management To Resume Oil & Gas Lease Sales In N.D.
KVRR
Wrigley says the illegal cancellations were costing North Dakota over $100 million in revenue a year. "It should not take a court order to compel the Biden administration to obey the law, or to have the BLM do what it has been directed by Congress to do, but in this case it did, and we applaud Judge Traynor's order which requires BLM to resume their lawfully required quarterly oil and gas lease sales," Gov Doug Burgum said in a statement.
North Dakota to exempt military income from taxes
The Center Square
"We're in competition with every other state for workforce," said Burgum. "And that workforce competition doesn't matter whether it's business, education, healthcare, or military personnel, we are in competition, and we've made a concerted effort in recent years to make North Dakota the most military friendly state in the nation. Not only because it's good for workforce and our economy, but because it is the right thing to do for those men and women who defend our most cherished freedoms and protect our nation serving at home and abroad."
Permit denial would threaten ND's biggest power plant with 3-year shutdown, officials said
Inforum
The EPA's preliminary decision seems to ignore the impact a shutdown would have on the community, state and region. "We're going to have to dog this one and not let them off the hook," Goehring said. "This is preposterous."…Burgum, noting the Biden administration's expressed support of reducing greenhouse gasses, agreed that denying the proposed liner modifications would run counter to the administration's climate policies. "Coal Creek could be one of the first plants in the nation where we're doing on-site carbon capture," the governor said, noting the state has the regulatory framework and other support to provide low-carbon electricity generated by burning coal.
Governor Burgum proclaims March 29th Vietnam Veterans Day in ND
KX News
At the State Capitol, nearly 200 veterans and neighbors were present at the Vietnam Veterans Day Ceremony on Wednesday. "More than 2.7 million Americans, including 15,000 North Dakotans, served during the Vietnam War of 1961 to 1975," proclaimed Governor Doug Burgum at the ceremony. "This includes 42,000 Native Americans who served the U.S. Armed forces." March 29, 2023 marks 50 years since the remaining combat troops and released Prisoners of War departed Vietnam.
Positioning ND to compete
Minot Daily News
"We have the resources to make smart investments that have high returns for taxpayers, and we have the ability to do smart, real, genuine tax relief for all the people that work for all of you – the people that are really driving North Dakota forward and help us be competitive with all these other states. Because we are in a competition for capital and talent. And right now, we are winning the capital battle. There's over $40 billion of projects lined up to come to North Dakota for value-added ag and value-added energy. That's an all-time record," Burgum said.
Burgum signs bill for water agreements with tribes
The Bismarck Tribune
"Providing tribal nations with the opportunity to work directly with the SWC on cost-share requests will better meet the needs of both tribal and nontribal residents and ensure that all North Dakota citizens and communities have similar access to state resources that support local investments in critical water infrastructure," Burgum said in a statement.
Governor discusses economy, use of AI, childcare needs in Minot
KFYR-TV
"This is an opportunity now when we talk about investing in workforce, investing in infrastructure, we've got to invest in our people and that includes making sure we support them with childcare," said Burgum. He praised Minot for its community engagement and public school funding, as well as for keeping unemployment under 3%. He said he would like to see another round of legislation next session to eliminate red tape from policies such as getting licenses, approvals and permits.
Washington, D.C.
Should English Be The Official U.S. Language? These Two GOP Senators Think So.
The Daily Wire
This topic doesn't get discussed as much as it used to, but some folks like Senator J.D. Vance (R-OH) and Senator Kevin Cramer (R-ND) believe that as a country, America should adopt English as its official language. This week, the two senators introduced legislation to do just that.
Nancy Pelosi gets swift lesson in basic law after declaring Trump must 'prove innocence' after indictment
The Blaze
"This exactly the opposite of how this works. Nobody is required to 'prove innocence' in our criminal justice system. See the 5th, 6th, 8th, and 14th Amendments, or any episode of 'Law and Order,'" Rep. Kelly Armstrong (R-N.D.), a lawyer, said.
Area airports receive federal grants
Minot Daily News
The Federal Aviation Administration has awarded five North Dakota airports nearly $2.86 million from the Infrastructure Investment and Jobs Act, U.S. Sen. Kevin Cramer announced. Among airports to receive grants are Tioga Municipal Airport, which will receive $304,000 to replace the lighting system and electrical vault on Taxiway A, and Stanley Municipal Airport, which will receive $145,000 to update the airport master plan narrative report and layout plan.
N.D. senator John Hoeven bashes Biden's energy policies
Williston Herald
"We've got to find a way to press back on the Biden administration's harmful policies that have caused energy prices to increase and have fueled inflation across our entire economy. Gas prices today are at $3.46 nationally, up 45% since President Biden took office," said Hoeven. "Residential electricity prices have spiked 25% during the same period, and natural gas prices are up more than 50%. What's causing this? Clearly, it is the Biden administration's policies. They have spent the past two years curtailing U.S. energy production in pursuit of this Green New Deal."
New FAA waiver allows more companies to fly drones in North Dakota
KFYR-TV
Currently, the FAA requires all drones to be designated as public aircraft, which restricts companies from building up a safety record. Senator John Hoeven, R-ND, who worked with the FAA on this waiver, says this will make North Dakota a prime location for interested operators. "This is a big step forward for our UAS Test Site because now companies can come from around the country and fly their aircraft at our test site," said Hoeven.
Hoeven, Cramer join vote to end COVID-19 emergency, send bill to Biden's desk
KFYR-TV
Sen. Kevin Cramer, R-ND, criticized the continuation of the emergency, saying it's allowed the Biden administration to "ram through unrelated, illegal policies like student loan forgiveness." Sen. John Hoeven, R-ND, said the vote would "put a stop to the unnecessary and burdensome COVID-19 mandates and policies immediately."
Biden Interior Secretary Won't Say If She Prefers Oil From American Over Venezuela
The Daily Caller
Secretary Deb Haaland of the U.S. Department of the Interior repeatedly deflected when asked if she believed it was better for the U.S. to produce its own oil and gas or import it from foreign countries, at a Wednesday hearing of the Senate Appropriations Committee. "Do you think it is better to get oil and gas from federal lands in this country, with our environmental standards, or is it better to get it from Venezuela, Russia, Middle East and other places with vastly inferior environmental standards?" Republican Sen. John Hoeven of North Dakota asked Haaland. "Where would you prefer that that oil and gas come from?" "Senator, what I can say is that President Biden is … dedicated and committed to making sure that we have an energy independent nation," Haaland replied. "Well.. but… the response to my question: where would you prefer to get that oil and gas?" Hoeven pressed. "Our … as I mentioned many times that oil production in this country is up on federal lands … we're moving those permits through, we're doing our jobs and … I appreciate the question," Haaland responded.
Dakota Prairie students meet ND Congressman in Washington, D.C.
Devils Lake Journal
Congressman Kelly Armstrong met with students from Dakota Prairie Wednesday, March 22, 2023, at the U.S. Capitol. The trip was part of the Close Up Program, a nationwide learning experience that brings students to Washington, D.C. to learn about the U.S. government and history.
Terminated Fufeng Project in Grand Forks Sparks Hearing on Chinese Investments in U.S.
KVRR
Defense Secretary Lloyd Austin is in agreement with North Dakota Sen. Kevin Cramer about the importance of considering foreign agricultural investments from a national security position…"We have to be vigilant about what's going on outside of our fences. We've got to work with the communities to make sure we do have some kind of situational awareness, and we have to advocate for the protection of our bases and installations," Austin said at the hearing.
Judge Orders Bureau of Land Management To Resume Oil & Gas Lease Sales In N.D.
KVRR
"President Biden and his environmentalist allies continue blocking needed development of taxpayer-owned energy resources," said Sen. John Hoeven. "This decision is a welcome step to hold the Biden administration accountable and ensure they hold quarterly lease sales, which is required by law and had been ordered by federal courts previously. Energy security not only supports our national security, but it's essential to bringing down the inflation that is burdening American families and businesses. That's why we continue working to take the handcuffs off U.S. energy production." Sen. Kevin Cramer said, in part, "The court-ordered reporting obligations are a stark warning: bureaucratic doublespeak will not be tolerated. The Biden administration can no longer drag its feet, cancel lease sales, or withdraw lands from oil and gas development. Attorney General Wrigley was right to bring these matters to the forefront."
Rep. Kelly Armstrong to Newsmax: Bragg Oversight 'Within' Congress' Authority
Newsmax
While Manhattan District Attorney Alvin Bragg has admonished three House GOP chairmen for an "incursion" into New York's "sovereignty," a GOP member of the House Oversight Committee tells Newsmax that Bragg is still on the hook for congressional oversight. "So we want to know if they're talking to DOJ," Rep. Kelly Armstrong, R-N.D., a member of the committee, told Monday's "Spicer & Co." "Obviously, the Manhattan DA's office gets a lot of money from the federal government."
Lawmakers open to Biden's call to claw back SVB executive pay
Roll Call
Sen. Kevin Cramer, R-N.D., also a member of the committee, said he would support clawing back bonuses and stock sale proceeds in the case of SVB's executives, but is wary of a broader, permanent policy granting that authority to the FDIC. "In the case of SVB, particularly the bonuses at the last minute, that just looked purely, purely sleazy," Cramer said. "I don't know whether it's criminal or not, but I'd probably be supportive of something that would require that back. To more generally apply it, I'm not real sure, to be honest."