Happy Monday!
Dear Fellow Republicans,
We wanted to provide you with a roundup of everything you might have missed from North Dakota's great Republican leaders this past week. Please share with family and friends!
Perrie Schafer, NDGOP Chairman
Photo of the Week
Senator Cramer: Met with Close Up students from across North Dakota– from Williston, Grenora, Tioga, and Beach to Hankinson and Petersburg. We discussed government transparency, my career path, and my priorities in Congress.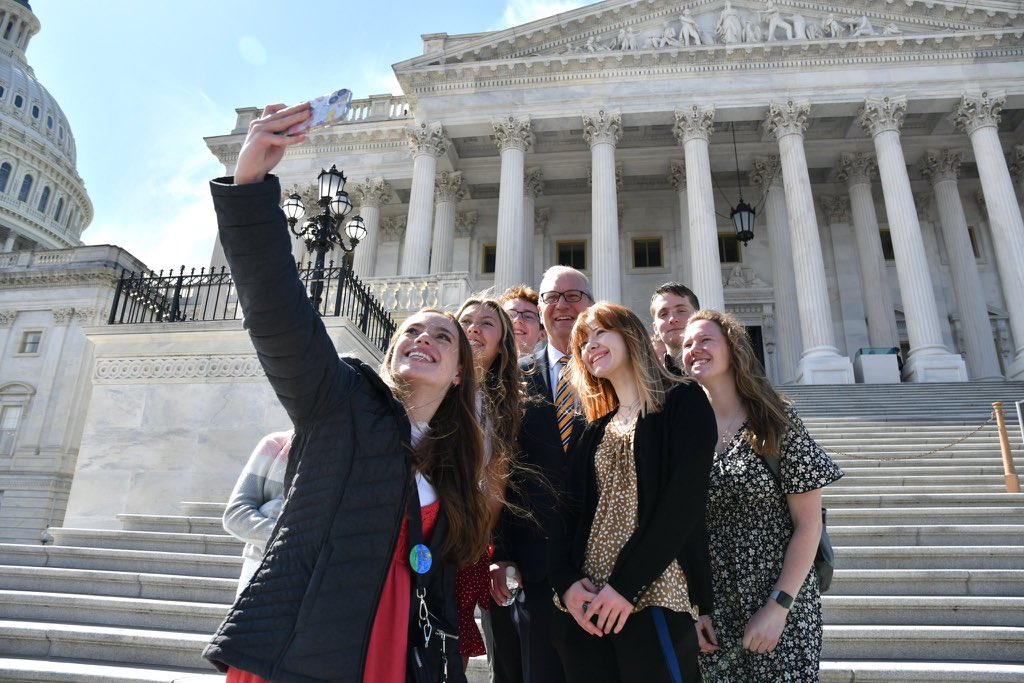 RNC
Check out these great facts assembled by the RNC about the Parents' Bill of Rights PASSED by the Republican House Majority. – Perrie 
TALKING POINTS: Parents' Bill Of Rights
Parents have a right to make decisions for their children. Unfortunately, many school districts have been ignoring the wishes of parents while special interest groups try to criminalize free speech. Luckily for Americans, today, the House Republican majority passed the Parents' Bill of Rights.

What you need to know:
Today's vote affirmed that:

Parents have the right to know what their children are being taught;
Parents have the right to be heard;
Parents have the right to see the school budget and spending;
Parents have the right to protect their child's privacy;
Parents have the right to keep their children safe.

Democrats would rather target parents instead of support parents.
The passage of the Parents' Bill of Rights is a win for every father, every mother, and every student in America.
No Democrat voted for the bill, once again proving Democrats are too extreme to believe that parents should have a say in their kids' education.
The bottom line:

Republicans are fighting to empower parents and support our children and their future. Today's bill affirms House Republicans' Commitment to America.
NDGOP
McDaniel Names NDGOP Chairman as RNC Midwest Region State Chair Advisory Committee Chairman
BISMARCK – Today, Perrie Schafer, Chairman of the North Dakota Republican Party ("NDGOP") released the following statement:

"I am honored to be recognized by RNC Chairwoman Ronna McDaniel and State Chair Advisory Committee Chairwoman, Jessica Patterson of California as the new State Chair Advisory Chairman for the Midwest Region of RNC. I look forward to working with our national party and fellow Republicans in the Midwest during this the upcoming cycle as we seek to restore common sense leadership to Washington."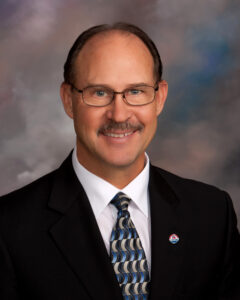 Congratulations, Perrie! 🎉
ND 68th Legislative Session
Just a few bills to put on your radar! – Perrie
Computer Science and Cybersecurity Instruction in High School
HB1398: AN ACT to create and enact a new section to chapter 15.1-26 of the North Dakota Century Code, relating to computer science and cybersecurity instruction for adult learners; to amend and reenact sections 15.1-21-01, 15.1-21-02, and 15.1-21-02.2 of the North Dakota Century Code, relating to mandatory computer science and cybersecurity instruction and minimum requirements for high school graduation, and to provide an expiration date.
On Friday, March 24th, Governor Burgum signed House Bill 1398 into North Dakota Law. State Superintendent, Kirsten Baesler, stated that North Dakota is the first state in the U.S. that has established legislation requiring cybersecurity education. You can find the entire bill here.
Strengthening ND's Workforce by Supporting Working Families
SB2012: A BILL for an Act to provide an appropriation for defraying the expenses of various divisions of the department of health and human services; to provide an exemption; to amend and reenact sections 50-06-42, 50-24.1-26 and 50-29-04 of the North Dakota Century Code, relating to the substance use disorder treatment voucher system, Medicaid in-home services, and the children's health insurance program; to repeal section 50-06-32.1 of the North Dakota Century Code, relating to the autism voucher; to provide a statement of legislative intent; to provide for a study; to provide for a report; and to provide an effective date.
North Dakota
Curling is now the 'official sport' of North Dakota
Prairie Public Newsroom
It's official: Curling is the official sport of North Dakota. Gov. Doug Burgum signed the bill into law during a ceremony held at the Bismarck Curling Club. Sen. Sean Cleary (R-Bismarck) introduced the bill on behalf of Alaina Schmidt, a sixth grader at Horizon Middle School. Schmidt testified on the bill before committees in both Houses – and she said she worked very hard to get it passed.
Burgum signs bills to reduce red tape
KX News
Governor Doug Burgum has now signed 33 of the more than 50 bills introduced to change or eliminate over 400 unnecessary regulations through the Red Tape Reduction Working Group. The Red Tape Reduction Working Group was created last August and worked to identify regulations, rules, and policies that could be changed or eliminated to help lower costs for North Dakota citizens. And getting rid of red tape helped lower those costs.
Spring flood risk low in Souris River Basin
Minot Daily News
"Our state team is always most effective when using a whole-of-government approach toward disaster response. While flooding is not imminent, things like ice jams and additional precipitation could call for a quick response. We want to make sure our local communities, state agencies and federal partners have the tools they need now so everyone is better prepared," said Gov. Doug Burgum.
State Financial Officers Demand Chase Stop 'Politically Motivated' De-Banking
Breitbart
"We urge Chase to immediately take steps to identify and address internal drivers of political or anti-religious bias that could undermine its fiduciary obligations and impair the freedom of its customers to access financial services without fear of discrimination," the group wrote in the letter laying out that the bank has appeared to engage in politically motivated de-banking…The letter was signed by various state financial officers, including…North Dakota Treasurer Thomas Beadle[.]
North Dakota's economy saw big boost in 2022, tax department reports
The Jamestown Sun
North Dakota's economy is rebounding from challenges tied to the COVID-19 pandemic, as taxable sales and purchases posted a nearly 18% increase in 2022. Taxable sales and purchases totaled $23.9 billion, up 17.7% from the $20.3 billion posted in 2021, according to a report released Wednesday, March 22, by the office of Tax Commissioner Brian Kroshus. The increase "illustrates a strong, post-pandemic business recovery across the state and a return to more normalized conditions following a particularly challenging year in 2021," Kroshus said.
ND first state to require cybersecurity education
KFYR-TV
This morning, Governor Doug Burgum signed HB 1398 into law, which mandates K-12 schools teach computer science and cybersecurity. Governor Burgum and State Superintendent Kirsten Baesler say this is part of the state's efforts to prepare students for a technology-driven economy and to address the increasing importance of cybersecurity. "This bill provides clear direction to our schools to not only offer independent courses in computer science and cybersecurity, but to also embed these content standards into the required instruction in all North Dakota's elementary, middle and high schools," said State Superintendent Kirsten Baesler.
North Dakota amends policy for suspension of poultry and bird events
DRG News
"I applaud the board working to balance the needs of commerce while protecting poultry producers from this devastating disease," Agriculture Commissioner Doug Goehring said.
'Shark Tank' star praises North Dakota economy, takes dig at Minnesota
KFGO
Kevin O'Leary said, on Fox News, North Dakota a gem for investment with good policy and pointed to the dramatic growth in Fargo as compared to Moorhead. O'Leary used the comparison to get across his point that Minnesota has bad policies. "In Fargo, you've got Microsoft's second largest campus, massive arts, biotech, energy businesses," O'Leary said. "Go across the river, only 200 yards, you step out and it looks like Cuba. There's only 30,000 people left in Moorhead. The difference is Minnesota policy [compared to] North Dakota policy."
Burgum declares January weather disaster; Bismarck moves closer to triple-digit snow total
The Bismarck Tribune
Gov. Doug Burgum has declared a winter storm disaster for parts of North Dakota impacted by severe fog and ice buildup on power lines in mid-January. Meanwhile, another round of snow on Tuesday pushed Bismarck's season total closer to triple digits and a new record. The bad weather from Jan. 16-20 knocked down electrical infrastructure and caused thousands of power outages in central, northwestern and northeastern North Dakota. Damages are expected to exceed $1.45 million, according to the governor's office.
Gov. Doug Burgum signs bill to allow 'digital wallet' for motorists
Grand Forks Herald
Gov. Doug Burgum has signed a bill that will allow vehicle owners to store their motor vehicle registration electronically. House Bill 1080 will allow the North Dakota Department of Transportation to provide a "digital wallet" for motorists. State law already allows for an electronic driver's license — expected to go live next year, according to a news release from the governor's office — and for electronic proof of insurance. Currently, paper registration cards are still required to be carried in or on the vehicle, but House Bill 1080 will allow for an electronic version.
National Guard achievements presented at Governor's Military Ball
KX News
"The incredible work that is being done, both here and abroad, by our North Dakota National Guard doesn't go unnoticed," Governor Doug Burgum said. "We're grateful that night after night, day after day, the call to duty by this group and our communities across the state who support them has always been met at the highest level."
North Dakota lawmakers vote to end tax triggered by high oil prices
Inforum
Gov. Doug Burgum has previously indicated he would sign a bill to dispose of the so-called oil tax trigger, which he referred to as an "excess profits tax on companies that are investing greatly in our industry."
Washington, D.C.
Senator John Hoeven discusses FAA waivers for BVLOS drone flights
KFYR-TV
In order for North Dakota to reach its potential for Unmanned Aerial System operations like package delivery and pipeline inspection, drone operators need to receive a waiver from the FAA to fly beyond their visual line of sight (BVLOS). Getting approval is a lengthy process, which is why Senator John Hoeven is looking to make it easier. During a roundtable with UAS officials in Grand Forks, Hoeven said he is working with the FAA to allow drone companies to fly there and build up their safety record, speeding up the approval process. Hoeven adds this will help North Dakota gain a more competitive edge against other states in the UAS Industry. "What's important here is because of the advanced capabilities that we have through the Northern Plains test site and Grand Sky technology park, it makes us the place to go nationally to get this certification," said Hoeven.
North Dakota Rep. Kelly Armstrong questions TikTok's potential drain on U.S. resources
The Dickinson Press
North Dakota's lone member of the U.S. House of Representatives on Thursday engaged in a back-and-forth with the CEO of TikTok, raising concerns about the tech company's Chinese ownership, the data it collects on U.S. citizens and especially its potential drain on American resources. It was part of a five-hour meeting during which Shou Chew, CEO of TikTok, met with members of the House Energy and Commerce Committee amid calls by the Biden administration that TikTok be sold or face a ban in the U.S…In addition to data concerns, Armstrong said others exist, as well, including the expenditure of resources by the U.S. government to watch over TikTok, especially in relation to the company's plans to enter a partnership called "Project Texas." The $1.5 billion proposal would see data on U.S. users stored and overseen by a subsidiary company in Texas.
Klobuchar, Cramer Bill Would Extend Disability Benefits to Firefighters
KVRR
Minnesota Democratic Senator Amy Klobuchar and North Dakota Republican Sen. Kevin Cramer are teaming up to support firefighters. They have introduced a bill to extend disability benefits to firefighters who become disabled due to cancer caused by carcinogenic exposure. The Honoring Our Fallen Heroes Act would also expand access to federal support for the families of firefighters and first responders who pass away from such cancer.
'I'm out': Lawmakers draw red lines on possible permitting deal
The Washington Post
Rep. Kelly Armstrong (R-N.D.), who represents the fifth-largest coal-producing state, told reporters Wednesday that he would object to any permitting deal that prioritizes renewable energy over fossil fuels. "Anything that gives real primacy to one form of energy production at the detriment of the other would be something I would have a problem with," he said. Armstrong later clarified that by "the other," he was referring to fossil fuels and nuclear energy, which he said "actually keep the lights on when the wind isn't blowing."…Meanwhile, Sen. Kevin Cramer (N.D.) said he was worried that "the EPA is still presuming authority that it doesn't have" after the Supreme Court limited the agency's ability to regulate carbon emissions in West Virginia v. EPA, pointing to a provision in the Inflation Reduction Act that directs the EPA to significantly reduce states' greenhouse gas pollution.
Tied to Trump: New York DA's actions have some Republicans rallying to the former president
Fox News
"If the defendant wasn't Donald Trump, this wouldn't be brought by a DA," said Rep. Kelly Armstrong, R-N.D. "I think we understand unfairness. We understand politicization."
Why House Republicans say Senate Democrats need the GOP's energy package
The Washington Times
"Politics play a role in this. Look at the vulnerable Senate Democrats and look at the projects that have been stopped or are being stopped now," said Rep. Kelly Armstrong, North Dakota Republican and a lead author of the bill dubbed H.R. 1. "The question will be, does it come back in some kind of bipartisan bill where they have a minority of the majority supporting it, or does it come back as something in an appropriations bill later down the line that gives political victories for rural Democrats in tough, tough reelections?"
Armstrong: 'No bans on gas stoves'
The Ripon Advance
U.S. Rep. Kelly Armstrong (R-ND) on March 17 proposed two pieces of legislation that would prevent the banning of natural gas stoves in the United States. "Our bills make it clear that Americans should decide if a gas stove is right for their families, not the federal government," Rep. Armstrong said on Monday.
Legislation to launch suicide prevention pilot programs at VA Centers across the U.S.
The Williston Herald
"North Dakota veterans bravely served our country, and taking care of them includes taking care of their mental health," said Senator Cramer. "Drawing upon the success of the Zero Suicide Initiative, this pilot program will bring suicide prevention resources to VA health centers and veterans in need of care."