Happy Monday!
Dear Fellow Republicans,
We wanted to provide you with a roundup of everything you might have missed from North Dakota's great Republican leaders this past week. Please share with family and friends!
Perrie Schafer, NDGOP Chairman
Photo of the Week
N.D. Gov. Doug Burgum poses with Bismarck Shiloh Christian students before play against Beulah in the North Dakota Class B state high school boys basketball tournament semifinals at the Bismarck Event Center on Thursday, March 16, 2023. Inforum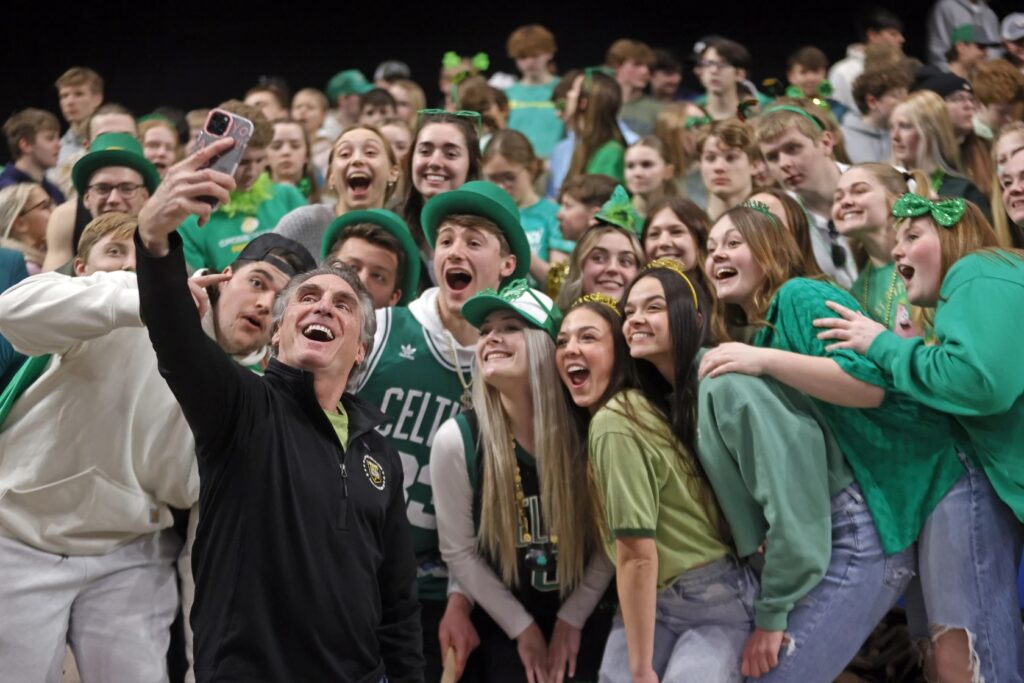 RNC
Check out the facts and figures compiled by RNC Research about the 24 months of Biden's Border crisis. – Perrie
BIDEN'S BORDER CRISIS CONTINUES TO RAGE
Customs and Border Protection (CBP) data shows 154,998 illegal immigrants were apprehended attempting to cross the U.S.-Mexico border in February, making this the second highest total for February in 22 years.
For the first time in history, monthly apprehensions at the southern border have surpassed 150,000 for 24 consecutive months.

Under the previous administration, monthly apprehensions never reached 150,000.
ND 68th Legislative Session
The 68th Legislative Assembly held a memorial service session for those special public servants who worked tirelessly to make North Dakota the great state it is today. Their hard work and dedication to this state will never be forgotten. Below are those honored at this service.
North Dakota State Senators
Jayson Leroy Graba
District 43
Years Served: 1990-1994
Died October 9, 2022, in Grand Forks, ND
James O. 'Jim' Kusler
District 33
Years Served: 1982-1986
Secretary of State 1989-1993
Died November 7, 2021, in Bismarck, ND
Richard F. 'Dick' Larsen
District 18
Years Served: 1966-1968
Lieutenant Governor 1969-1973
Died August 27, 2022, in Santa Monica, CA
Marvin Orlen 'Marv' Mutzenberger
District 32
Years Served: 1996-2000
Died July 19, 2021, in Bismarck, ND
Donna Lou Nalewaja
District 45
Years Served: 1986-1998
Died September 30, 2021, in Fargo, ND
Wayne K. Stenehjem
District 42
Years Served: 1980-2000
President Pro Tempore in 1999
North Dakota Attorney General 2001-2022
Died January 28, 2022, in Bismarck, ND
James George Smykowski
District 26
Years Served: 1972-1980
Died December 9, 2021, in Fargo, ND
Harvey Dean Tallackson
District 16
Years Served: 1976-2008
Interim President Pro Tempore 1989-1990
Died July 27, 2022, in St. Paul, MN
Benjamin C. 'Ben' Tollefson
District 38
Years Served: 2000-2008
Died December 16, 2021, in Minot, ND
John Thomas 'Jack' Traynor
District 15
Years Served: 1990-2006
Died July 11, 2021, in Devils Lake, ND
Francis E. 'Hank' Weber
District 22
Years Served: 1964-1966
Died October 27, 2022, in Casselton, ND
Stanley 'Stan' Wright
District 4
Years Served: 1972-1988
President Pro Tempore 1981
Died December 11, 2021, in Stanley, ND
North Dakota State Representatives
Lynn William Aas
District 5
Years Served: 1967-1970 & 1987-1990
Died October 9, 2022, in Grand Forks, ND
James Edward Froeber
District 5
Years Served: 1973-1974
Died January 23, 2022, in Minot, ND
Stephen Thomas Gorman Jr.
District 46
Years Served: 1987-1996
Died October 29, 2021, in Fargo, ND
Jayson Leroy Graba
District 43
Years Served: 1985-1990
Died October 9, 2022, in Grand Forks, ND
George Joseph Keiser
District 47
Years Served: 1993-2021
Died December 22, 2021, in Bismarck, ND
Matthew M. Klein
District 40
Years Served: 1993-2016
Died January 30, 2023, in Minot, ND
Richard F. 'Dick' Larsen
District 7
Years Served: 1965-1966
Died August 27, 2022, in Santa Monica, CA
Ellis Gene Martin
Districts 17 & 43
Years Served: 1977-1978 (43) & 1983-1984 (17)
Died September 22, 2022, in Grand Forks, ND
Stuart J. McDonald
District 18
Years Served: 1967-1970
Died October 2, 2021, in Loveland, CO
Marshall W. Moore
District 44
Years Served: 1981-1988
Died March 12, 2022, in Bismarck, ND
Marvin Orlen 'Marv' Mutzenberger
District 32
Years Served: 1991-1996
Died July 19, 2021, in Bismarck, ND
Donna Lou Nalewaja
District 45
Years Served: 1983-1986
Died September 30, 2021, in Fargo, ND
Carol Ann Niemeier
District 20
Years Served: 1997-2004
Died December 14, 2021, in Mayville, ND
Duane Rau
District 29
Years Served: 1973-1978
Died March 8, 2022, in Medina, ND
Arlo E. Schmidt
Districts 7 & 12
Years Served: 1995-2000 (12) & 2001-2009 (7)
Died November 30, 2022, in Northwood, ND
Calvin A. Shockman
District 28
Years Served: 1983-1990
Died December 11, 2021, in LaMoure, ND
William Horton Starke
District 12
Years Served: 1985-1992
Died May 19, 2022, in New Rockford, ND
Wayne K. Stenehjem
District 42
Years Served: 1977-1980
President Pro Tempore in 1999
North Dakota Attorney General 2001-2022
Died January 28, 2022, in Bismarck, ND
Earl S. Strinden
Districts 17 & 18
Years Served: 1967-1982 (18) & 1983-1988 (17-18)
Died October 18, 2022, in Fargo, ND
Gerald Orlando Sveen
District 6
Years Served: 1993-2000
Died September 23, 2021, in Bemidji, MN
Elwood Clifton Thorpe
District 5
Years Served: 1991-2010
Died March 29, 2021, in Minot, ND
Benjamin C. 'Ben' Tollefson
Districts 38, 40 & 50
Years Served: 1985-1992 (40-50), 1993-2000 (38)
Died December 16, 2021, in Minot, ND
Francis E. 'Hank' Weber
Districts 11 & 22
Years Served: 1963-1964 (11), 1967-1980 (22)
Died October 27, 2022, in Casselton, ND
Joseph Richard Whalen
Districts 39
Years Served: 1981-1992
Died May 25, 2021, in Spearfish, ND
Alon Carl Wieland
Districts 13
Years Served: 2003-2014
Died January 22, 2022, in West Fargo, ND
Gerry Lynn Wilkie
Districts 9
Years Served: 1987-1998
Died July 18, 2021, in Rolla, ND
North Dakota
New ND law offers alcohol tax sharing agreements with tribal nations
Valley News Live
Under Senate Bill 2377, each of the five tribal nations in North Dakota will have the opportunity to enter into an agreement with the state to impose a single tax on alcoholic beverages sold at the retail and wholesale levels within their respective reservations. Tribal nations that adopt the alcohol tax will keep 80% of the tax revenue, while the state's general fund will receive 20%. The Governor's Office has worked with tribal nations, legislators and the Office of the State Tax Commissioner for several years to negotiate an acceptable framework for revenue sharing agreements and avoid a situation in which both the state and tribe could levy separate alcohol taxes on reservations. "This bill creates a fair and uniform framework for taxing alcohol on reservations while ensuring that the bulk of the revenue goes to the tribes to support addiction treatment and other programs," Burgum said.
'Shark Tank' star touts North Dakota as a good place to invest on Fox Business
The Dickinson Press
"The model that works, that says this is a good idea, is in North Dakota. They incorporated their own sovereign bank in 1919," O'Leary said. "It has the fourth-fastest growing GDP per capita, so you know their economy's working," he said.
Burgum: Dip in revenue forecast won't derail tax breaks
The Center Square
"For the current 2021-23 biennium, oil revenues are expected to total just over $6 billion, which is $2.3 billion higher than the estimate used in the original 2021 legislative budget and $9 million higher than expected in November," according to a news release from Burgum's office. "For the 2023-25 biennium, oil tax revenues are expected to remain fairly constant, with a slight decline in the second half of the biennium, and are expected to total $5.14 billion in revenues, about $116 million lower than expected in the November estimate." Sales tax, motor vehicle tax and corporate tax collection are exceeding their predictions, the OBM said. "This supports our ability to provide permanent income tax relief and invest significantly in workforce, child care, infrastructure and other priorities to better serve North Dakotans and make our state more attractive when competing with other states for capital and talent," Burgum said.
So You Want to Start a Business? Register your trade name with the State
KX News
Michael Howe, the Secretary of State, says it's important to register your trade name before you make any merchandise. "I know people in the past that ran into some trouble when they registered their trade name and then start developing marketing materials," stated Howe. "They'll go in, register their name, and find out that the name's already been taken. So that's why we always advise that the first thing you should do is register your trade name with the state and make sure it's available. And also get a receipt of that." Howe says in our state, there are 46 different business entities that you could register as — but the most popular is the LLC and Business Corporation models. "A Business Corporation is formed with the purpose of generating profit for shareholders," explained Howe. "An LLC is a combination of a partnership and a corporation, provides members with limited liability regardless of members' participation in management, and can be taxed under flexible partnership rules."
EDITORIAL: The cold-blooded killer Alfonso Rodriguez evades his rightful sentence
Grand Forks Herald
North Dakota Attorney General Drew Wrigley — who was the state U.S. attorney in 2006 and led the prosecution of Rodriguez — isn't happy. "Rodriguez will remain in prison for life, but the gates of death row will be opened, returning him to (the) general prison population where he will be allowed to construct a social existence and life for himself within the confines he found so comfortable across the decades he was previously imprisoned," Wrigley said in a statement this week. "This result is a grave affront to justice and to the hearts and souls of all who loved and cared for Dru Sjodin. They have our prayers for God's peace as do all who held out the hope there would be justice for that brave woman."
'A nightmare that's never going to end': child porn takes a toll on justice system
The Bismarck Tribune
Investigation of child porn often starts with cybertips — information from internet providers to law enforcement. Each image in a grouping or cache of porn carries a sort of electronic fingerprint, according to North Dakota Attorney General Drew Wrigley. Information from that image can help law enforcement find the owner of the IP address. "It's a constant," Wrigley said. "It would startle people to know how many thousands of tips are generated each day. And I'm sorry to point out that includes right here in North Dakota."
How did Texas longhorn cattle end up in Theodore Roosevelt National Park?
Inforum
A resolution urging the park to keep the horses and longhorns is moving through the North Dakota Legislature with broad support, and Gov. Doug Burgum has offered to provide state expertise and resources to help keep the herds in the park. Sen. John Hoeven, R-N.D., who serves on the committee that oversees the parks, assembled a meeting of legislative leaders, Burgum and Attorney General Drew Wrigley, who met with the head of the park service and park superintendent to press the case for keeping the longhorns and horses, both popular draws for the park.
ND abortion ruling draws a response
Knox Radio
Republican Attorney General Drew Wrigley was critical of the ruling. He said in a statement that the state Supreme Court chose "a path of its very own, by holding there is now also an un-defined 'health' exception to abortion regulation. He goes on top say the "North Dakota Supreme Court appears to have taken on the role of a legislative body, a role our constitution does not afford them."
North Dakota bands, orchestras, choirs invited to apply for governor's music program
The Dickinson Press
Gov. Doug Burgum is asking school, community and church bands, orchestras and choirs across North Dakota to apply for the Governor's Official State Band/Orchestra Program and Choral Program for the 2023-24 school year. Doug Burgum and first lady Kathryn Burgum will choose from applicants based on musical talent, achievement and community involvement, according to a news release from the governor's office.
Washington, D.C.
Conservatives blame Silicon Valley Bank collapse on 'diversity' and 'woke' issues
NBC News
Talk of more regulation, however, worries Sen. Kevin Cramer, R-N.D., who called the government's rescue measures "too much, too fast." He argued that Biden set a dangerous precedent by backstopping 100% of uninsured deposits, "sending a signal to all banks that bad behavior will be rewarded." "The collapse is clearly a liquidity crisis and not a capital crisis and should have been identified before the panic set in," Cramer, a member of the Banking committee, said in an interview. "Now [Biden] will likely use this failure to increase regulations on small banks, which will only incentivize further consolidation." But in the same breath, Cramer also knocked what he said was regulators' focus on ESG efforts. The episode "should warn regulators to focus on the main mission for financial institutions, and that is not climate change or management diversity," he said. "It is risk based on financial returns."
UND receives $1 million for emissions reduction research
Grand Forks Herald
UND has received $1 million to help develop technology to reduce or eliminate methane emissions from storage tanks. The announcement came from the office of U.S. Sen. Kevin Cramer, R-N.D. The funding comes from the U.S. Department of Energy. An addendum to the release noted that UND "intends to test a novel technological approach to reduce or eliminate methane emissions from storage tanks. … The objective is to eliminate methane emissions from flaring and venting fugitive emissions associated with pressure control of the storage tank headspace." Further, it said, the project "aims to provide a cost-effective solution for the high number of small producing facilities distributed across the country that, in aggregate, contribute to a significant volume of emissions."
Cramer, Fox discuss WOTUS rule
Wahpeton Daily News
Cramer joined all of his Republican colleagues in February, his office stated. They collectively introduced a resolution to formally challenge the current WOTUS rule, which the EPA and Army Corps announced in December 2022. "Since the agency unveiled the rule, I've heard from a lot of those stakeholders, constituents, and others who are concerned the new rule really embodies some of the same government overreach of the 2015 rule," Cramer said Wednesday. "Also concerning was the rule's shift in applying the burden of proof, and this is a very specific issue — the burden of proof on the landowners for proving that their land is non-jurisdictional." Cramer cited the WOTUS rule under the Trump administration. Its preamble "emphatically" stated that the burden of proof is not on the landowner, but rather on the agency. Saying that the current rule "seems to have flipped that," Cramer asked for an explanation.
ND Veterans Cemetery receives funding for future projects
KFYR-TV
On Tuesday Senators Kevin Cramer and John Hoeven announced that the North Dakota Veteran's Cemetery will be receiving a grant of $1.8 million from the Veteran's Affairs National Cemetery Administration…"We are very excited to finally be able to have this additional option for our veterans and their families. Any new build, any new cemetery build that the VA performs, automatically establishes a columbarium with that build. It is definitely a long time coming," said Director of North Dakota Veterans Cemetery Pamela Helbling-Schaefer. The North Dakota Veterans Cemetery hopes to start building the columbarium this spring and have it completed by the end of October 2023. There will be room for about 1,440 niches.
US Congress delegation visiting Guyana
Caribbean National Weekly
The chairman of the House Committee on Ways and Means, Jason Smith is leading a bipartisan congressional delegation (CODEL) to Guyana, the US Embassy said on Friday. It said that the delegation, which also includes Democrat Terri Sewell and Republicans Carol Miller, Michelle Fischbach, Beth Van Duyne, Mike Carey (R-OH), and Kelly Armstrong would meet with government officials and opposition leaders to discuss issues related to governance, economic matters, and the importance of bipartisan cooperation.
Transportation board approves rail merger
Minot Daily News
The U.S. Surface Transportation Board has announced its approval Wednesday of a proposed merger between Canadian Pacific (CP) and Kansas City Southern Railway (KCS). "Today's decision will expand market access for North Dakota producers, unlock opportunities for commerce in Mexico, and make existing routes across North America more efficient. I appreciate the STB's thorough process and final approval," Sen. Kevin Cramer, R-ND, said.
Former Dem-NPL U.S. House candidate changes parties
KFYR-TV
Mark Haugen, the Democratic nominee for the House of Representatives in 2022, has switched to the Republican party. Haugen, a pro-life candidate, dropped out of the House race against incumbent Kelly Armstrong after pro-choice Independent Cara Mund announced her candidacy last summer. He said he wants to serve his civic duty as a regular citizen and doesn't have plans to run for office.
Senators Hoeven and Cramer promote legislation to allow year-round sale of E15
AM 1100 The Flag
U.S. Senator Kevin Cramer joined other senators Tuesday in reintroducing the Consumer and Fuel Retailer Choice Act of 2023. The legislation would permit the year-round, nationwide sale of ethanol blends higher than 10%. Cramer says the bill would end "years of regulatory uncertainty" and prevent a "patchwork of uneven state regulations". "North Dakota consumers and producers deserve regulatory consistency, and allowing the year-round sale of E15 is a great place to start. This bill gives Americans across the country more choices and stabilizes the market so North Dakota's ethanol producers can meet the demand," said Senator Cramer…U.S. Senator John Hoeven also helped introduce the legislation. "Our legislation is about ensuring a consistent regulatory approach to the sale of E15 across our nation, providing certainty to our agriculture and biofuel producers and giving travelers more options at the pump," said Senator Hoeven.
Chiropractic Medicare Coverage Modernization Act reintroduced in U.S. Senate
Wahpeton Daily News
U.S. Sens. Kevin Cramer, R-N.D., and Richard Blumenthal, D-Conn., reintroduced the Chiropractic Medicare Coverage Modernization Act Tuesday, March 14. The act would expand Medicare coverage of chiropractic services to ensure patients enrolled in the program can access chiropractic care as a non-drug alternative for pain management.