Happy Monday!
Dear Fellow Republicans,
We wanted to provide you with a roundup of everything you might have missed from North Dakota's great Republican leaders this past week. Please share with family and friends!
Perrie Schafer, NDGOP Chairman
Photo of the Week
Senator Hoeven: Thanked Border Patrol Union President Brandon Judd this week for the hard work Border Patrol professionals are doing at our southern border, despite the policies of the Biden admin. I've met many of these hard-working men & women on my trips to the border & greatly appreciate their efforts.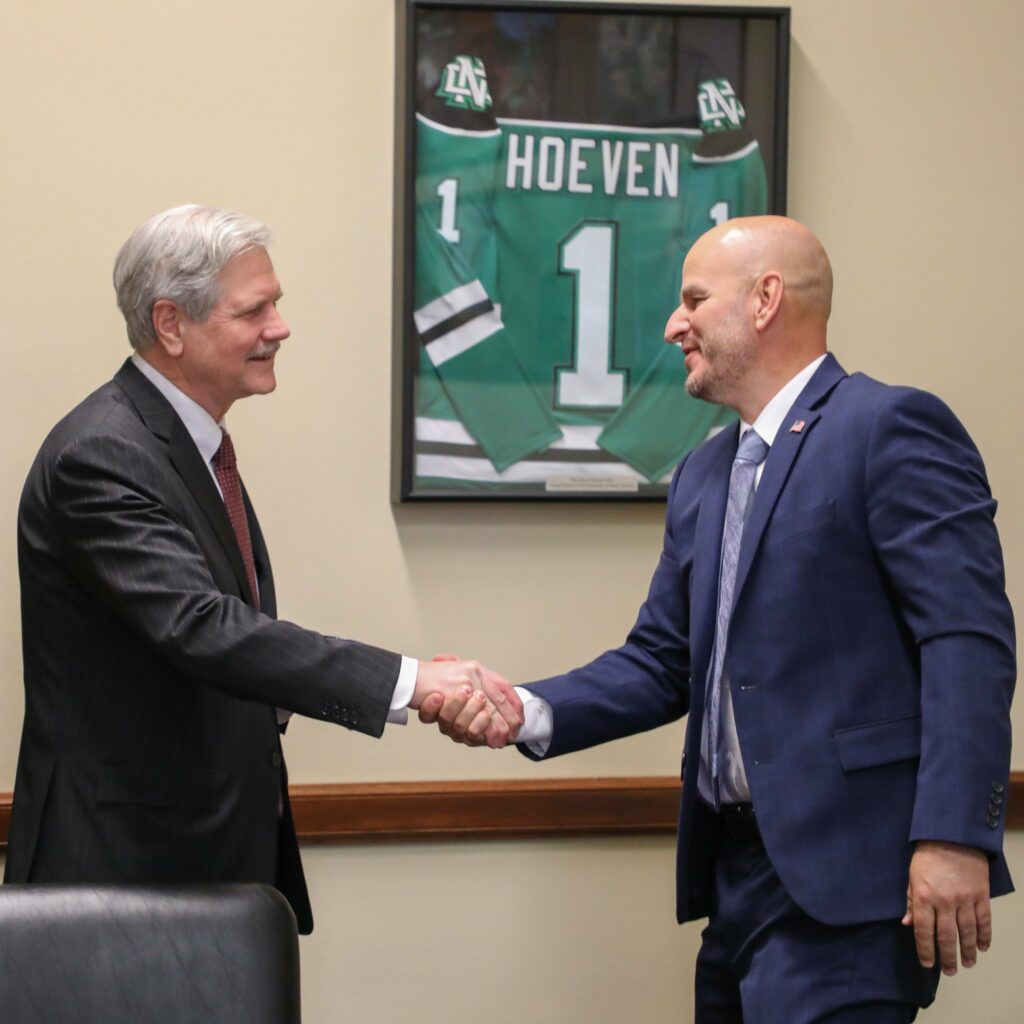 RNC
Great point made by RNC Chairwoman Ronna McDaniel: they'll do anything to protect Joe Biden's failing campaign. – Perrie
NDGOP
Politics and a Plate event in Fargo
Inforum
Next month's Politics and a Plate event will touch on the state of the North Dakota Republican Party. The state's GOP Chairman Perrie Schafer will be the guest speaker at the Wednesday, March 1 event. The program will be held at the Avalon Center, 2525 9th Ave. S., Fargo, and will run from noon to 1 p.m. Doors open at 11:30 a.m., and the attendance fee is $20. Those interested must RSVP by Monday, Feb. 27 to CC4URC@gmail.com
ND 68th Legislative Session
Both of the North Dakota House and Senate Chambers were able to complete all of their business by last Wednesday, February 22. They are enjoying a well-deserved break for crossover before they hit the ground running Wednesday, March 1st!
Thank you, North Dakota Legislators!
North Dakota
Burgum: Legislative session on track to address ND's biggest challenges
Say Anything
As North Dakota's legislative session reaches its halfway point with over 700 bills remaining, the opportunity to make a positive difference in the lives of our citizens has never been greater. Across the state, with help wanted signs in the windows of businesses large and small, our citizens and communities are feeling the effects of North Dakota's No. 1 barrier to economic growth – the workforce shortage. Our laser focus on this critical issue was evident with the first bill that legislators sent to my desk to be signed. Providing $68 million in matching funds will help establish 13 career academies across the state where students can pursue high-demand careers in the trades, health care, technology and other sectors. The second bill signed this session also was workforce-focused, expanding workers' compensation coverage for full-time firefighters and law enforcement and sending a clear message in North Dakota and beyond that we mean it when we say we "back the blue." This only scratches the surface of what we can accomplish this session to attract talent and capital to our state, remove barriers to workforce participation and provide hardworking North Dakotans with real, meaningful tax relief.
Burgum's flat rate income tax bill in the hands of the North Dakota Senate
The Center Square
North Dakota Gov. Doug Burgum's flat income tax proposal is now in the hands of the state Senate. House Bill 1158 would create a 1.5% flat tax but lowers income tax thresholds. For example, a married couple filing jointly would not owe any income tax if their taxable income is below $74,750, according to the bill. The bill does away with a tiered payment system for income taxes. Currently, single taxpayers that make less than $37,450 pay 1.10% of their taxable income, while those who make more than $411,500 pay $9,602.44 plus 2.90% of their taxable income over $411,500.
North Dakota, other states sue over Biden's 'Waters of the US' rule
The Bismarck Tribune
North Dakota and the other 23 suing states contend in the lawsuit that the Biden rule encompasses waters "with no reasonable connection to 'navigable waters,'" and that if left in place, "then ranchers, farmers, miners, homebuilders and other landowners across the country will struggle to undertake even the simplest of activities on their own property without fear of drawing the ire of the federal government." GOP Gov. Doug Burgum in a statement said the lawsuit was filed in North Dakota because "our many wetlands and waterways make our state particularly susceptible to this misguided rule."
N.D. Governor urges White House for urgency over fentanyl deaths
McKenzie County Farmer
North Dakota Governor Doug Burgum is back in North Dakota following a recent trip to Washington D.C. to meet with fellow governors and President Joe Biden. Among Burgum's biggest takeaways was the impression that fentanyl overdoses are not getting enough attention. "I wish I could say it was front and center because I feel like…under the Trump administration, the focus was quite intense on the whole issue of issue of addiction and considering the border and the fentanyl crisis. In 2021, 107,000 people died of overdoses; a record in the U.S. They haven't released the numbers for 2022, but I'm hearing from people that I talk to in D.C. that those numbers haven't been released is perhaps because it's going to be 120, 130, 140,000 deaths."
PSC fines MDU $2000 for missing a wind farm lighting deadline
Prairie Public
The Public Service Commission has fined Bismarck-based MDU $2000 for missing a state law-imposed deadline for replacing its lighting system at the Thunder Spirit Wind Farm in Adams County – by four days…"But they (MDU) didn't get final FAA approval until Jan 4th of 2023, which is four days after the deadline," said Commissioner Julie Fedorchak. Fedorchak said PSC staff negotiated a "consent agreement" – under which MDU agreed to the $2000 fine, or $500 per day. "That's in line with the rate for others who missed the deadline," Fedorchak said. "They did make a good faith effort to meet the deadline." But PSC Chairman Randy Christmann had some concerns. "They were warned that some of us were very doubtful that the LIDS technology was going to get approved by the FAA,' Christmann said. "But of course, they knew better, and talked us into the extension." Christmann said the neighbors were subjected to looking at those red lights for an extra year. "But even after the extra delay, they still had to cut it right to the edge, and then couldn't quite make it," Christmann said.
North Dakota orders telephone company to stop marketing services to residents
Inforum
The North Dakota Public Service Commission (PSC) issued a cease and desist order against Bright Sound Communications, according to a Thursday, Feb. 23, news release. The state agency alleged the company misrepresented itself during sales calls. "Competition in the telecommunications industry is fine and even encouraged, but blatantly and continually misrepresenting the facts will absolutely not be tolerated," Commission Chair Randy Christmann said in a statement.
Godfread: Let's look at retirement
Minot Daily News
Today's pension plans and employee career paths are not what they used to be. And while this doesn't take away from the good that pensions have provided in the past, 401k contribution plans make more financial sense now. 401k plans offer more flexibility and control, allowing individuals to manage their retirement savings and take their saving gs wherever their next career opportunity might take them. Whatever the choice, it needs to be informed. Asking a new employee to lock in today what they want to do 30 years from now is a tall order (even for a Guinness record holder in height).
Proposed $161M 'gender-driven' facility would move female inmates from small-town facility
The Dickinson Press
"We have a moral and legal responsibility as a state to provide health care for anybody who's in our system, and you can't do that in the current location," Burgum said during an editorial board meeting at The Forum last December.
Washington, D.C.
Hoeven wants HHS Sec. Becerra to end Covid-19 vaccine, mask mandates
KFGO
North Dakota Sen. John Hoeven has called Health and Human Services Secretary Xavier Becerra, asking him to end Covid-19 mandates. Hoeven said the mandates are hurting rural hospitals and care facilities. The Biden administration plans to end its public health emergency in May. Hoeven also wants the federal government to end the Covid-19 vaccine mandates for federal employees and contractors and health care workers which he calls "overreaching." Hoeven has also cosponsored legislation to repeal vaccine and mask mandates for Head Start teachers and volunteers. "Even things like the vaccine mandate – it's hard for our rural healthcare centers to attract employees and they desperately need more employees," Hoeven said.
North Dakota receives $11 million water infrastructure
The Center Square
"The Infrastructure Investment and Jobs Act provided substantial increases for water infrastructure across North Dakota's communities," said Sen. Kevin Cramer, R-N.D. "I am pleased to see these dollars are supporting projects to improve the water quality for communities throughout our state."
Armstrong's bipartisan bill seeks to update U.S. notarization process
The Ripon Advance
U.S. Rep. Kelly Armstrong (R-ND) recently led more than a dozen of his colleagues in introducing a bipartisan bill to modernize the nation's notarization process so that services may be provided remotely online. "The pandemic highlighted the need to modernize certain activities. One of those needs can be met by remote online notarization, which offers consumers a convenient way to safely and securely complete documents," Rep. Armstrong said on Feb. 22. "Our bipartisan bill will permit its use nationwide, increasing access to this important process."
'No margin for error': Local mail issues discussed at roundtable
Minot Daily News
"Mail service is essential for individuals, families and businesses, who rely on USPS to deliver everything from life-saving medications to bills and financial documents," said Hoeven. "We continue to hear from North Dakotans, particularly in Minot, about long delays in mail delivery and excessive wait times at the post office."
Despite tough talk, Congress may be at a loss in dictating presidential handling of classified documents
Fox News
Sen. Kevin Cramer, R-N.D., took a similar approach, saying Congress needed to address the "over-classification" of documents. "As I've said before, no president, vice president or member of Congress should walk out of the White House with classified documents," he said after the Pence and Biden document revelations. "We need to handle these situations in a clear, consistent manner moving forward so it would make it nearly impossible for anyone to leave a classified area with classified documents." "We must also deal with the over-classification of documents. The American system is so exceptional because of its openness and self-governance, we likely owe the public a few more facts to ensure adequate transparency. However, some things are classified for a reason, and we need to determine how to best keep them that way," he added.
Canadian border crossings triple in 2022 compared to 2021
Inforum
Sen. John Hoeven, R-N.D., met with officials from the U.S. Border patrol in Grand Forks to discuss the increase in encounters and the need for additional resources for dealing with the spike. Hoeven says it's hard for border patrol agents to cover the hundreds of miles of the border between the two countries. He's working to secure funding through the Senate Appropriations Committee to help address border patrol staffing shortages, and to improve recruitment efforts…Hoeven said securing the border is essential to fight both human trafficking and drug trafficking, especially as communities across the country struggle with rising fentanyl overdoses.
'Be proud of where you come from'
Emmons County Record
Congressman Kelly Armstrong (R-North Dakota) spent some time in Emmons County Feb. 10 to encourage local students and stressed to them that small-town kids can do great things. "Don't ever, ever, ever apologize about where you come from[.]"
Hoeven bill supports improved law enforcement in Native American communities
The Ripon Advance
U.S. Sen. John Hoeven (R-ND) on Feb. 16 introduced bipartisan legislation that would establish a federal grant program to support states, tribes, and tribal organizations in the coordination of efforts related to missing and murdered persons cases and sexual assault cases. "Supporting tribal law enforcement officers and agencies better equip them to serve their communities and keep the public safe," Sen. Hoeven said.
Armstrong addresses U.S. southern border in Bismarck
Wahpeton Daily News
"By any objective metric, the border is worse now than (during) the Trump presidency," Armstrong said. "And it's just not being covered in the same way, and that's a fact." You cannot be farther away from the southern border than in North Dakota — or could not until fentanyl overdoses began happening in state communities, Armstrong said. "We need to get it under control. The humanitarian crisis that exists down there is true, it's real, it's relevant. If a 12-year-old girl gets to the southern border, and she hasn't had a drink of water, and looks like a lot of these people that get their look, I want to give her a blanket and a hug," Armstrong said. The problem, Armstrong said, is that no one is getting to the border unless they work with the cartels. The public has to get away from seeing them as "drug cartels," but cartels that "will make money however they have to." "They are criminals and they are like water: they follow the path of least resistance," Armstrong said. "We have to do a better job, we have to make it less political and we have to get it under control. It matters and it matters right here."
Hoeven gathers more feedback on farm bill
Inforum
Hoeven said these issues affect Minnesotans and North Dakotans, meaning lawmakers from Minnesota can help with the suggested changes. "We can co-sponsor those amendments on a bipartisan basis, which means we've got a shot to put that language in the farm bill. Cause you know when we're sitting down and writing that farm bill, stuff that's bipartisan gets that serious look," Hoeven said. Hoeven also stated his desire to meet with the board again down the line when more progress has been made on the bill.
Armstrong unveils bill to end federal sentencing disparity for cocaine offenses
The Ripon Advance
U.S. Rep. Kelly Armstrong (R-ND) on Feb. 17 sponsored bipartisan, bicameral legislation to eliminate the federal sentencing disparity between crack and powder cocaine and retroactively apply it to those already convicted or sentenced.