Happy Monday!
Dear Fellow Republicans,
We wanted to provide you with a roundup of everything you might have missed from North Dakota's great Republican leaders this past week. Please share with family and friends!
Perrie Schafer, NDGOP Chairman
Photo of the Week
Lt. Gov. Tammy Miller: Today was Pride of Dakota day in Memorial Hall. So great to hear stories from entrepreneurs across our great state about creating their unique, North Dakota-made products.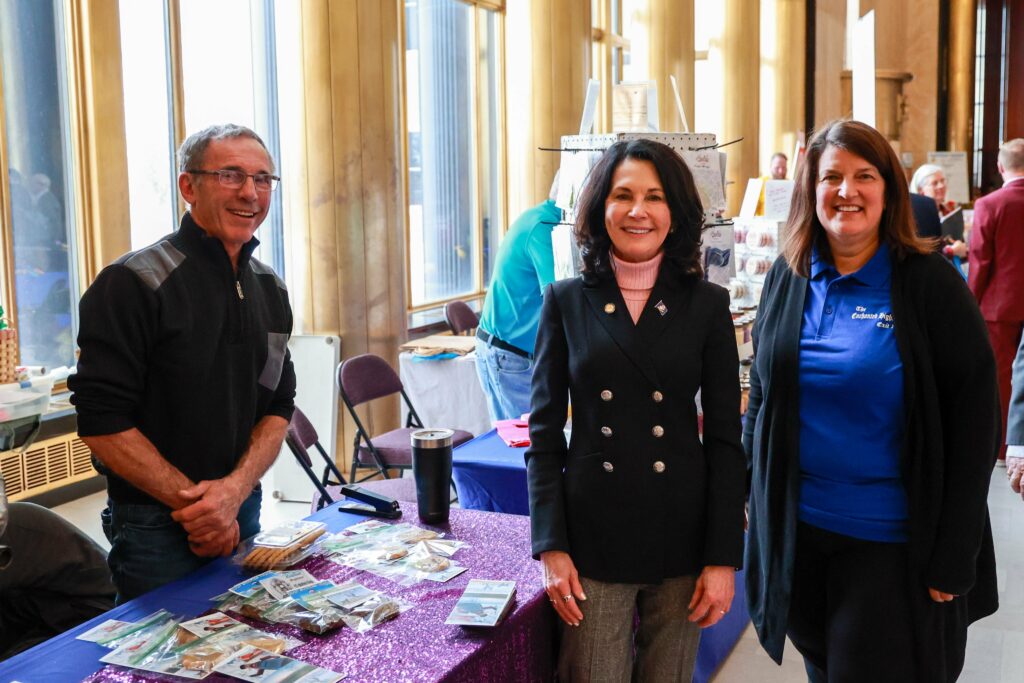 RNC
A great summary of Biden's out-of-control budget by the RNC. Take a look! – Perrie
Joe Biden likes to say: "Show me your budget—and I'll tell you what you value."
If you look at his budget – which is going to send our country $50,000,000,000,000 into debt by 2033 – it's clear what he values, and it's not you or your family.
Here's how many times he mentions the darling issues of far-left special interest groups:
Here's how many times he mentions the issues that matter to the American people:
Inflation: 10 (Not counting direct references to the so-called "Inflation Reduction Act")
Fentanyl: 2
Border Security: 8
Police: 4
Law Enforcement: 9
Crime: 24
Gas Prices: 3
Parents 3
ND 68th Legislative Session
North Dakota
Burgum Bashes White House While Praising North Dakota Oil And Gas Industry
KVRR
Gov. Doug Burgum is praising the oil and gas industry for being a "powerhouse" and "game-changer" for the state's economy. He is also bashing the White House for trying to shift the country away from climate change-causing fossil fuels. Citing recent studies, the Republican governor says the industry contributed more than $42 billion to the state's economy in 2021. It also employed nearly 50,000 people and was responsible for more than half of the state's tax revenue. "Volatile prices and of course these misguided federal policies demonstrate that the North Dakota oil and gas has the ability to not just contribute to be resilient against all of these head winds and continue to make such a big impact," said Burgum.
WATCH: North Dakota Gov. Doug Burgum touts tax relief plan to bolster economic growth
Fox Business
North Dakota Republican Gov. Doug Burgum discusses his goal of a 1.5% flat tax, plus a measure to end income tax altogether by 2028 on 'The Big Money Show.'
March is Pride of Dakota Month
KFGO
Gov. Doug Burgum has proclaimed March 2023 as Pride of Dakota Month in North Dakota, and businesses will celebrate with Pride of Dakota Day at the Capitol on Thursday, March 9. "Pride of Dakota companies will be selling and sampling unique products such as gourmet foods, art, books, jewelry, clothing, home decor and much more," said Agriculture Commissioner Doug Goehring. "It's an opportunity for Capitol visitors and state employees alike to shop for unique Pride of Dakota products and to meet the people who make them. If you're unable to come to the Capitol that day, I encourage you to go out and shop local in your communities."
ND governor to consider state Board of Education appointments
Williston Herald
Several North Dakota professionals were nominated to serve on the state Board of Education including three educators, a bank officer and a cardiologist. Six people were nominated by ND School Superintendent Kirsten Baesler. Two of the six nominees will be selected by Gov. Doug Burgum to fill pending openings on the Board of Education. The four-year terms entail overseeing North Dakota's public colleges and universities. Gov. Burgum will select one person from two groups to serve on the state's education board, pending approval from the ND Senate.
Montana group pushing to bring back Amtrak's North Coast Hiawatha route to service
KFYR-TV
The Big Sky Passenger Rail Authority says reestablishing the North Coast Hiawatha line would create new jobs as well as provide new options of transportation across the two states. The proposed service would follow along Interstates 90 and 94, making stops in Glendive, Dickinson, Bismarck and Fargo. Authority Chair Dave Strohmaier says he is hopeful a federal study into long-distance passenger routes will show the need for restoring the railway…Governor Doug Burgum, R-ND, has expressed support for restoring the route, saying it would have significant economic impacts for state tourism. Senators Kevin Cramer and John Hoeven have also been in favor of improving long-distance passenger rail across rural America.
House passes alcohol tax bill for tribal lands
Minot Daily News
"This legislation is important because it creates another avenue of needed funding to help support social awareness programs for our tribal partners," said Tax Commissioner Brian Kroshus. The bill provides uniform taxation on the sales of alcoholic beverages at the wholesale and retail level within the exterior boundaries of the reservations in the state. Reservations that implement the tax will share revenue, keeping 80% of the collected tax while 20% goes to the state's general fund. The legislation was introduced through a collaborative effort of the Office of State Tax Commissioner and House, Senate and MHA Nation representatives.
Washington, D.C.
Federal interest rates on the rise
KFYR-TV
On Tuesday, Federal Reserve Chairman Jerome Powell said that interest rates are expected to climb higher than originally anticipated. Although we do not know when this will take place, the action will impact spending. "There are certain things you have to have. You have to have food and fuel; those are the drivers of inflation. You also need rent, pay your rent and mortgage, and those things are affected by interest rates," said Sen. Kevin Cramer, R-ND.
Senators Baldwin, Hoeven introduce bill to expand flight-training programs for veterans
WSAW-TV
"We worked to establish this veterans pilot training demonstration program to support good career opportunities for veterans in commercial aviation and help address our nation's pilot shortage," said Sen. Hoeven. "This is a win-win, and by authorizing this initiative, our legislation will help give more certainty to initiatives like the Vets to Wings program at the University of North Dakota, better enabling this world-class institution to meet future demand for pilots while supporting our veterans." The American Aviator Act would authorize grant funding through the FAA to support training opportunities for veterans who are not already military pilots. veterans participating in the program will receive flight training necessary to become commercial pilots and receive other certifications, including working as a certified flight instructor. The legislation helps ensure there are enough qualified pilots in the future to continue providing safe and reliable air service to rural airports across the country.
Montana, North Dakota Senators react to President Biden's budget proposal
KFYR-TV
Senator John Hoeven, R-ND, said the request is more of the same, which will further increase inflation and damage the economy. "Our nation needs to get its fiscal house in order, but we aren't going to get there through higher taxes on hardworking Americans, Green New Deal policies or more spending that further expands the federal government. The president's proposals will hurt job creation, drive inflation even higher and undermine our nation's energy security. Instead, we need to find savings in the budget and advance pro-growth policies, like tax and regulatory relief, to strengthen our economy," said Hoeven in a statement. Senator Kevin Cramer, R-ND, called it a political proposal. "President Biden finally announced his unserious budget request. Instead of exercising fiscal discipline and reducing the inflationary pressures families are feeling, he is focused on penalizing energy producers while insisting on more taxes to recklessly fund his failed Build Back Broke agenda," said Cramer in a statement.
Worried about spying and tensions with China, Midwest states want to limit who can buy farmland
KCUR 89.3
U.S. Sen. Kevin Cramer, R-ND, said it was a clear decision to stop the project, given current U.S.–China relations. "It's quite coincidental that just within hours or days of the Air Force letter arriving, China had a spy balloon 55,000 feet above Montana," Cramer said…Now federal lawmakers want to crack down and a flurry of bills has been introduced in state legislatures across the Midwest and the rest of the nation. "I think (what happened in Grand Forks) was really an example to the rest of the country that, you know, be careful when it comes to dealing with investments from China," Cramer said.
D.C. crime rollback energizes House GOP efforts to squeeze Dems
Politico
Emboldened by their successful bid to block a progressive D.C. crime law, House Republicans are ready to keep testing how tightly they can squeeze Democrats. While the D.C. rollback might seem to affect only voters in the capital's metro area, it marks an unexpected triumph for Republicans who've gotten to revive the attacks on rising crime that helped propel them to the majority. And the House GOP has no plans to back off — it will force more tough votes on the Democratic Party in the near future, including a President Joe Biden rule on water regulations. "If we don't pick that fight, we don't win that fight," said Rep. Kelly Armstrong (R-N.D.).