Happy Monday!
Dear Fellow Republicans,
We wanted to provide you with a roundup of everything you might have missed from North Dakota's great Republican leaders this past week. Please share with family and friends!
Perrie Schafer, NDGOP Chairman
Photo of the Week
Senator Kevin Cramer: It was an early Thanksgiving celebration in Bismarck today. After nearly a year of wrongful detention in Ukraine, Kurt Groszhans was recently released. It was an honor to fellowship and break bread with Kurt and his sisters Kristi & Kim. It's great to have Kurt home. #GodIsGood
RNC
Check out the latest from the RNC's Research Department on Biden's Worst Jobs Report of the Year. See some of the toplines below. – Perrie 
NDGOP
This week, Corby, Sam, and Perrie traveled to Washington for NDGOP's Second Annual "D.C. Fly-In." We were grateful to see some friendly faces, like our two Senators Kevin Cramer and John Hoeven, along with Congressman Kelly Armstrong, who hosted us for yet another outstanding event! We also had the opportunity to meet one-on-one to discuss both national and local issues in North Dakota. Having time with them is invaluable, and we greatly appreciate their hospitality during our time away from home.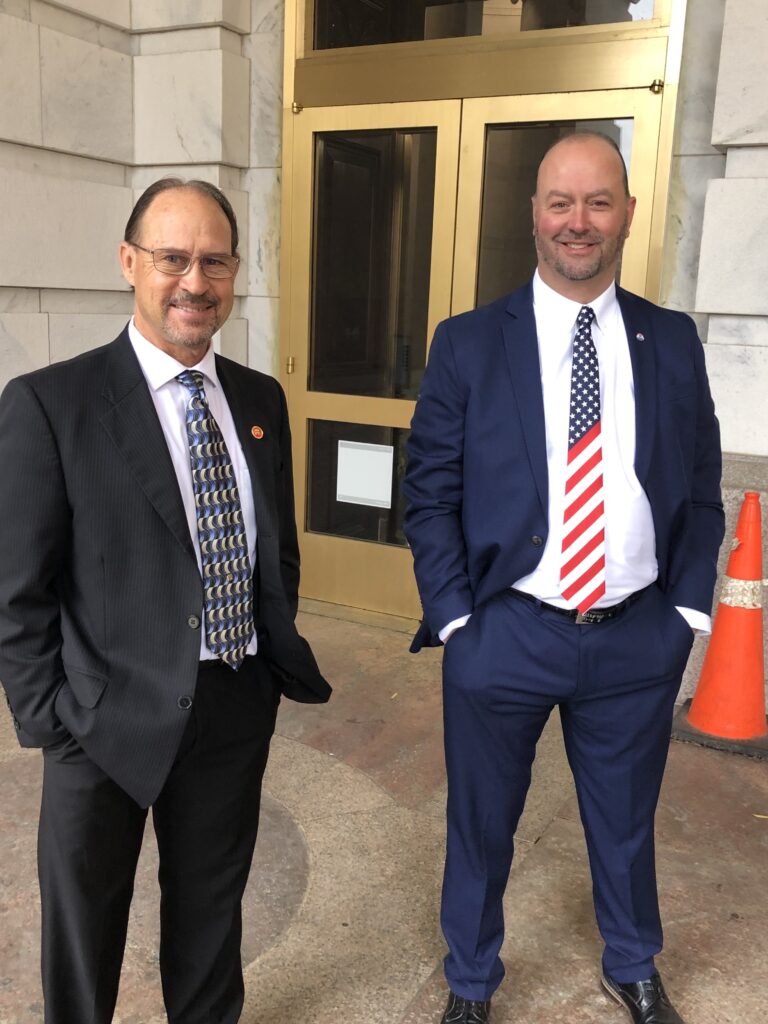 ---
This week, Chairwoman Mary Tello-Pool hosted the Annual Meeting of the Bis-Man Republican Women at HQ.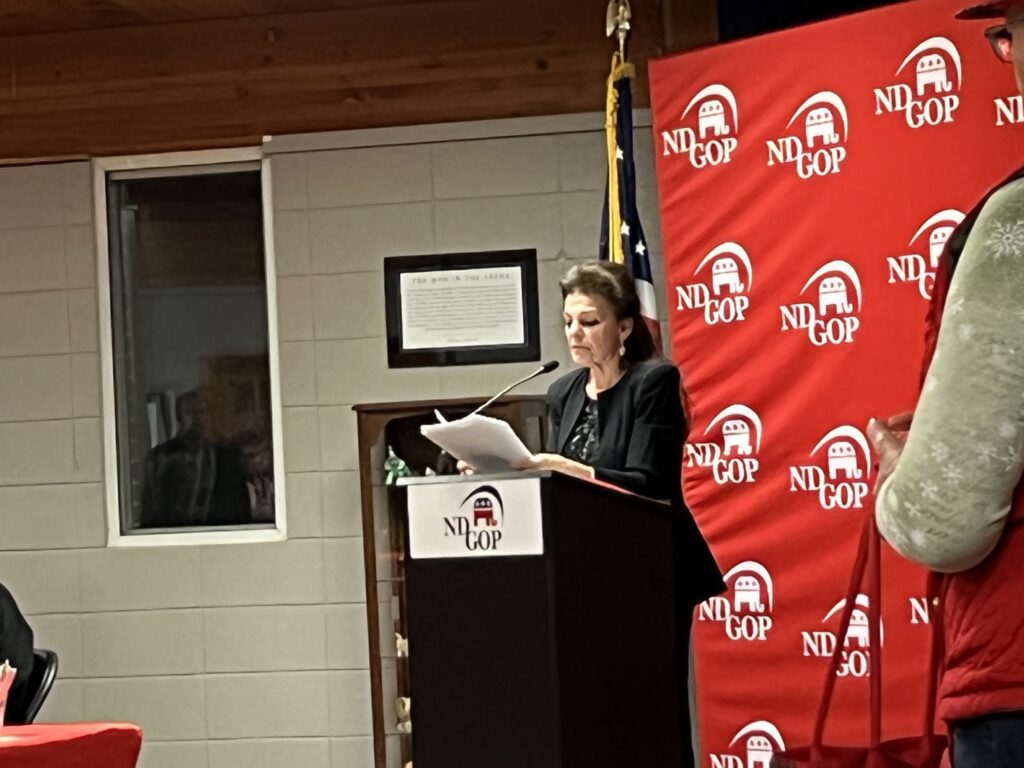 North Dakota
Republican governors ask for end to U.S. military COVID-19 vaccine mandate
The Center Square
"As Governors, our ability to respond to natural disasters and conduct emergency operations is contingent upon the strength and size of our National Guard units," the letter said. "As Congressional leaders, it is your duty to provide for the national defense, and therefore, we call upon you to protect the men and women in uniform – who protect us – from an unnecessary vaccine mandate. As President Biden, himself, stated on September 18, 2022, 'The pandemic is over.'" The letter was signed by…North Dakota's Doug Burgum[.]
EHM Diagnosed in Burleigh County Horse
AM 890 AG News
The North Dakota State Board of Animal Health and the North Dakota Department of Agriculture's Animal Health Division are reminding horse owners to protect their horses from equine herpesvirus-1 (EHV-1). A horse in Burleigh County has been confirmed positive for equine herpesvirus myeloencephalopathy (EHM), the neurologic manifestation of the virus…"These incidents serve as a reminder to work with your local veterinarian on preventive programs for all species," Agriculture Commissioner Doug Goehring said.
Basin Electric proposes an expansion of its Pioneer Generation Station
Prairie Public
"Basin cites, as a need for this, that the service area in northwestern North Dakota is experiencing a rapid increase in the development of computer server farm facilities, that host data centers and cryptocurrency mining, as well as activities associated with oil and gas extraction from the Bakken shale formation, concentrated in McKenzie, Mountrail and Williams Counties," said Fedorchak.
Pride of Dakota Holiday Showcase set in Bismarck
The Bismarck Tribune
"This year's Holiday Showcase features more than 200 companies offering unique, North Dakota-made products," Agriculture Commissioner Doug Goehring said. "Shoppers will find thousands of products to choose from, including gourmet food, wine and spirits, books, jewelry, apparel, personal care, pottery, quilting, photography and framed art, children's items and more."
PSC approves $390 million wind farm
KFYR-TV
Commissioner Julie Fedorchak says she empathizes with representatives from the coal industry who testified in opposition to the siting application, especially as it relates to what she called the rapid pace of thermal retirements. However, she says the evidence they provided wasn't specific to this project, and in fact the issues are beyond the purview of the PSC…The vote wasn't unanimous, however. Commissioner Randy Christmann voted against approving the siting application, due to an already-congested transmission network in that area.
Governor Burgum appoints Bismarck attorney Nathan Svihovec to serve as North Dakota Labor Commissioner
MDMH Fargo
Nathan Svihovec, a labor and employment lawyer based in Bismarck, has been selected by Governor Doug Burgum to serve as the new director of the North Dakota Department of Labor and Human Rights. When Burgum made the news, he made reference to Svihovec's "extensive experience representing both public and private employers and employees at the state and federal levels".
North Dakota to get over $4 million in Google location tracking settlement
AM 1100 The Flag
North Dakota is set to get over four-million dollars through a settlement with Google over its location tracking practices. Google is moving forward with an over 391-million dollar settlement with 40 states to resolve a dispute over how the company tracked users' locations. North Dakota Attorney General Drew Wrigley called the practice "alarming," saying the search giant disregarded consumer protections.
NDPSC appointing temporary member, approves Wind Farm in Logan and McIntosh counties
AM 1100 The Flag
The North Dakota Public Service Commission is planning to appoint a temporary member for decisions regarding the proposed Summit Carbon Solutions carbon dioxide pipeline. The move is necessary because panel chair Julie Fedorchak has recused herself to avoid the appearance of a conflict of interest. The panel discussed the appointment Wednesday of Administrative Law Judge Tim Dawson to be a decision maker in the case. The panel also discussed bringing in Bismarck attorney Zachary Pelham to serve as advisory council for Summit decisions. Pelham has worked with the panel before. In the meantime, the Public Service Commission is moving forward with a wind farm near Wishek in south-central North Dakota.
Changes proposed to North Dakota's Clean Sustainable Energy Authority
KFYR-TV
State legislators will soon be deciding how much funding will be given to the state's Clean Sustainable Energy Authority…Lt. Governor Brent Sanford said the amounts received will be a topic of discussion during the 2023 Legislative session.
Bill advances to change caps of North Dakota spending panel
The Bismarck Tribune
Gov. Doug Burgum has bristled at the "arbitrarily low" spending caps born from the bill he unsuccessfully vetoed last year. "I can tell you what problems it's created for the agencies, but I can't tell you what problem it solved at all, literally," the governor said. He said the spending caps have slowed the state's ability to put money to use. "We're in a different world right now with the level of federal spending. Whether you like it or don't like it, it's a just a different level, and there's a lot of programs and grants coming," Burgum said.
Bismarck school receives new bike donation
KX News
Some kids in Bismarck got a big surprise before Christmas on Wednesday. Workers from MDU Resources and the group All Kids Bike showed up to present more than a dozen bikes at Northridge Elementary on Wednesday morning. Governor Doug Burgum was also there to greet the kids and talk about the program, which teaches more kids to ride a bike.
North Dakota lawmakers to organize for 2023 Legislature
AP
North Dakota lawmakers will return to Bismarck next week to prepare for the 2023 Legislature, where they will lobby for prime committee assignments and get briefings on legislative procedures and ethics. The three-day organizational session that begins Monday also includes such mundane work for lawmakers as filling out paperwork and desk selection, where seats are assigned mostly by seniority.
Bismarck State College breaks ground on new polytechnic center
KX News
"This isn't about four-year degrees anymore, it's about certifications and part of this real-world, hands-on, team-based learning is there are over 100 certificates you can earn at Bismarck State College," North Dakota Governor Doug Burgum said.
Burgum not concerned about FTX collapse affecting new data center near Williston
KX News
When asked, Governor Burgum says cryptocurrency is one of many tasks that would be handled at the new data center. "The FTX collapse was about leverage and fraud," Burgum said. "Too much debt and actual fraud as opposed to an indictment that there's going to be a place for digital currencies in the future of the world." The Atlas power Data Center will be run by FX Solutions, based out of Montana.
ND Supreme Court hears abortion arguments
KFYR-TV
Tuesday, the state Supreme Court heard oral arguments regarding North Dakota's abortion ban. Previously, a south-central district judge ruled that abortion was still legal in the state while the lawsuit was being tried. The Attorney General's Office is challenging that decision. "The abortion law hasn't been thrown out by the courts. It has just been blocked from implementation," said ND Attorney General Drew Wrigley.
Ex-aide sentenced for injuring nursing home resident
Knox Radio
A former certified nurse's aide has been sentenced to one year and one day in jail after being found guilty of causing serious injury to a Valley City nursing home resident. The decision from Southeast District Judge Jay Schmitz was announced by state Attorney General Drew Wrigley, whose office's Medicaid Fraud Control Unit prosecuted the case…Schmitz also ordered that Weah complete three years' supervised probation — and be prohibited from working in care settings during that time. Weah will also be excluded from receiving payments from any Federal healthcare program such as Medicaid or Medicare for at least five years.
Agriculture Commission announces million-dollar grant recipients
KX News
North Dakota Agriculture Commissioner Doug Goehring has announced the latest recipients of the Agricultural Products Utilization Commission (APUC) awards. The APUC is a program from the state ag department that focuses on administering grants for research and development to support rural communities and agriculture operations. Funds from the grants can be used towards the development of concepts and products, basic and applies research, marketing and utilization, farm diversification, technology, and technical assistance, among other things.
Wrigley pushes ND Medicaid fraud unit
Knox Radio
North Dakota Attorney General Drew Wrigley wants to expand the office's Medicaid Fraud Unit. That unit was created in 2019. Former Attorney General Wayne Stenehejm had been pushing for years to have such a unit – but found resistance in the Legislature. The 2019 Session finally passed it. Originally, the unit was 90 percent federally-funded, 10 percent state funded. But Wrigley says the formula is now 75 percent federal, 25 percent state. However, he says the unit has been doing great work. Wrigley says the unit has a budget of $1.2 million over a two-year period.
Washington, D.C.
Cramer: 2023 is an opportunity to talk about permitting reform
The Center Square
Permitting reform is one area where a divided Congress could reach a consensus in 2023, North Dakota's U.S. Sen. Kevin Cramer told The Center Square…"When we start talking about how to have cleaner energy and we leave out the fuel source and just look at emissions as an example, let's find ways to agree on emissions reduction," Cramer said. "We need to stop looking at the fuel source and start looking at results and then turn our innovators loose because there are innovations that can meet goals and everybody can take credit rather than looking to create blame."
Senate votes to avert rail shutdown
Minot Daily News
"Congress's role is not to help negotiate a rail settlement. It's to approve one. You don't need 535 arbiters negotiating the details of a labor agreement. At the end of the day, averting a shutdown of service and a full-blown economic crisis is critical," Cramer said in a subsequent Twitter thread. "We're in an economic crisis already. It will only worsen inflation. We are starting to see layoffs ahead of a recession. We have a broken supply chain. A work stoppage is not just putting more fuel on the fire, it's an atomic explosion."…"Over the past several months, we have urged all parties to reach a good faith agreement and avert a rail strike, and today supported an amendment to provide them with an additional 60 days for negotiations, but it was blocked. Given the serious impacts that a disruption of rail service would have in North Dakota and across the nation, Congress was forced to act and approve the negotiated agreement to prevent a strike," Hoeven said. "At the same time, Congress should not set the precedent of renegotiating specific aspects of labor agreements. We are already three years into this five-year labor agreement, so the workers and railroads can negotiate for any additional changes as part of their next labor agreement in two years." 
Hoeven cosponsors E15 bill
KFYR-TV
Senator John Hoeven is cosponsoring a bill that would allow for the sale of E15 gasoline year-round…"This provision would make E15 available year-round, and that's important, not only for our farmers, but also so that consumers have more choice at the pump. And ultimately, hopefully it helps with reducing prices through more supply as well," said Hoeven. More than 80% of the corn used for ethanol nationwide is purchased from North Dakota farmers, according to data from the state.
Proposed flaring rule doesn't satisfy
Minot Daily News
"The Department of the Interior's proposed rule is nothing more than another layer of unnecessary, duplicative bureaucracy designed to impair oil and gas production on federal and tribal land," Sen. Kevin Cramer, R-ND, said in a response to the department's announcement.  "Democrats have tried this before and courts found it illegal. Rather than trotting out another punitive measure, which will inevitably get caught up in litigation, the Biden Administration should use the authority they already possess from the Bipartisan Infrastructure Law to streamline permitting for gas gathering lines to reduce emissions. North Dakota producers already capture 95 percent of gas emissions, but operators on federal land are impeded by the same cumbersome bureaucracy that's now threatening to penalize them," he added…"Under this proposed rule, the Biden administration is creating another roadblock to energy development on federal lands, further undermining our nation's energy security," Sen. John Hoeven, R-ND, said in his response. "On top of that, by holding up the infrastructure needed to get energy to market, like gas-gathering lines and pipelines, this burdensome approach to regulation is causing more flaring and methane waste, not less."…"More duplicative red tape will do nothing to keep our air and water clean," Congressman Kelly Armstrong, R-ND, tweeted.
Cramer: Ashley to Receive $1.45 Million in USDA Grants and Loans
NewsDakota
U.S. Senator Kevin Cramer (R-ND) announced the U.S. Department of Agriculture Office of Rural Development has awarded a total of $1,450,000 in Water and Waste Loans and Grants to the City of Ashley. $823,000 in a Water and Waste Disposal Loan, $627,000 in a Water and Waste Disposal Grant. This investment will be used for sewer main replacement for the City of Ashley along Highway 11 prior to the North Dakota Department of Transportation road project.