Happy Monday!
Dear Fellow Republicans,
We wanted to provide you with a roundup of everything you might have missed from North Dakota's great Republican leaders this past week. Please share with family and friends!
Perrie Schafer, NDGOP Chairman
Photo of the Week
Senator Kevin Cramer: It was an early Thanksgiving celebration in Bismarck today. After nearly a year of wrongful detention in Ukraine, Kurt Groszhans was recently released. It was an honor to fellowship and break bread with Kurt and his sisters Kristi & Kim. It's great to have Kurt home. #GodIsGood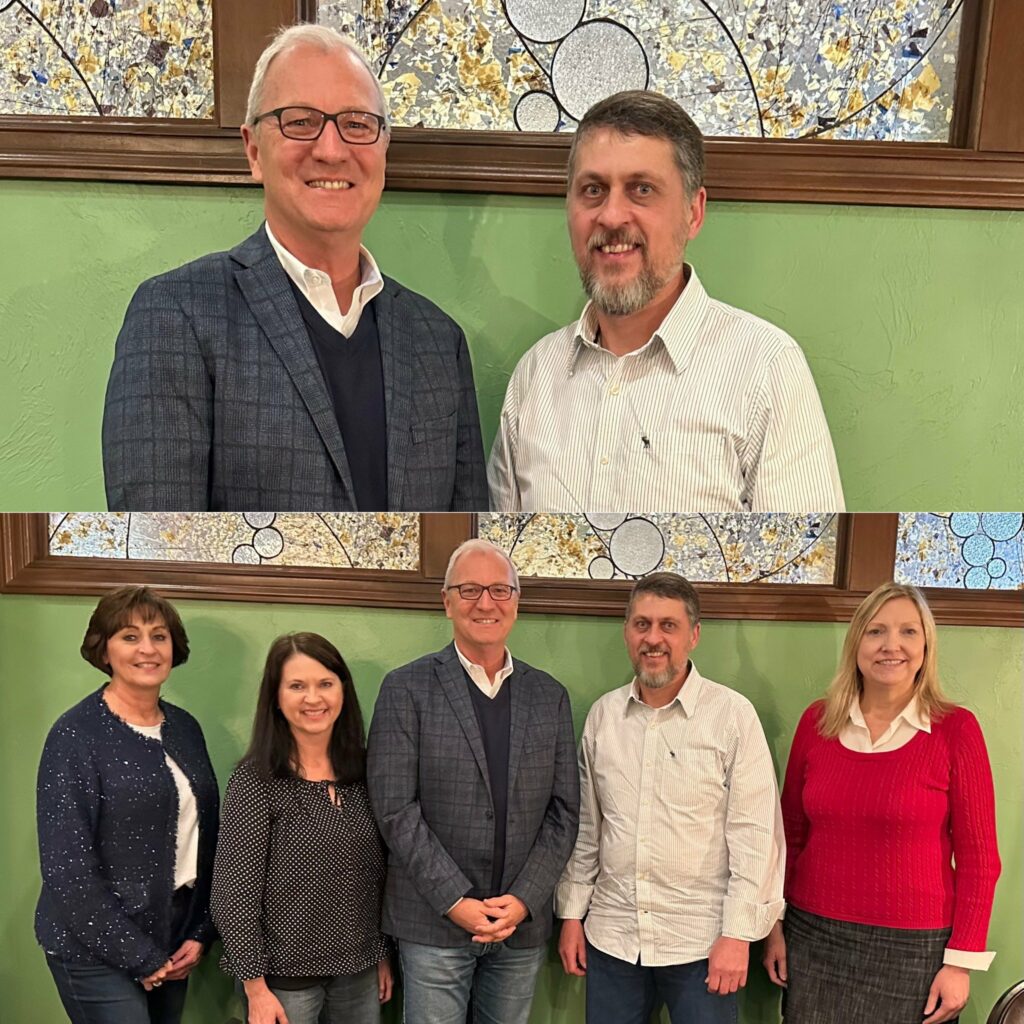 RNC
Grateful to RNC Victory Staffers who spent their Thanksgiving holiday working hard to elect Herschel Walker to the U.S. Senate in the Georgia run-off election. – Perrie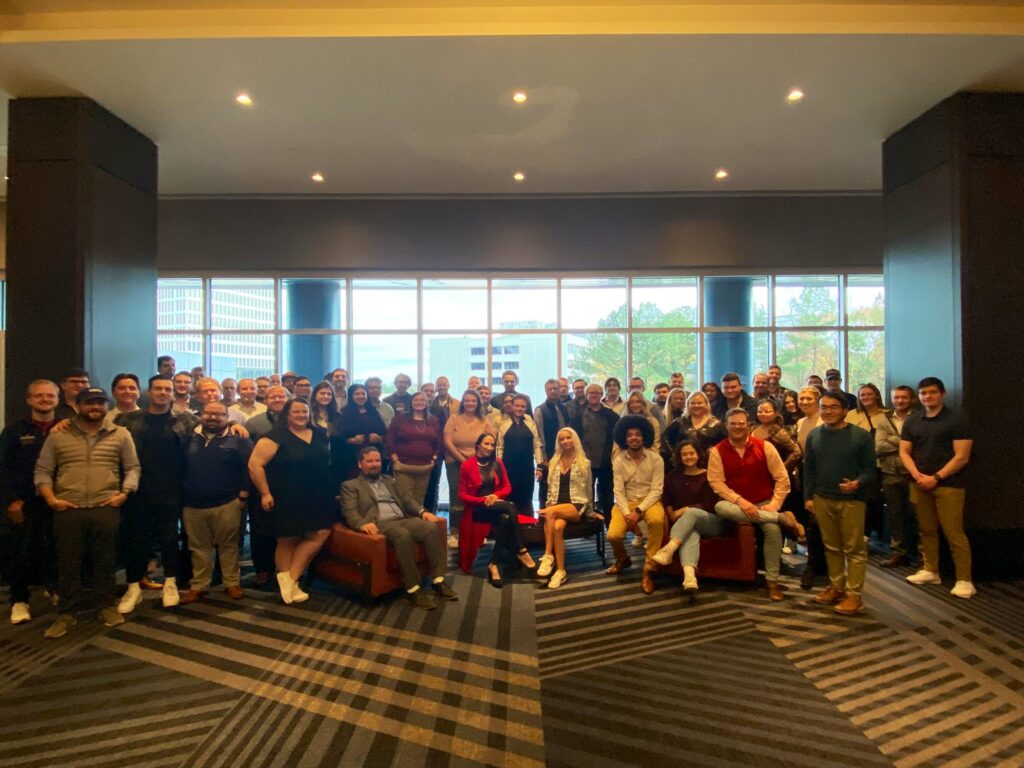 NDGOP
READ Chairman Perrie Schafer's Letter to the Editor in The Bismarck Tribune: 

Why has the Republican Party done so well since 1992? It's because we listen to the electorate. Since the days of Ed Schafer, the Republican Party has worked very hard to show the people of North Dakota what Republican values mean and how these values have helped our state achieve an unparalleled record of success.
Under Republican leadership, we have maintained a balanced budget and created a management process in which the executive and legislative branches work together to save, rather than spend, every dollar. Under Republican leadership, we have achieved an ideal economic and regulatory environment to attract business, which has made North Dakota an energy and agricultural leader. Simply put: under Republican leadership, we have made North Dakota the very best place in which to live and start a business.
In choosing Republicans year after year, North Dakotans are not blindly picking a single political party; rather, they are making an informed choice to support individual liberties, personal responsibility, limited government, the rule of law, lower taxes, the right to bear arms, quality education, and traditional values.
The Republican Party is governed by an unspoken rule, which we take seriously as a party. We understand that the seats we hold are not our seats, but rather, they are the people's seats.
We cannot – and will not – get complacent in our leadership. As Republicans, we always pledge to listen and to lead as the people. Thank you, North Dakota, for your trust and for your belief in the North Dakota Republican Party.
---
NDGOP Statement on Thanksgiving
BISMARCK — Today, Perrie Schafer, Chairman of the North Dakota Republican Party ("NDGOP") offered the following statement commemorating the Thanksgiving holiday:

"As we join together with family and friends this Thanksgiving, let us recall James 1:17, "Every good and perfect gift is from above, coming down from the Father of heavenly lights, who does not change like shifting shadows."

The "shifting shadows" of personal or political strife may divide us here on earth from time to time, but this Thanksgiving is a reminder to us all that it was truly through God's grace that pilgrims and Native Americans came together, forming the spirit of cooperation that is at the heart of our Republic. We continue to be grateful for the abundant harvest that we are blessed to have here in North Dakota, and we pray that all Americans will keep the true meaning of Thanksgiving alive throughout the year."
North Dakota
ND invests $1.2 million in coal research
KFYR-TV
Are there even more uses for coal? The state of North Dakota is investing money to find out. The North Dakota Industrial Commission, a board made up of Governor Doug Burgum, Attorney General Drew Wrigley, and Agriculture Commissioner Doug Goehring, is investing $1.2 million to gather information about critical minerals and rare earth elements in North Dakota coal mines. Rare earth elements are used in electronics and are primarily sourced from China. The project will be conducted by Microbeam Technologies and North American Coal and will cost a total of $2.4 million.
State Canvassing Board certifies North Dakota November election results; 1 recount remains
The Bismarck Tribune
North Dakota's State Canvassing Board on Wednesday certified the results of the November general election. No outcomes changed, though a state House district recount will play out. The five-member board unanimously certified results from all 53 counties, including state, congressional, legislative and judicial races and two statewide ballot measures…State lawmakers take office Dec. 1. The Legislature's organizational session is Dec. 5-7. North Dakota voters elected a new secretary of state, former Republican state Rep. Michael Howe, who will succeed retiring incumbent Al Jaeger…State Auditor Josh Gallion last month released findings of a state election system review, concluding "it is exceptionally unlikely that the results of an election in North Dakota would be fraudulently influenced."
Attorney General Drew Wrigley says that as police chases increase, changes needed in North Dakota sentencing
Grand Forks Herald
North Dakota Attorney General Drew Wrigley believes weak sentences are contributing to a rise in police chases, and he says changes are needed to fix it. As a former U.S. attorney and the state's current attorney general, Wrigley has spoken with members of law enforcement across the state who told him police pursuits are "at levels they've never seen before." "It is a very, very significant law enforcement problem, and one we intend to address," Wrigley said.
Panel seeks applicants for North Dakota Supreme Court seat
The Bismarck Tribune
A panel that recommends nominees for North Dakota's Supreme Court is accepting applications for a retiring justice's seat. The Judicial Nominating Committee's application period began this week. The panel will recommend nominees to Gov. Doug Burgum, who will make an appointment for the seat held by retiring Justice Gerald VandeWalle.
International Music Camp honored
KFYR-TV
Governor Doug Burgum announced Merton Utgaard, the founder of the International Music Camp, as this year's recipient of North Dakota's highest civilian award. He became a member of the Theodore Roosevelt Rough Rider Hall of Fame. "We've gotten to see first-hand the impact that his selfless dedication and the dedication of his wife and kids to this camp, and to this vision and to this mission, has made on the people of North Dakota but also, the people of the world," said Tim Baumann, camp director. Since the camp started in 1956, more than 141,000 alumni from all over the world have been part of IMC. This year, they're expecting 2,000 more. Half of the campers are returnees.
North Dakota Attorney General Fights for Abortion Ban in Court to Save Babies
Life News
North Dakota Attorney General Drew Wrigley appealed a state judge's order Monday blocking the state from protecting unborn babies from abortion. In a brief to the state Supreme Court, Wrigley challenged the order and asked to be allowed to enforce the 2007 state abortion ban, The AP reports. The law was supposed to go into effect this summer after the U.S. Supreme Court overturned Roe v. Wade, but the only abortion facility in North Dakota, the Red River Women's Clinic, sued the state. Interestingly, the abortion facility recently moved from Fargo across the border to Moorhead, Minnesota; but it still is challenging the ban.
Frozen turkeys still affordable despite bird flu; North Dakota cases increase
The Bismarck Tribune
Agriculture Commissioner Doug Goehring during last week's traditional turkey pardoning by the governor noted that North Dakota's turkey industry, which produces 1 million birds annually, has faced challenges and stress due to the bird flu outbreak. Five of the eight major producers in the state were impacted; two have been able to restock.
Here's how North Dakota legislature's new leaders plan to approach the job
Grand Forks Herald
Hogue: "My inclinations are to mentor and coach and to empower my colleagues to lead. I have no desire to be the policy leader on certain issues. My job is to get the right people in the right positions and to let them take charge." Lefor: "Collaboration is something that I favor the most… I realize the leader has to make final decisions from time to time, but I feel really good and confident about the quality of the people that we have serving in the House of Representatives. And so I'll be able to reach out and get topic matter experts pretty easily."
Washington, D.C.
Farmer from North Dakota is getting his life back to normal after serving time in a Ukrainian prison
WDAY
A North Dakota farmer is returning to normal life after being jailed in Ukraine for almost a year. Senator Kevin Cramer recently ate lunch with Kurt Groszhans and his sisters. Groszhans was released from custody last month and is back in North Dakota. He was accused of plotting to assassinate a former agriculture minister and was sent to a Ukrainian prison. Details about Groszhans' release and return to North Dakota happened haven't been disclosed.
Lashkowitz High Rise receives needed funding for demolition
Inforum
A funding shortfall for the demolition of the Lashkowitz High Rise building in Fargo has been solved thanks to incoming funding from the North Dakota Housing Finance Agency (NDHFA) earmarked for affordable housing projects throughout North Dakota. U.S. Sen. John Hoeven, a member of the Senate Transportation, Housing and Urban Development Appropriations Committee, said the awarded funding will help the city safely remove asbestos from the high rise in order to move forward with the demolition and redevelopment.
How China, the world's top climate polluter, avoids paying for the damage
The Washington Post
"The idea that we owe developing countries some sort of climate reparations is absurd," Sen. Kevin Cramer (R-N.D.) said in an interview. "If anything, we could send them a bill for all the things we've done over the decades on their behalf." Cramer called on U.S. climate envoy John F. Kerry to ensure that Beijing contributes money to the effort. "I would think that if John Kerry had any patriotism whatsoever while negotiating this nonsense, he would insist that China pay in," he said.
Sen. Kevin Cramer nominates 3 North Dakotans for military academies
Inforum
U.S. Sen. Kevin Cramer announced Tuesday, Nov. 22, that he's nominated three North Dakotans to U.S. military academies. The nominees are Mikko Vallis of Grand Forks, Elyssa Heppner of Buxton and Zachary Schwab of Fargo.
North Dakota Sen. Kevin Cramer pushes bill to ban Chinese Communist Party members from getting certain visas
The Jamestown Sun
"You don't need to have CIA-level clearance to know China is a bad actor," Cramer said in a statement on his website. "We need a strategic decoupling from China. Every day, the CCP actively works against the United States' interests. Our bill provides greater scrutiny of visas for Chinese Communist Party members regardless of how long they want to enter our country." In recent months, Cramer has been vocal with his concerns about China, including the proposed corn milling plant that China-based Fufeng Group plans to build on the north end of Grand Forks. In August, Cramer and fellow North Dakota Sen. John Hoeven advised local and state leaders to not move forward with the Fufeng Project. Both brought up security concerns they believe could exist with the plant's close proximity to Grand Forks Air Force Base.
Rail strike continues to loom
KFYR-TV
"At a time when we already have supply chain restraints, it would be very problematic to have a rail strike as well. So we are trying to negotiate and prevent that," said Senator John Hoeven. The Railway Labor Act gives Congress the ability to order workers to continue working their jobs while negations occur. The last strike in 1991 was resolved by Congress using those powers.