Happy Monday!
Dear Fellow Republicans,
We wanted to provide you with a roundup of everything you might have missed from North Dakota's great Republican leaders this past week. Please share with family and friends!
Perrie Schafer, NDGOP Chairman
Photo of the Week
Governor Burgum: "Today we pardoned Sunflower, who will be back on the farm this Thanksgiving. This good-lookin' turkey has been spared from Thanksgiving cookin'. Thanks to the ND Turkey Federation for its generous donations to Heaven's Helpers Soup Cafe and the Abused Adult Resource Center."
RNC
Check out this infographic from the RNC. Under strong Republican leadership, North Dakota is leading the way! – Perrie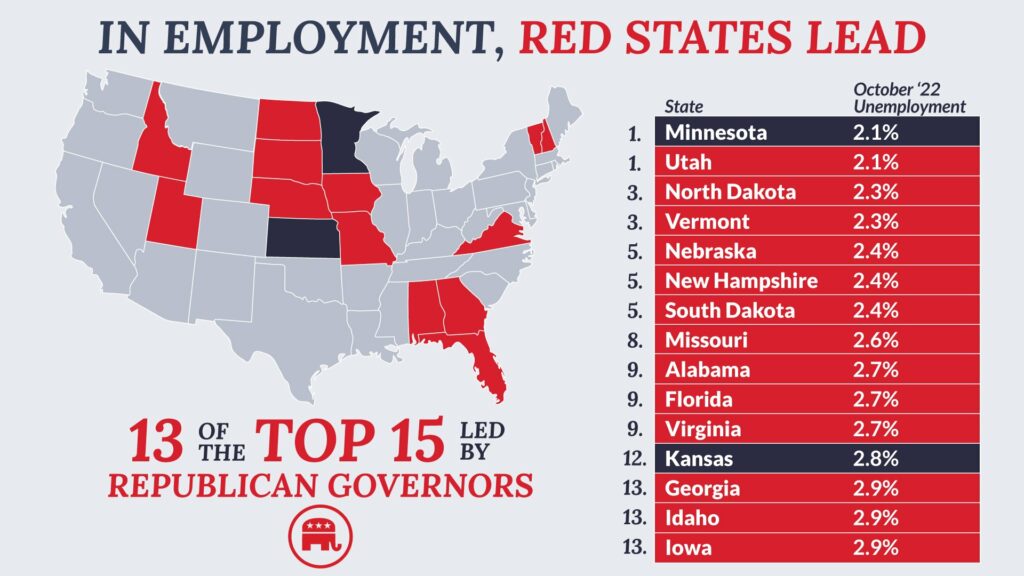 NDGOP
A few more photos from our Election night festivities across North Dakota!
North Dakota
Gov. Doug Burgum: It's time to unleash U.S. energy for a safer world
Grand Forks Herald
Thanks to our focus on innovation over regulation, North Dakota is well-positioned to meet our own energy needs and those of our allies, but it's up to all of us to make it happen. Nothing less than global stability and national security – Japan's and our own – depends on it.
North Dakota-owned oil, gas mineral rights valued at $2.8B
AP
An estimate of oil and gas mineral rights owned by North Dakota pegs their value at $2.8 billion, an 18% increase from last year, according to an appraisal released Thursday to the state Land Board…The Land Board, led by Gov. Doug Burgum, oversees the state Land Department, an agency that leases rights to state-owned land and it manages a number of state funds. Burgum said in an interview that the appraisal is valuable "for future planning and it helps for making financial decisions about the best way to manage all these all the assets that we have."
ND Insurance Commissioner Selected For Rodel Fellowship
NewsDakota
"I'm really excited to be apart of this bipartisan group to come together and learn," Godfread said. "I've been dedicated to working with people, regardless of political affiliation. This stellar group has a lot of knowledge and insight that I hope to draw from, while also sharing what I have learned in North Dakota."…Past Rodel Fellows from North Dakota include Attorney General Drew Wrigley, Public Service Commissioner Julie Fedorchak and State Senator Jessica Bell.
Tuesday Night Lights: Burgum recognizes Hettinger event
The Dickinson Press
Tuesday Night Lights gained statewide recognition recently when Gov. Doug Burgum and Lt. Gov. Brent Sanford announced the Hettinger Chamber of Commerce had received the Healthy, Vibrant Community Award for the event. The recognition is part of Burgum's Main Street Awards, which are organized by the Office of the Governor and the North Dakota Department of Commerce…"North Dakota is a state full of opportunity and active community partnerships," Gov. Doug Burgum said in a press release. "We are grateful for all the communities that have invested in the ideals of the Main Street Initiative to help us garner even more opportunity for our residents and businesses."
ND's longest-serving Supreme Court justice announces retirement
KFYR-TV
"You've got an individual that's full of humility, full of curiosity, full of care for our state, and that's just made immeasurable impacts," said Gov. Doug Burgum, R-ND…Justice VandeWalle will serve until January 31st. Governor Doug Burgum will appoint a new justice who will serve until 2026.
Rough Rider Award winner gets picture hung in Capitol
KX News
The Rough Rider award recognizes North Dakotans who have gained national recognition. Utgaard was the founder of the International Music Camp, which sees up to 2,000 campers from around the world each summer at the International Peace Garden. "His vision, his commitment to make this incredible institution which still goes on if you haven't been up there, it's got amazing facilities. Clearly has an impact on educators and students and he became around the world," said North Dakota Governor, Doug Burgum.
AG Wrigley obtains judgment case against Hansen Elevator Service
KX News
"Mr. Hansen has defrauded many consumers and is permanently banned from doing elevator repair services or other contracting in North Dakota. With the possibility of future jail time and serious monetary sanctions, he and other potential fraudsters can be assured they will not be allowed to continue to harm consumers," said Wrigley.
Mott-Regent High School recognized for student achievement
The Dickinson Press
North Dakota's School Superintendent Kirsten Baesler said Thursday that Mott-Regent High School is being honored for outstanding improvements to academic achievement. The high school will receive Distinguished Schools Awards from the National Association of ESEA State Program Administrators, Baesler said. The nomination was prompted by an improvement in math proficiency.
ND legislative GOP elect leadership
Minot Daily News
Sen. David Hogue, Minot, of District 38 was elected Senate majority leader during the North Dakota Senate and House Republican caucuses held Monday in Bismarck.  "I'm really looking forward to serving my colleagues and the people of North Dakota," Hogue said…House Repubicans elected Rep. Mike Lefor, Dickinson, of District 37, as House majority leader, Rep. Glenn Bosch, Bismarck, of District 30, as assistant majority leader and Rep. Austen Schauer, Fargo, of District 13, as caucus chair. "I'm excited for this challenge," Lefor said. "We have a great agenda, including workforce recruitment, childcare, pension reform, tax relief and lowering the cost of government. We have a fantastic group of Republican legislators this session and I can't wait to get started." 
State Board of Higher Education Seeking Candidates
NewsDakota
State School Superintendent Kirsten Baesler on Tuesday invited North Dakotans to apply for two openings on the Board of Higher Education, which oversees the state's 11 colleges and universities and a biennial budget of $2.7 billion.
Washington, D.C.
US Senators Introduce Bill to Ban Visitor Visas to CCP Members
The Epoch Times
Cramer said in the statement that CIA-level clearance isn't necessary to know China is a bad actor, and the Americans need a strategic decoupling from China. He noted that the CCP "actively works against the United States' interests every day." He believes this bill will provide greater scrutiny of visas for CCP members, regardless of how long they want to enter the country.
Hoeven outlines priorities for next farm bill
KFYR-TV
In a statement, Hoeven said: "Our ag producers know their land and water best, and that's why we are working to instead advance farmer-friendly policies that reflect their long-time stewardship of our natural resources and empower them to continue producing the food, fuel and fiber our nation needs." Hoeven also addressed the Independent Beef Association of North Dakota, where he discussed other priorities — especially improving ranchers' access to fair and competitive markets. He said he hopes to do that by establishing a cattle contract library, which he says would help improve price transparency in cattle markets.
ND Supreme Court Justice VandeWalle to retire
Minot Daily News
VandeWalle's announcement inspired a number of releases and statements from state leaders thanking and honoring the justice, with Rep. Kelly Armstrong saying the Rough Rider Award winner "has a record that will never be matched. He is an absolute legend."…Sen. John Hoeven hailed the outgoing justice as a dedicated public servant who worked, "throughout his career to uphold our laws and protect the rights of our state's people." Sen. Kevin Cramer said VandeWalle "has led a remarkable life of public service and dedication to North Dakota. Our great state has benefited from his wdom and candor as he sought to uphold the law with impartiality in every decision he made." He said VandeWalle has "great judgement, great demeanor, and a great personality. He is an outstanding citizen."
North Dakota, Montana senators discuss marriage equality bill votes
KFYR-TV
In a statement, Sen. Kevin Cramer, R-ND, said: "Today's vote is the first step leading to the normalization of religious discrimination, and it's a bridge too far. The Respect for Marriage Act opens up religious institutions and non-profits to senseless litigation challenging the First Amendment liberties enshrined in our Constitution. I wish the federal government never got involved in the marriage business in the first place. Marriage is instituted by God and enforced by His church, it should have stayed that way." In a statement, Sen. John Hoeven, R-ND, said: "Same-sex marriage is protected under the Supreme Court's Obergefell decision and the Fourteenth Amendment. My concern with this bill is that it doesn't adequately protect religious freedom, that includes both individuals and businesses based on sincerely held religious beliefs, as well as religious organizations."
Lawmakers Want to Ban Chinese Companies From Buying US Farmland Due to 'National Security' Threat
The Epoch Times
The Grand Forks Air Force Base is home to a low-Earth orbit satellite mission that would advance military intelligence and surveillance, according to Sen. John Hoeven (R-N.D.). "We've been working with SDA [Space Development Agency] and the Air Force to secure this new mission, which is essential for our nation to stay ahead of our adversaries in developing critical new technologies," he said. Hoeven said the new mission will serve as "the backbone for all U.S. military communications across the globe."
Congressman Armstrong on winning re-election, the new Congress, and Trump
The Jamestown Sun
As for why the NDGOP did better than Republicans nationally? Armstrong said a part of it is because our state's chief industries, agriculture and energy, were a bigger priority than some of the hot-button issues, such as abortion, that dominated campaign messaging. Also, he said, it didn't help Democratic turnout that the party axed their own House candidate in the middle of the election year.