Happy Monday!
Dear Fellow Republicans,
We wanted to provide you with a roundup of everything you might have missed from North Dakota's great Republican leaders this past week. Please share with family and friends!
Perrie Schafer, NDGOP Chairman
Photo of the Week
Senator Cramer: Following my classified brief on the deployment of the USS North Dakota, I was honored to meet the sailors and hear their stories of life aboard the best submarine in the U.S. Navy! I'm grateful for their service to our nation and their dedication to protecting our great country.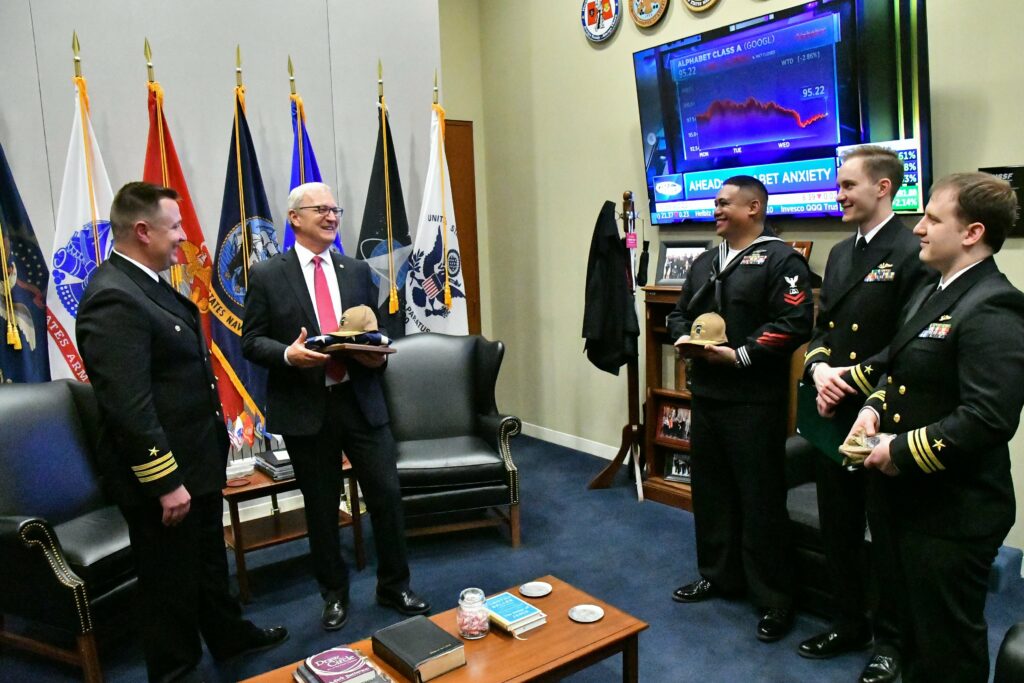 RNC
This week, Chairman Perrie Schafer and Executive Director Samantha Holly were honored to represent North Dakota at the RNC's Winter Meeting in Dana Point, CA. Republicans are energized and ready to get to work!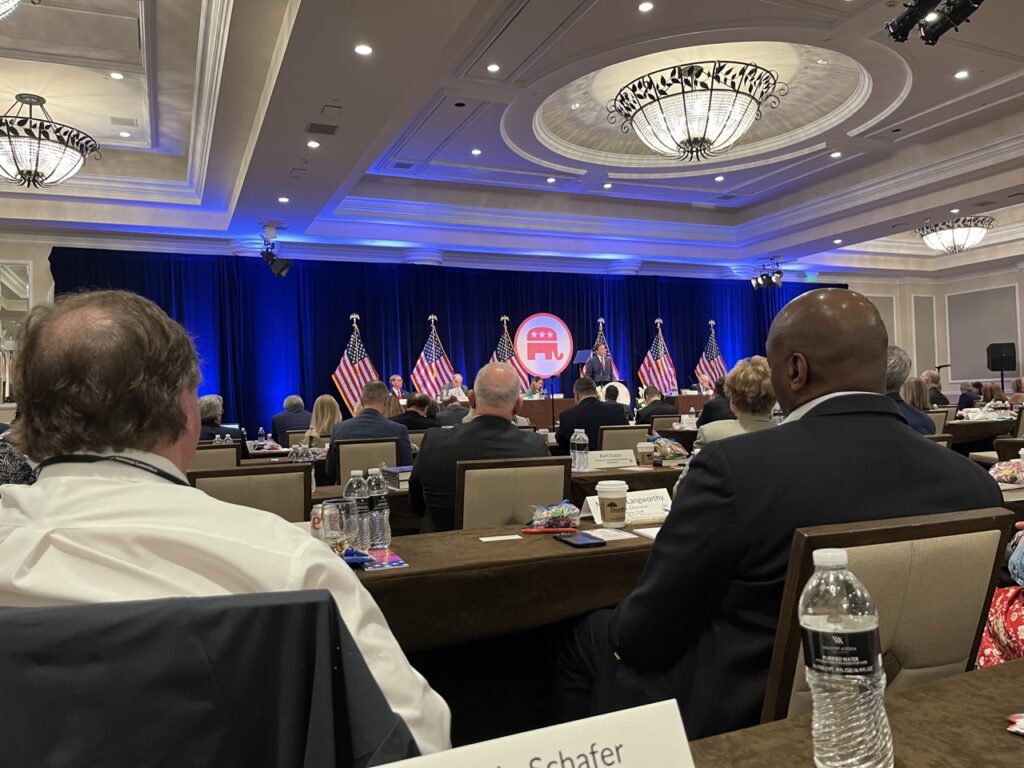 ND 68th Legislative Session
North Dakota
North Dakota Supreme Court not about personal beliefs, new justice says
The Bismarck Tribune
I am excited to have the opportunity to serve on the North Dakota Supreme Court. I have enjoyed being a district court judge, particularly the daily interaction with members of the public and attorneys. But since law school I have enjoyed appellate work and hoped to have the opportunity to serve as an appellate judge. I appreciate Gov. Burgum having the trust and confidence in me to give me that opportunity.
Lawmakers reconsider corporate farming to address livestock declines
KFYR-TV
Agriculture is the bedrock of North Dakota's economy. And some state leaders say it's time to make a change. "This is a wonderful ag state, how can we better enhance it without threatening it?" said Agriculture Commissioner Doug Goehring. One solution Commissioner Doug Goehring believes will enhance agriculture is to revamp North Dakota's corporate farming laws so we can compete with surrounding states in animal agriculture. "As North Dakotans, I can't believe that Minnesotans and South Dakotans and Nebraskans and Iowans can figure it out and we can't," said Governor Burgum, R-North Dakota. Governor Burgum says the state's 90-year-old corporate farming law is to blame for declining livestock numbers. HB 1371 would keep the state's corporate farming law but would allow ranchers to partner with neighbors for livestock operations. "You cannot do corporate farming under this law, farmers can do animal agriculture under this law, and that's great," said Burgum.
Ag community split on corporate farm bill
Minot Daily News
Gov. Doug Burgum, who has been promoting the bill, said it gives operators of animal farms the same right to access capital as other businesses and entrepreneurs in the state. "I think it's time that if we love our family farms that we also trust them, that they would be given the same tools that every other business in our state has," he said. "We have to find solutions to help support rural families that want to stay on the farm. This is a way to do that. It's simple. It's common sense, and it's right there in front of us." North Dakota Agriculture Commissioner Doug Goehring said he has seen many opportunities lost due to the state's anti-corporate farming law. In particular, he mentioned a family corporation that wanted to expand its dairy operation into North Dakota and a poultry operation that required additional investment that wasn't available under state law.

STEM-ming up success: North Dakota State School Superintendent visits Lincoln Elementary School's STEM Day
The Dickinson Press
"We've been offering incentives, but unfortunately only 41% of North Dakota's high schools have access to or provide access to a computer science or cybersecurity course," Baesler said. "Only 38% of our students are attending one of those high schools that have access to a computer science or cybersecurity course. When you talk about computer science and cybersecurity, the number of those students enrolled in those courses is even lower because they haven't had an opportunity to be in an elementary school like Lincoln, where they're able to see themselves doing that. And we know from brain development that right about third grade is when young people have this self identification of what they want to do or what they're good at. And if they haven't seen a career or been exposed to an opportunity to be good at that or to experience that – that job opportunity, that career is lost to them forever."

MN House Dems pass "clean energy" bill over objections, ND governor threatens to sue over legislation
KFGO
North Dakota Governor Doug Burgum has threatened to sue the State of Minnesota over the 2040 clean energy bill. Burgum sent a letter to Gov.Walz and other top state leaders, urging them to change the bills being considered. He said the legislation would illegally regulate commerce in North Dakota and it needs to be amended to apply only to energy generation within Minnesota.

Settlement reached in wedding photography fraud case
AM 1100 The Flag
The state Attorney General's Office is reporting a settlement has been reached in the case of Glasser Images. According to Attorney General Drew Wrigley, Jack Glasser and Jace Schacher have agreed to pay more than 800-thousand dollars in restitution to customers who never received promised wedding photos. While both men filed for bankruptcy last year, they have agreed that their restitution payments would not be dischargeable. Neither of the two will be allowed to operate a photography business in North Dakota for the next 15 years.

North Dakota lawmakers wading through myriad election bills, again
The Bismarck Tribune
Secretary of State Michael Howe's office is monitoring more than 30 such bills, several of which had hearings Thursday. North Dakota's top election official, who is a former lawmaker, said his ultimate goal in following the bills is, "Do they make it easier to vote and harder to cheat?" — a mantra from his 2022 campaign. The Republican secretary and county election officials say North Dakota's election processes are secure. They cite State Auditor Josh Gallion's findings last fall from a state election system review, which concluded, "It is exceptionally unlikely that the results of an election in North Dakota would be fraudulently influenced."
Bill would improve fire district funding
Minot Daily News
Currently, the Legislature must appropriate based on forecasted collections from the 1.75% premium tax for the coming biennium, and that has resulted in a cap on the amount going to the fire districts when forecasts are low. Insurance Commissioner Jon Godfread listed the amount that has bypassed fire districts and flowed instead into the state general fund at roughly $40 million over the past 40 years. Meanwhile, he said, "Our consumers are being double and triple hit – once on their homeowners' premiums, again on their property taxes and then again by participating in the various benefits put on by fire departments to cover their costs."

The Wonder Fund: North Dakota partnering with Kevin O'Leary for small business investment program
KFYR-TV
"The potential is unlimited for our state, and it's exciting to see that now we got an opportunity to bring capital here and we have an opportunity to have more talent come here or get talent to come back," said Governor Doug Burgum. The initial investment from O'Leary Ventures is just the beginning. O'Leary said he believes more partners will follow his lead and further bolster the state's economy. "I'm an investor, I can choose any state, it's a competition. I would never invest in New York or Massachusetts or California or New Jersey ever again. Not when I can invest in policy like North Dakota. Why would I?" said O'Leary. Burgum added that the Wonder Fund, along with billions of dollars in other projects, can give North Dakota the highest Gross Domestic Product per capita in the nation. They currently sit in the top 10 according to the Bureau of Economic Analysis.

'Hello' North Dakota marketing campaign unveiled
The Bismarck Tribune
North Dakota's Tourism and Marketing Division plans to spend $3.1 million advertising the state this year with a new campaign called "Hello." "This new campaign highlights our citizens' friendly nature while showcasing our must-see activities available across the state," Gov. Doug Burgum said Wednesday. "Increasing awareness of all North Dakota has to offer not only attracts visitors but also elevates our state as a potential new home for workers, businesses and families."

Sheyenne joins Main Street Initiative as 100th community
KX News
The Main Street Initiative (MSI) reached 100 designated communities last week. According to a news release, Sheyenne became the newest community. "We are grateful for everyone across the state who has contributed to these ongoing efforts to create healthy, vibrant communities through the Main Street Initiative," Governor Doug Burgum said. "This milestone underscores the dedication and pride North Dakota residents have in building upon their communities' strengths and unique attributes to attract and retain a skilled workforce."
Washington, D.C.
Efforts underway to expand Fargo National Cemetery for veterans seven-fold
Inforum
"Our veterans and their families deserve the opportunity to be laid to rest with honor, with recognition for their essential contributions to the security and welfare of our nation," Hoeven said in a statement. "North Dakota has already worked to create the finest state-run veterans cemetery in the country, and we're working to bring the same level of quality to our national veterans cemetery in Fargo."
Senator Kevin Cramer pushing legislation to block sale of oil from Strategic Petroleum Reserve to China
AM 1100 The Flag
U.S. Senator Kevin Cramer is cosponsoring the Protecting America's Strategic Petroleum Reserve from China Act. The bill, led by Senator Ted Cruz, would prohibit the U.S. Secretary of Energy from exporting Strategic Petroleum Reserve (SPR) oil to China or selling it to companies with ties to the Chinese Communist Party. It would also establish a condition barring any entity sold SPR oil, from exporting the product to China. "The SPR is not a commodity the Administration should exploit in an attempt to address its self-inflicted inflation crisis," said Senator Cramer. "The sooner the U.S. decouples from China, the better positioned we will be to bolster our national security, promote our producers, and leverage our resources. The right play here would be to unleash domestic fuel production and protect our strategic reserve from Communist China."
Rep. Kelly Armstrong: Panel to stop government weaponization is 'long overdue'
Fox News
WATCH: Rep. Kelly Armstrong, R-N.D., on Republicans tackling government weaponization and U.S. agrees to send 31 tanks to Ukraine
Cramer, Hoeven join other U.S. senators in sponsoring SNOOP Act
KFGO
Republican U.S. Senators Kevin Cramer and John Hoeven have joined several other senators in sponsoring the SNOOP Act, which would repeal a law requiring 3rd-party, online payment platforms to report transactions over $600 to the IRS…"Small business owners and independent contractors need rescuing from this American Rescue Plan Act provision, which, fortunately, has yet to be implemented by the IRS. Our bill would prevent enforcement of the onerous regulation and institute a more reasonable reporting threshold," said Senator Cramer. "This invasion of taxpayer privacy is another example of overreach by the Administration and should be stopped in its tracks."
Social media platforms face pressure to stop online drug dealers who target kids
NPR
"The question isn't whether tech is completely responsible for illicit drug sales," said Rep. Kelly Armstrong, a Republican from North Dakota. "They aren't." But Armstrong joined a chorus of lawmakers who say it's time for the law to be reformed. "The question is what duty we should impose on those [social media] platforms to mitigate illegal illicit drug sales. The answer can no longer be 230's near total immunity."
Hoeven, Cramer add names to a bill that seeks more ag oversight of foreign investment
Inforum
"Our nation relies every single day on the food, fuel and fiber that our farmers and ranchers produce, and the ever-increasing foreign investment in our agriculture supply chain represents a real risk to America's food security and the economic success of our agriculture producers," Hoeven said in the media release. "That's why we're advancing this legislation to ensure the U.S. agriculture industry has a voice in CFIUS reviews and that foreign investments and acquisitions in the agriculture sector receive proper oversight."…In a statement sent to the media early Wednesday afternoon, Cramer said "food security is national security." He added: "Our government must be diligent in conducting risk assessments of agriculture investments by foreign adversaries — for reasons including geopolitical strategy, U.S. supply chain protection, and support of American farmers and ranchers."
North Dakota's Armstrong appointed to panel taking aim at 'weaponization' of government
Inforum
U.S. Rep. Kelly Armstrong, R-N.D., has been appointed by Speaker of the House Kevin McCarthy to serve on the newly formed Select Subcommittee on the Weaponization of the Federal Government. "The federal government should work for the American people, not be weaponized against them," Armstrong said in a written statement issued Wednesday, Jan. 25. "We have serious questions concerning how unchecked growth of the federal bureaucracy and insufficient oversight have harmed our country. I am ready to get to work on this important subcommittee and deliver answers," Armstrong added.