Happy Monday!
Dear Fellow Republicans,
We wanted to provide you with a roundup of everything you might have missed from North Dakota's great Republican leaders this past week. Please share with family and friends!
Perrie Schafer, NDGOP Chairman
Photo of the Week
Governor Burgum with Lt. Governor Tammy Miller, Leaders Hogue and Lefor signing the first bill of the legislative session, HB1199, which will create a $68M line of credit to help finance the construction of 13 planned career academies across the state.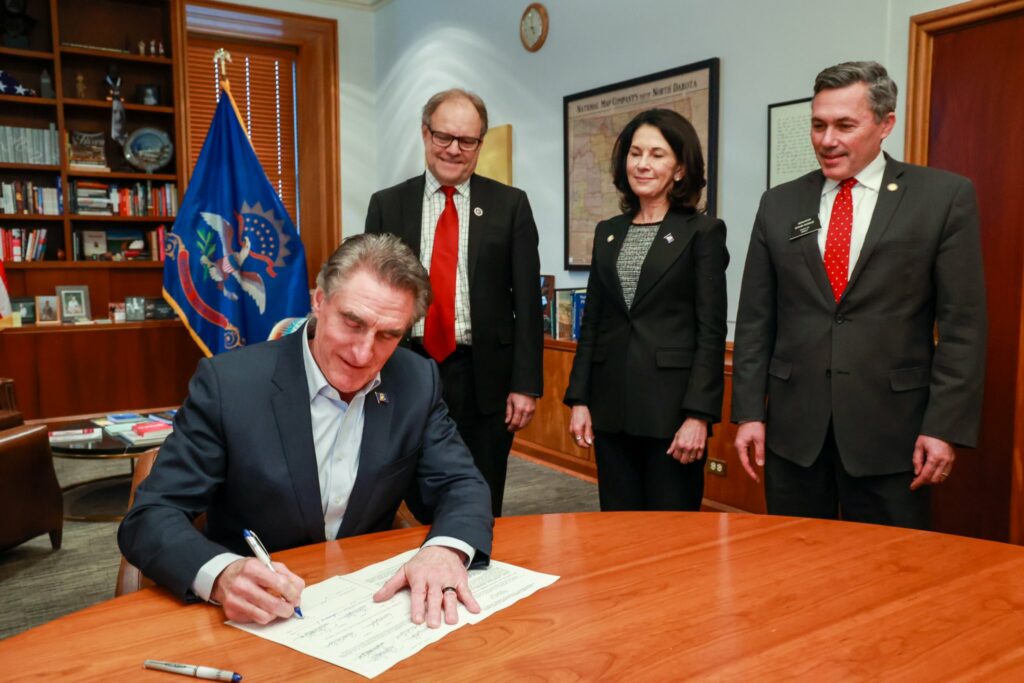 RNC
The RNC has provided a very handy timeline explaining Biden's classified document hypocrisy. See below. – Perrie
Here's a day-by-day timeline of what we know so far about the Biden classified document scandal:
Ask the Biden administration and they'llsayBiden takes the matter "seriously."

Americans don't believe him, and neither do we.
ND 68th Legislative Session
Just a few bills to put on your radar! -Perrie
Career and Technical Center Initiative Grant Program – Sponsor, Rep. Mike Lefor
HB 1199: AN ACT to provide an appropriation to the department of career and technical education for the statewide area and career center initiative grant program; to authorize a Bank of North Dakota line of credit; to provide an exemption; to provide for a transfer; and to declare an emergency.
Signed by Governor Burgurm into Law on Friday, Feb 3rd
---
Cardiac Events for Firefighters & Law Enforcement Officers – Sponsor, Rep. Shannon Roers-Jones
HB1279: Relating to compensability for cardiac events for firefighters and law enforcement officers; to amend and reenact sections 65-01-15 and 65-01-15.1 of the North Dakota Century Code, relating to documentation required for firefighters and law enforcement officers and the presumption of compensability for firefighters and law enforcement officers; to provide for retroactive application; and to declare an emergency.
---
Animal Agriculture Bill – Sponsor, Rep. Paul Thomas
HB1371: Relating to agricultural definitions, ownership exceptions for beekeeping, agriculture support services, cattle backgrounding and feedlot operations, and raising or producing of livestock by persons that have limited landholdings.
North Dakota
'We can do it': Sen. Hoeven, Sen. Cramer and Gov. Burgum optimistic Fufeng gap can be filled
Grand Forks Herald
Hoeven and Cramer — both of whom are North Dakota Republicans — feel the swing and miss on Fufeng has actually, as Cramer says it, "put Grand Forks on the map."…Burgum also said it could be more than just connections and advice. "We also have state programs to support getting natural gas (eastward) and we continue to try to get more natural gas from western North Dakota to eastern North Dakota, and specifically along Highway 2," the governor said. "We have support from the state Water Commission and could provide financial support from that standpoint, and the Bank of North Dakota stands ready to help. And we basically — as we do for all cities in North Dakota — have loan programs, grant programs, infrastructure programs and personnel whose job it is in (the state Department of Commerce) to help recruit companies like this to North Dakota."
Governor signs first bill: Legislation funds career academies
Minot Daily News
Burgum on Thursday signed House Bill 1199, providing a $68 million line of credit to help finance the construction of 13 planned career academies across the state, enabling students to pursue high-demand careers in the trades, health care, technology and other sectors to help meet workforce needs. In his State of the State address on Jan. 3, Burgum called for this to be one of the first bills to reach his desk this session, and he expressed his gratitude for the decisive action by the 68th Legislative Assembly that ensures career academy construction can begin this spring…The bill, sponsored by House Majority Leader Mike Lefor and Senate Majority Leader David Hogue, has an emergency clause making it effective immediately. Both chambers unanimously approved the bill.
Large fossil collection returned to North Dakota; paleontologists pursuing state dinosaur park
The Bismarck Tribune
The idea of a state dinosaur park grew out of a meeting with Gov. Doug Burgum, who had mentioned there are surrounding states that have state fossil parks, Boyd said, adding that "there's never been a push to have a state park" in North Dakota. Paleontologists have been surveying the land the past two summers and ranking sites by how far away they are from public roadways and how much additional infrastructure would be needed for public access.
Godfread: Don't leave safety to pancakes
Minot Daily News
The North Dakota Legislature began its 80-day session in early January. By passing Senate Bill 2211, your local representatives in Bismarck can give fire districts the tools they need to protect all of us better. From state-of-the-art equipment in LaMoure to advanced training in Killdeer and everywhere in between, we can better protect our communities and families. Simply relying on pancake feeds and raffles to fund our safety isn't going to cut it.
Facing yearslong waitlists, nonprofit and city leaders aim to address child care shortage
Inforum
In September, Gov. Doug Burgum proposed similar changes to address the child care shortage. The state Legislature is considering Senate Bill 2301, which would create a child care stabilization program to boost pay to child care providers.
ND bill supports more local control regarding wind farm projects
Grand Forks Herald
North Dakota Agriculture Commissioner Doug Goehring said that too much local control leads to people "responding to emotionally charged issues" when they might not have enough experience or expertise when putting restrictions in place. "… There's a lot of projects throughout North Dakota that ag facilities and value-added ag facilities are tied into. And that's where it really concerns me. And we already have too many issues with zoning," Goehring said.
Agriculture in the classroom sprouts in North Dakota
KX News
Doug Goehring, the North Dakota Agriculture Commissioner, said, "The North Dakota Department of Agriculture believes in the importance of agriculture literacy. Through this national Ag in the Classroom program, we partner with educators to provide K-12 with resources to inspire the next generation."
Burgum proclaims February as CTE month in North Dakota
WDAY
Governor Doug Burgum has proclaimed February 2023 as Career and Technical Education Month in North Dakota. CTE Month is a national campaign that celebrates the value of CTE and the achievements and accomplishments of CTE across the nation. CTE Month is also an opportunity to showcase programs across North Dakota high schools and community colleges that prepare students and adults for high-wage, high-demand careers. CTE encompasses many different types of education, from classroom learning to certification programs to work-based learning opportunities outside the classroom.
Rural cities see large taxable sales increase
KX News
North Dakota's economy has been growing a lot over the last few years. State Tax commissioner Bryan Kroshus reports taxable sales and purchases from June to September of last year were up more than 27% statewide. And smaller cities are leading the pack with five cities reporting more than a 60% increase.
Bill would remove North Dakota's oil tax trigger
Grand Forks Herald
The trigger price is "formula driven," State Tax Commissioner Brian Kroshus said, adding that the trigger price changes annually…"That revenue collection will vary when the trigger is in effect. Two primary factors (are) price of crude oil at the time for that month and then also production levels," Kroshus said. This year's trigger price is $115.55 for WTI crude oil pricing, Kroshus said, adding that it's "an unusual jump, but a reflection of the high inflationary environment we've seen both in 2022 and to date as well." "It's unlikely that the trigger would go back into effect. You can never say that with absolute certainty because you don't know what the markets are going to do. But the benchmark is considerably higher for 2023," he said.
20 state AGs warn CVS, Walgreens that distributing abortion pills violates state, federal law
Fox News
Twenty Republican state attorneys general have warned CVS and Walgreens that their plan to use the mail to distribute abortion pills would violate state and federal laws, and that they could be liable if they proceed. "We emphasize that it is our responsibility as State Attorneys General to uphold the law and protect the health, safety, and well-being of women and unborn children in our states. Part of that responsibility includes ensuring that companies like yours are fully informed of the law so that harm does not come to our citizens," the AGs wrote. The letter signed by AGs..Drew Wrigley of North Dakota[.]
Petitioners, Superintendent react to findings in 2020 Williston Public Schools audit report
KFYR-TV
The financials of the Williston School District have been under scrutiny for years as members of the public expressed concern over how accounts were settled before the merger in 2021. On Wednesday, a report from the state auditor details several issues prior to the reorganization. This report has been a long time coming for petitioners who felt Williston Public Schools District #1 hasn't been transparent with their financials. According to State Auditor Josh Gallion, their concerns were justified. In a 96-page report, Gallion highlighted 21 areas of concern for the 2020-21 school year. Some of those issues include having $377 million in unsupported adjusted journal entries, inaccurate bank reconciliations, $6 million in debt not included in financial statements, and having a budget that was not prepared in compliance with state law.
Burgum appoints North Dakota's new Chief Information Officer
Valley News Live
Governor Doug Burgum has appointed Kuldip Mohanty to lead the North Dakota Information Technology (NDIT) department as the state's next chief information officer, effective February 23. More than 250,000 North Dakotans depend on NDIT's technology services daily including computer equipment and software, communications, cybersecurity, networks, applications, GIS, servers, storage and data, and other services. The CIO provides vision, leadership and direction for NDIT, which has a $275 million operating budget, over $500 million in projects and 479 full-time team members. "It is a great honor and privilege to serve the people of North Dakota. I'm thankful to Gov. Burgum for the opportunity to lead the amazing team at North Dakota Information Technology," Mohanty said. "I look forward to building on the momentum and successes of NDIT and collaborating with all stakeholders to build a citizen-centric, frictionless customer experience."
Washington, D.C.
Hoeven, state officials push to maintain wild horses at Theodore Roosevelt National Park
Inforum
Sen. John Hoeven, R-N.D., and state leaders met with National Park Service leaders to press their case for maintaining a herd of wild horses at Theodore Roosevelt National Park…Joining Hoeven were Gov. Doug Burgum, Attorney General Drew Wrigley and top legislative leaders, including Sen. David Hogue, R-Minot, the Senate majority leader; Sen. Kathy Hogan, D-Fargo, the Senate minority leader; Rep. Mike Lefor, R-Dickinson, the House majority leader and Rep. Josh Boschee, D-Fargo, the House minority leader. "We made the case very clearly that we need to keep horses in Theodore Roosevelt National Park," Hoeven said in a video recording released by his office. "We made good progress in the meeting and we're going to work to get it done." Hoeven said he also has consulted with Sen. Kevin Cramer, R-N.D., "who is assisting in the effort."
Sen. Cramer on Chinese Spy Balloon Still Hovering Over US
NTD
A Chinese spy balloon has still been hovering over the center of the continental United States, according to the Pentagon spokesperson. But the Chinese communist regime says it's some type of civilian weather research gone awry. NTD spoke with Sen. Kevin Cramer (R-N.D.), who sits on the Senate Armed Services Committee, to learn more.
Hoeven, EERC welcome grant to improve carbon dioxide capture technology
Grand Forks Herald
A $1.4 million grant designed to enhance the capability of geologic carbon dioxide storage shows the impact of the Energy and Environmental Research Center's "high quality work" and is "another step in the journey" toward successfully capturing carbon, local and federal leaders said Friday, Feb. 3, during a press conference. Sen. John Hoeven announced the awarding of the grant to the EERC at a ceremony on Friday.
Armstrong co-chairs new Bipartisan Second Chance Task Force
The Ripon Advance
The newly created Bipartisan Second Chance Task Force, led by co-chair U.S. Rep. Kelly Armstrong (R-ND), is the first-ever congressional group focused on reentry policies that will help formerly incarcerated and justice system-involved people gain access to jobs and expand worker pools for employers who are interested in hiring returning citizens.
USDA launches Cattle Contract Library pilot program
Valley News Live
The U.S. Department of Agriculture just launched a pilot program to improve transparency and competition in cattle markets. North Dakota Senator John Hoeven secured legislation to establish the Cattle Contract Library as a pilot program, which the USDA is now implementing. The library includes aggregated contract information including key terms, conditions, and volumes. Lawmakers say ranchers will be better positioned to market and sell their livestock. "The whole idea with this Cattle Contract Library is it provides more information and more transparency for cattle ranchers. So that should help more competition and ultimately a better price for our ranches when they see their cattle," said Hoeven.
Senators Tester, Rounds introducing bill banning foreign purchases of US farmland
KFYR-TV
Lawmakers in Washington D.C. are looking at legislation aimed at banning foreign purchases of US farmland. The Promoting Agriculture Safeguards and Security Act would prohibit China, Russia, Iran and North Korea from purchasing any farmland or agricultural companies. The Secretary of Agriculture would also be added to the committee on Foreign Investment in the United States. Senators Jon Tester (D-MT) and Mike Rounds (R-SD) introduced the bill. "Those places don't want to see us exist anymore. The last thing we need to do is let them buy farmland, which is critical to our food security and to our national security," said Tester. Senators John Hoeven (R-ND) and Kevin Cramer (R-ND) are cosponsors of the bill.
Congress presses Secret Service for info on state-sponsored foreign hackers stealing Covid relief funds
NBC News
At a House Oversight Committee hearing on Wednesday, members of Congress from both parties pressed the Secret Service for more information about foreign state-sponsored hackers stealing Covid relief funds, citing exclusive reporting from NBC News about fraud by hackers linked to the Chinese government…Rep. Kelly Armstrong, R-N.D., also referred to the NBC News report and asked Smith, "When do you think the Secret Service expects to have resolution on if the hackers acted on their own accord or by government direction?" Smith answered, "Sir, sometimes in the context of a criminal investigation those answers never get reconciled."
Federal funding coming to North Dakota to improve road safety
Valley News Live
The U.S. Department of Transportation awarded North Dakota cities and counties a total of $4,778,595 in Safe Streets and Roads for All (SS4A) Program grants. "The bipartisan Infrastructure Investment and Jobs Act delivers real results to North Dakota. This funding is the latest example of how the law can help support infrastructure projects like roadway safety improvements across our great state." said North Dakota Senator Kevin Cramer.
Cities, counties waiting on help after costly start to snow season; bill would provide up to $30M in aid
The Bismarck Tribune
Cities and counties around North Dakota are on the verge of catching a break after a tough start to the winter snow season. Local governments have been spread thin for weeks as they try to catch up with snow removal after a three-month stretch that saw three blizzards. Lawmakers in Bismarck and in Washington, D.C., are now working to get them help…A statewide disaster declaration is a necessary step toward seeking a federal disaster declaration, which Burgum submitted on Jan. 10. If it's granted it would pave the way for federal aid. U.S. Sens. John Hoeven and Kevin Cramer and Rep. Kelly Armstrong, all R-N.D., wrote to President Joe Biden on Jan. 12 in support of the state request.