Happy Monday!
Dear Fellow Republicans,
We wanted to provide you with a roundup of everything you might have missed from North Dakota's great Republican leaders this past week. Please share with family and friends!
Perrie Schafer, NDGOP Chairman
Photo of the Week
Senator Kevin Cramer responds to a bet from Senator Mike Rounds: "Bison burgers and brats are on the way. I always honor my obligations."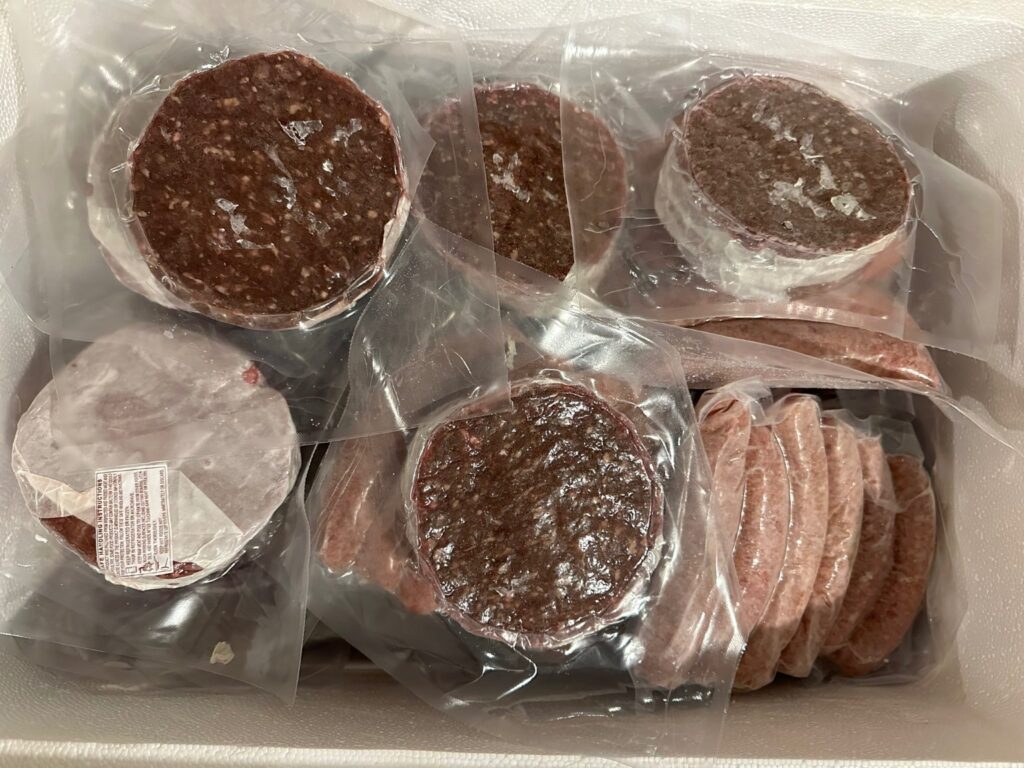 RNC
I encourage you to watch Governor Sarah Huckabee Sanders' terrific response to Joe Biden's terrible and insulting State of the Union Address. She is a true leader! – Perrie
NDGOP
North Dakota GOP leaders criticize Biden's State of the Union address
The Bismarck Tribune
North Dakota Republicans renewed their criticism of Biden's energy agenda, which hasn't been friendly to the state's fossil fuel industry. State Republican Party Chairman Perrie Schafer said Biden "launched a direct attack on the energy industry that powers North Dakota — and the United States."
ND 68th Legislative Session
Just a few bills to put on your radar! -Perrie
Fundamental Parental Rights – Sponsor, Sen. Bob Paulson
SB 2260 – Relating to fundamental parental rights, parental involvement in education, and parental right to consent to medical treatment of the parent's child.
North Dakota
Governors find common cause in fighting addiction
Politico
Burgum said his state is working to make sure the war on fentanyl doesn't become "a war on people," contrasting his approach to the hard-line enforcement against drug offenses championed in decades past. "If we think that the way we're going to stop drug consumption is with with longer prison terms, or higher penalties, we're actually just incarcerating people that have a health issue," Burgum said.
Burgum signs new law on eligibility of police and firefighters for workers' compensation
Prairie Public
"If you've worked in law enforcement, if you've been a firefighter in another state and moved to North Dakota, you will know you're not going to have to wait five years to get the support and the coverage you need for you and your family," Burgum said at a state Capitol signing ceremony. "This is a real signal we're sending."
North Dakota regulators approve permit for wind project in sage grouse country
The Bismarck Tribune
The state Public Service Commission has approved a permit for a wind farm in the area of southwestern North Dakota's sage grouse country…The three-member PSC on Wednesday unanimously approved the permit. Commissioner Julie Fedorchak said the project has gone through a "lengthy permitting process" that has addressed the main issues of wildlife officials.
Nine recruits graduate from NDHP Law Enforcement Training Academy
Devils Lake Journal
Governor Doug Burgum gave the graduation address and expressed gratitude to the new troopers and their families. He noted the courage and dedication needed of those who serve in uniform and wished them well as they begin their service to the citizens of North Dakota. He stated, "To the recruits, I want to say, again, congratulations, and I want to say thank you for making the decision to serve in such an important role. The skills and the knowledge that you have acquired, you're going to have an opportunity to put to use in the coming weeks and months as you begin your careers as troopers. I want you to know, as all the classes that have gone before you, that we've got complete and total confidence that you're going to be able to protect and serve with honor and integrity, and you're going to be upholding the highest standards of professionalism while serving our citizens."
Burgum signs bill providing funds for construction of CTE centers
KFYR-TV
School districts waiting for federal funding for building new career and technical education centers can now move forward. Last week, Governor Doug Burgum signed House Bill 1199, which will provide more than $68 million from the Bank of North Dakota towards 13 career academy projects. The funding gives officials assurance that they can start construction while they wait for federal funding to be released. "It's a great relief that these projects can finally start moving forward, or for those that did take the chance and got started on their own, they can have a sense of security that those funds can start coming back into them," said Wayde Sick, director of the State Department of Career and Technical Education.
High court orders judgeship to be filled
The Bismarck Tribune
The vacancy was created in January when Gov. Doug Burgum appointed Judge Douglas Bahr to the state Supreme Court. State law requires a review of caseloads to determine if a vacated judgeship should be filled, relocated or abolished. The justices filed the order Thursday. A nominating committee will choose a list of finalists from applications received for the position. Burgum will appoint a judge from those finalists.
Basin Electric gets OK for gas plant expansion in Williams County
The Bismarck Tribune
Commissioner Julie Fedorchak called it "an incredible new resource for North Dakota, the region and the Southwest Power Pool," Prairie Public reported. The pool operates a regional power grid. "I really applaud Basin Electric for investing in dispatchable thermal generation like this," Fedorchak said. "It's great for balancing the wind power on their system, and Basin is projecting significant growth in demand."
Senators, governor respond to State of Union address
Minot Daily News
Gov. Doug Burgum released the following statement regarding the State of the Union address: "We agree with the president's desire for unity across the country and support for the middle class. This needs to be shown through action and not just words. President Biden's attempt to frame the first two years of his administration as progress falls flat under the weight of the glaring issues that received too little attention in his State of the Union address – namely his misguided policies that have weakened U.S. energy security and economic security with near-record inflation and the illegal immigration that continues to run rampant at the southern border.
North Dakota lawmakers to form opioid settlement fund to help combat drug abuse
KX News
North Dakota is expected to receive millions of dollars from drug companies as part of a series of lawsuits. This week, state lawmakers discussed setting up a fund where that money will collect. Known as the opioid settlement fund, the money will be spent in hopes of helping people recover from drug addiction. This winter, Governor Doug Burgum set up an advisory committee of six people who will oversee the account and look for places where the money could be spent.
As NDHSAA tightens rules against slurs, parents and board members call for stronger consequences
Inforum
The board meeting was attended via Zoom by at least two dozen people, including former legislator Ruth Buffalo, North Dakota Superintendent of Public Instruction Kirsten Baesler, and organizations like the North Dakota School Boards Association and North Dakota Native Vote, as well as other tribal chiefs and interested parties.
North Dakota's 5 Native American tribes add their voices to calls for keeping wild horses in park
The Jamestown Sun
In the letter to park superintendent Angie Richman dated Friday, Feb. 3, United Tribes endorsed the offer by Gov. Doug Burgum to collaborate with the park to keep the horses, a major draw at the state's top tourist destination.
Industrial Commission approves potential legal action against Minnesota
Prairie Public
Another legal fight could be brewing between North Dakota and Minnesota, concerning electric generation. The Minnesota Legislature has passed – and Minnesota Governor Tim Walz is expected to sign – legislation requiring Minnesota utilities to use 100 percent carbon-free electricity by the year 2040. North Dakota's Industrial Commission – made up of Gov. Doug Burgum, Attorney General Drew Wrigley and Agriculture Commissioner Doug Goehring (GO-ring) – has authorized $1 million for the legal action. And North Dakota lawmakers are considering another $3 million. "It's our view that under a number of areas, Interstate Commerce Clause being one, would preclude their Legislature from having a say over activities in North Dakota, just like we would not be passing bills to regulate neighboring of other far-flung states from what they can do," Burgum said. "We respect state sovereignty, and the ability of states to regulate their own industries, and not their neighbors."
Washington, D.C.
GOP Sen. Cramer on Spy Balloon Having Western Parts: 'We Need to Decouple' But Biden Killing Mines and Pushing EVs Makes It Worse
Breitbart
Cramer stated, "I think we ought to be strategically decoupling from China in many ways. … I personally believe we need to decouple. I think we need to look at investment going both ways. We need to empower our CFIUS board to have more teeth. And we ought to be protecting, particularly protecting critical supply chains like food, pharmaceuticals, critical minerals. Here you have a President who says he wants electric cars, he's all in on electric vehicles, but we still buy minerals from places like China or mine minerals with child labor in Africa. He shut down mining operations here in the United States of America. Just last week, he shut down or ended two possible critical mineral mines, one in Alaska, the Pebble Mine, one in Minnesota next door to me here called Twin Metals. You can't have these sort of odd positions one way and one the other."
Cramer bill bans banks from making financial decisions based on politics
The Center Square
Sen. Kevin Cramer, R-N.D., reintroduced the Fair Access to Bank Act to combat what he called the "weaponization of the financial system." According to the bill, banks and credit unions with assets over $10 billion would face penalties of up to $10,000 per violation for refusing to do business with legally-compliant businesses. The financial institution could also lose its status as an insured depository institution or insured credit union.
Senators push military officials for answers to suspected Chinese spy balloon
KFYR-TV
Senator John Hoeven, R-ND, expressed concern on how that decision could give countries like Russia or China a chance to test the waters on what can fly through American Airspace. "So, have we created a situation where our adversaries are going to try to figure out what they can and can't fly over our airspace? Maybe a balloon, what will they try next," asked Hoeven.
Senators, governor respond to State of Union address
Minot Daily News
"I don't know what the president set out to do tonight, but if it was to unify the country, he failed miserably. There was very little unifying language. His perception of unity is 'we all think like him' as opposed to finding common ground, meeting in the middle, compromising on things," Sen. Kevin Cramer, R-ND, said."American families are continuing to pay more due to high inflation and supply chain issues," Sen. John Hoeven, R-ND, said. "The crisis at our southern border is growing with record numbers of illegal crossings. Our adversaries, like Russia and China, are becoming more aggressive. President Biden is taking our country in the wrong direction with his big government policies.
Cramer, Armstrong announce guests for Tuesday's State of the Union
KFYR-TV
North Dakota Senator Kevin Cramer is bringing Burleigh County Sheriff Kelly Leben. Leben has served in that position since 2018, and Cramer selected him because he said Leben is an exceptional lawman who's not only a peacekeeper but a peacemaker. Congressman Kelly Armstrong is bringing Belfield farmer and North Dakota State Senator Greg Kessel. "Agriculture is a cornerstone of our state's economy and way of life. It's critical that the next farm bill puts our farmers and ranchers first, not climate ideology," said Armstrong.
TikTok's critics use Chinese spy balloon to attack the app
NBC News
Sen. Kevin Cramer, R-N.D., said Monday that he is among those still making up their minds about the app. "So far I have not called for a total ban, but I am not far from that conclusion," said Cramer, a member of the Armed Services Committee.
Sen. John Hoeven to Newsmax: Balloon Should've Been Shot Down 'Off Aleutian Islands'
WGOW
The Biden administration should have ordered the Chinese balloon to be struck down when it was allegedly first identified "off the Aleutian Islands," Sen. John Hoeven, R-N.D., told Newsmax. Hoeven argued Pentagon officials must have identified the balloon in U.S. airspace when it was flying near Alaska's westernmost Island chain. "We should have heard about it before when it was off the Aleutian Islands," Hoeven told Monday's "The Record with Greta Van Susteren." "It should have been taken down right there and then. They had to have known about it with our ability to detect any kind of interdiction into our airspace.
President Biden Approves Governor Burgum's Request For Disaster Declaration
NewsDakota
President Biden has approved Governor Burgum's request for a presidential major disaster declaration for a November winter storm…U.S. Senators Kevin Cramer (R-ND) and John Hoeven (R-ND) and Congressman Kelly Armstrong (R-ND) issued the following statement…"November's severe storms created truly hazardous conditions with record-breaking snowfall and high-speed winds that not only made travel and access for emergency services challenging, but cut power and heat to thousands of North Dakotans," wrote the delegation. "We appreciate the efforts of Governor Burgum, state and local officials, and local utility providers to assist communities in both recovering from these damaging storms and protecting against future disasters."