Happy Monday!
Dear Fellow Republicans,
We wanted to provide you with a roundup of everything you might have missed from North Dakota's great Republican leaders this past week. Please share with family and friends!
Sandra Sanford, NDGOP Chairwoman
Photo of the Week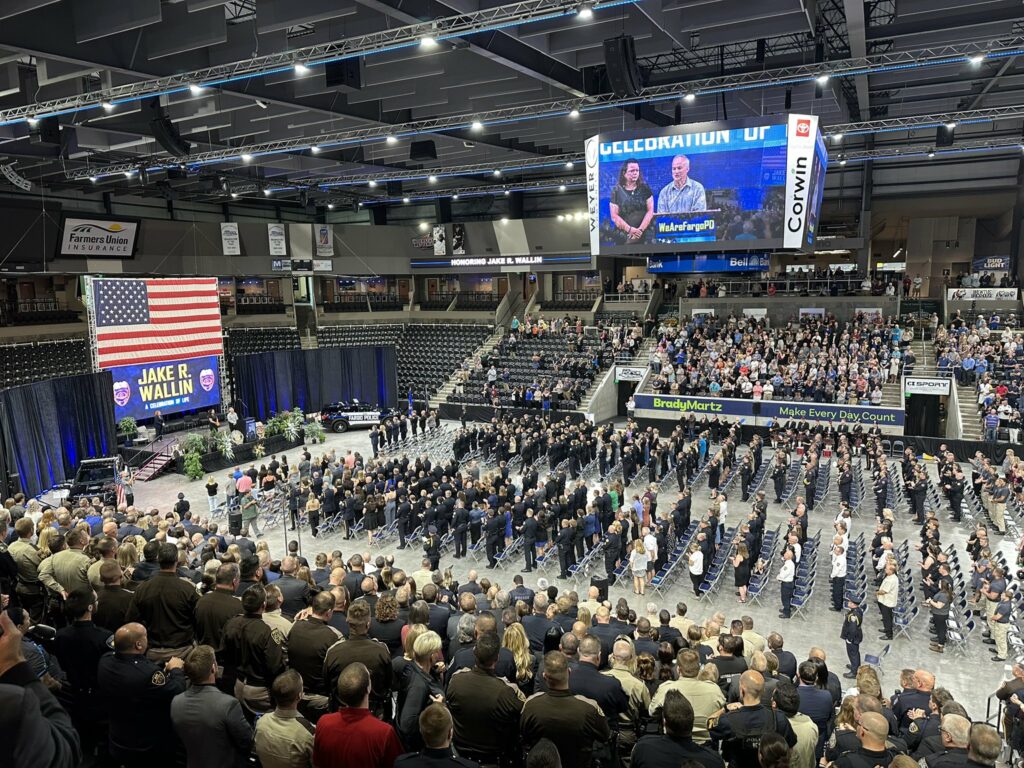 Gov. Doug Burgum: "In Officer Jake Wallin, we saw the best of us, a shining example of those who go to work every day to protect and serve, fully aware they might not make it home. Deeply grateful for his heroic service and for everyone supporting his family & honoring his incredible legacy today."
---
North Dakota
GOP candidate Doug Burgum says Biden's to blame for controversial Texas border barriers
Des Moines Register
"I support what Gov. Abbott is trying to do. But Gov. Abbott shouldn't have to do this. This is a federal responsibility. And it's been completely abdicated by the Biden administration," said Burgum, one of the Republican presidential candidates crisscrossing Iowa this weekend.
5 clean energy projects approved; over half of funding going to Project Tundra
The Bismarck Tribune
Gov. Doug Burgum, Agriculture Commissioner Doug Goehring and Attorney General Drew Wrigley make up the Industrial Commission. Burgum said he believes these projects will be a boon for the state, regardless of how seriously one takes climate change."The money is flowing from people that want to pay premiums for carbon reductions," he said.
Livestock producers reminded of anthrax danger
AM 890 AG News
"Anthrax has been most frequently reported in northeast, southeast and south-central North Dakota, but it has been found in almost every part of the state," Agriculture Commissioner Doug Goehring said. "A few anthrax cases are reported in North Dakota almost every year. The animals impacted included cattle, bison, horses, sheep, llamas and farmed deer and elk."
North Dakota to start reporting all traffic violations to insurance companies
Inforum
"When you take out a chunk of that record everybody has to pay more to account for that unknown. The less unknown we have, the more accurate that rate can be, which then should help the good drivers," said North Dakota Insurance Commissioner Jon Godfread.
New Program Helps Royalty Owners With Payment Issues
NewsDakota
"Up to this point there has been no designated agency or entity to work with royalty owners who need technical assistance and support relating to royalty payment issues," Goehring said. "Our intent is to work with companies to offer assistance and bring clarity to statements for royalty owners."
NDDPI seeking US Senate Youth Program applications
Williston Herald
State School Superintendent Kirsten Baesler has announced that the Department of Public Instruction is seeking applications for the U.S. Senate Youth Program (USSYP) through Oct. 22.
Finalists named for 2024 North Dakota Teacher of the Year
Devils Lake Journal
"The North Dakota teacher of the year finalists exemplify the best of dedication and excellence in education," Baesler remarked. "Educators are humble by nature, but they deserve our praise and recognition. Their impact resonates far beyond their classrooms, shaping futures and inspiring generations."
Pride of Dakota Day at the North Dakota State Fair
KFYR-TV
"It's just great to help kids out in their organizations. There's so much to be learned here, it's a bit of work ethic, it's values, it's a good cause, it's keeping kids engaged in life and agriculture… the retail and business, and working sector. It's just a good cause," said Goehring.
Wrigley to push for tougher laws for those who resist arrest, assault officers
WDAY
"There is a cultural shift," Wrigley said. "And it's not for the better. We have to protect the men and women in uniform, from the standpoint of if they get sentenced on an underlying offense, they should get additional (time)."
Washington, D.C.
UND awarded $2.5 million to further carbon capture technology at Dickinson refinery
KFYR-TV
"Renewable diesel provides an important local market for our state's soybean growers, while supporting good-paying jobs like we've worked to bring through new soybean crush facilities in Jamestown and Casselton and diversifying North Dakota's role as a global energy leader. This $2.5 million award to support the implementation of CCUS at the Marathon facility in Dickinson builds upon the strong partnership between our ag and energy industries, and this project comes as another important example of how our state is leading the way in new energy innovations," said Sen. John Hoeven, R-ND.
Legislation authorizes new, existing major projects for Minot AFB
Minot Daily News
"North Dakota plays a pivotal role in our national security, and I am grateful this bill supports our servicemen and women and their families while investing in the military assets and facilities across the state," said Sen. Kevin Cramer…Sen. John Hoeven, R-ND, a member of the Senate Defense Appropriations Committee, said, "We've worked to ensure North Dakota plays a central role in our nation's defense, now and into the future."
Rep. Armstrong to Newsmax: Never Seen Anything Like Hunter Plea Deal
Newsmax
As a former criminal defense attorney, Rep. Kelly Armstrong, R-N.D., has seen his share of plea agreements. But he told Newsmax on Thursday he has seen nothing like the plea deal President Joe Biden's son Hunter Biden reached with federal prosecutors.
Republicans react to Biden's proposed rule on public lands leasing
KFYR-TV
"Won't this new regulation further hurt our ability to produce energy in this country versus getting it from other countries who may be hostile to our interests and have much worse environmental stewardship," Hoeven asked during a Senate Energy and Natural Resources Committee hearing.
Homeowners along Jamestown Reservoir seek same rights as cabin owners
Jamestown Sun
If the attorney's opinion says the park board cannot issue dock permits, Sen. John Hoeven, R-N.D., said the county and the citizens will need to get some consensus on what they want. He said his office will then tell the Bureau of Reclamation that it is getting conflicting responses from the Reclamation.
North Dakota delegation asks EPA to pull back its proposed methane rule
The Ripon Advance
"At a time when this country should be doing all it can to improve energy security and independence, and reduce reliance on foreign suppliers, EPA has instead proposed a rule that would weaken the domestic energy industry through burdensome restrictions on oil and gas operations," wrote Sen. Hoeven, Rep. Armstrong, and U.S. Sen. Kevin Cramer (R-ND).