Happy Monday!
Dear Fellow Republicans,
We wanted to provide you with a roundup of everything you might have missed from North Dakota's great Republican leaders this past week. Please share with family and friends!
Sandra Sanford, NDGOP Chairwoman
Photo of the Week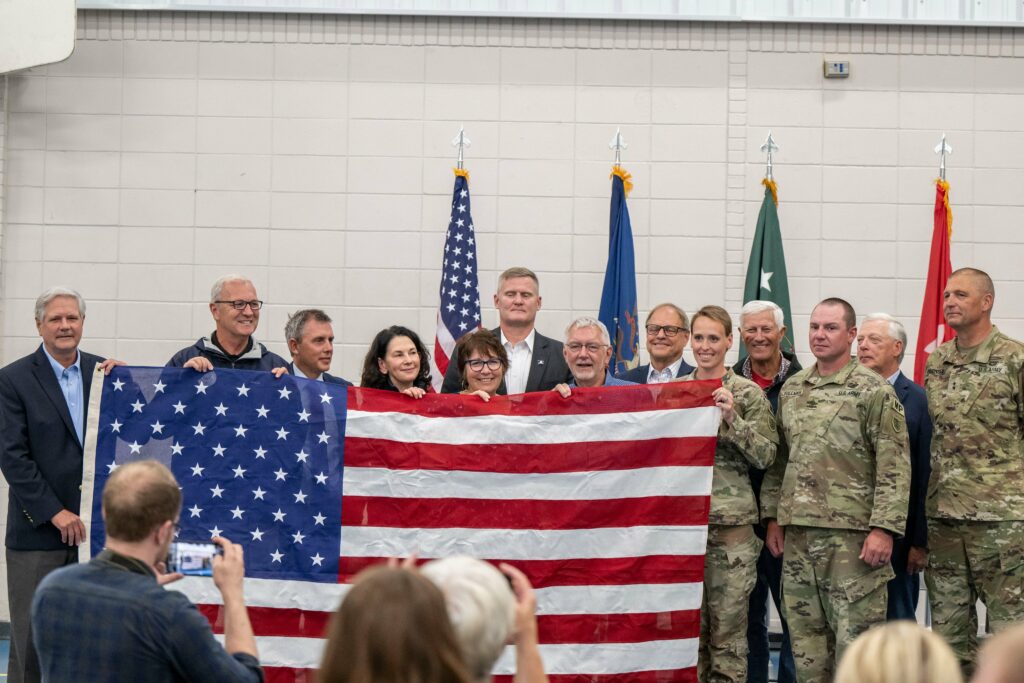 Lt. Gov. Miller Today we broke ground on a new Readiness Center in Dickinson for the North Dakota National Guard's 816th Military Police Company, providing a space that will live up to the excellence of these highly trained men and women in uniform who are "Always Ready, Always There." We're thrilled the legislature approved nearly all of what Gov. Burgum proposed in his executive budget for this project, providing $8.9M in state funding – one of many projects we're supporting at the state level to make ours the most military friendly state in the U.S. We're also grateful to our congressional delegation for securing funding for the $27 million, 40,000-square-foot facility, which will house, support and train the unit's 80-plus soldiers and accommodate their equipment.
---
North Dakota
Gov. Doug Burgum To Visit Troops Helping Secure Southern Border in Texas
KVRR
He will visit around 100 members of the Wahpeton-based 188th Engineer Company in Texas…He also will visit with members from the 1st Battalion, 112th Aviation Regiment who are deployed on federal status in support of U.S. Customs and Border Protection. Burgum says stopping illegal activity at the southern border is critical to the security of our state and nation.
Ukrainians move to ND for oil field jobs to help families back home
Knox Radio
North Dakota's oil industry is turning to Ukrainians to fill jobs amid a workforce shortage. The North Dakota Petroleum Council trade group this spring announced its Bakken Global Recruitment of Oilfield Workers program, led by former Lt. Gov. Brent Sanford.
WATCH: China is the number-one issue facing America: Gov. Doug Burgum
Fox News
North Dakota Gov. Doug Burgum shares what the top issues facing the United States are on 'Special Report.'
Raw milk sales now legal in North Dakota
Valley News Live
"A farm may now sell raw milk directly to the end consumer for personal consumption," Goehring said. "However, this does not include other milk products such as cream, yogurt or cheese."
North Dakota Denies Route Permit Application for Summit Carbon Solutions
Korn Radio
The North Dakota Public Service Commissioners unanimously voted to reject Summit Carbon Solution's route permit application on Friday. The regulators cited the company's failure to demonstrate that their project would not have adverse effects on the environment and the state's residents.
Some counties now eligible for emergency haying and grazing on CRP acres
Tri-State Livestock News
"Unfortunately, certain areas of North Dakota have moved back into severe drought status or have lost significant forage production," Agriculture Commissioner Doug Goehring said. "There is now another option available for our livestock producers who need more haying and grazing acres."
Anthrax found in more Grant County beef cattle
Tri-State Livestock News
"Anthrax has been most frequently reported in northeast, southeast and south-central North Dakota, but it has been found in almost every part of the state," Agriculture Commissioner Doug Goehring said. "While typically only a few anthrax cases are reported in North Dakota every year, it can cause devastating losses in affected herds."
ND Taxable S & P's still climbing
Knox Radio
North Dakota's taxable sales and purchases climbed over 21% during the first three months of 2023. North Dakota Tax Commissioner Brian Kroshus says S & P's totaled $5.7 billion dollars in January…February…and March. Kroshus says it was the eighth consecutive quarter of growth – a sign of a strong state economy.
North Dakota: Goehring opposed to EPA draft herbicide strategy
Tri-State Livestock News
"The proposed mitigations include potential downwind buffers of up to 500 feet and options of prescribed land management practices that producers would have to implement before using products, even in areas where threatened and endangered species do not exist," Goehring said.
Washington, D.C.
Federal lawmakers from Dakotas, Minnesota all ears as farm bill discussions heat up
Jamestown Sun
"The key to a (farm bill) extension is making sure there's no lapse in coverage," [Armstrong] said…Hoeven has worked to establish what his office calls a "cattle contract library pilot program," under the Department of Agriculture's Ag Marketing Service…On Monday, Sen. Kevin Cramer, R-N.D., will host a farm bill discussion along with Sen. John Boozman, R-Arkansas, the ranking member of the Senate Agriculture Committee in Fargo.
Gas stoves under fire
KFYR-TV
"It just would dramatically increase the costs across the board, and that in essence would force people and businesses to phase out gas stoves," said Hoeven…"Their job is to make sure that if there's a faulty product that is a safety violation or a liability problem – like a faulty pilot light or something like that – we didn't take any of that authority away from them, that's what their mission is, that's what they should do. What we just said is that you cannot ban an entire product based on what fuel source it uses," said Armstrong.
Leaders hold ceremony commemorating new National Guard Armory in Dickinson
The Dickinson Press
Lt. Gov. Tammy Miller said this will double the size of the existing facility…"This place should have been a parking lot 25 years ago, and we're here. I'm excited," Armstrong said, praising the Guardsmen for their hard work and dedication. "The first time I ever saw it was 1997 with the flood in Grand Forks. Without the National Guard, there are literally people who would have died."
Theodore Roosevelt Regional Airport's upgrade funded by joint efforts
The Dickinson Press
Senator John Hoeven, who aided in securing nearly $50 million in federal funds for the expansion project, helped cut the ribbon and spoke at the ceremony. "The newly expanded runway enables the airport to accommodate the aircraft necessary to meet the needs of the community, and is vital in supporting the larger aircraft necessary to move both passengers and cargo safely and efficiently," said Hoeven.
North Dakota, Montana legislators looking to extend northern Ports of Entry hours
KFYR-TV
Sen. Kevin Cramer said with the pandemic over, it's time for the ports to return to normal. "As we are recovering, we were very slow to respond. In many cases, Canada was more extreme than the United States was, but since then, Canada has returned more to normal while the United States continues to lag," said Cramer.
Hoeven outlines Cattle Contract Program for North Dakota Ranchers
The Jamestown Sun
Sen. John Hoeven visited Dickinson on Wednesday to introduce an innovative cattle contract library pilot program to southwest North Dakota livestock producers. The program, initiated under the U.S. Department of Agriculture's Agricultural Marketing Service (AMS), aims to bring greater transparency and improved price discovery to the cattle industry.