Happy Monday!
Dear Fellow Republicans,
We wanted to provide you with a roundup of everything you might have missed from North Dakota's great Republican leaders this past week. Please share with family and friends!
Sandra Sanford, NDGOP Chairwoman
Photo of the Week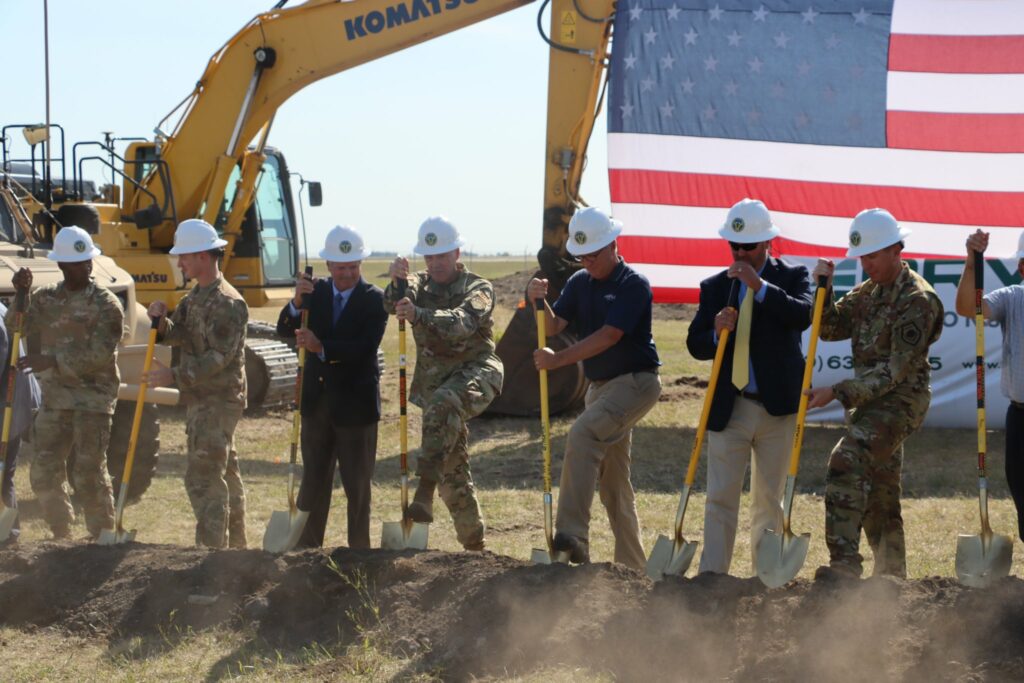 Senators Cramer and Hoeven break ground at Minot Air Force Base's Helicopter & Tactical Response Force Team Building which will be used to support new MH-139 Grey Wolf Helicopters.
---
North Dakota
WATCH: Gov. Doug Burgum says economy is top issue for voters: 'Inflation is number one' priority
Fox News
Gov. Doug Burgum, R-N.D., joined 'America's Newsroom' to discuss his candidacy in the 2024 election ahead of the GOP debate and key issues motivating voters.
North Dakota forges multi-agency alliance to tackle illegal drugs on tribal lands
Fox News
"Drug trafficking organizations are not deterred by reservation borders, so our law enforcement efforts must be empowered to protect every inch of our shared geography. Our office has led this initiative with the clear objective of enhancing public safety for all North Dakotans," Wrigley said in a statement.
Bodycam footage captures terrifying ambush that killed North Dakota police officer
The Independent
Mr Wrigley said Mr Hawes, one of the injured officers, "was literally crawling to get to [Officer] Dotas' side." "To be at his side, to be holding his hand, to be willing him to live," the attorney general said, choking back tears.
Biden's Spending Ignited Inflation That Fed Can't Stop, Doug Burgum Says
Bloomberg
"The Fed plays an important role. But right now we can keep raising interest rates but with all this Biden infrastructure money coming to the state, I see it as governor," Burgum told Bloomberg Television's "Balance of Power" on Thursday. "We could end up with high interest rates that choke the private sector and still don't solve the inflation problem."
Luverne, North Dakota Wind Project Update
News Dakota
Commissioner Julie Fedorchak says this will mean larger turbines and turbine blades. She says Otter Tail has worked with surrounding landowners, telling them what the plans are, and getting there OK. PSC chairman Randy Christmann says the order in this case will be very important to landowners dealing with other wind farm re-powering.
Gov. Burgum says Summit carbon pipeline will get approval in ND; Iowa hearings set to begin
Inforum
Iowa Radio quoted Burgum from the Iowa State Fair on Aug. 10 as saying, "I have every expectation that pipeline is going to (be) approved in North Dakota. There is going to be a reconsideration of that process I'm sure, and as they have done in the past, they've been super accommodating in routing around. If you've got a farmer that doesn't want a big check for an easement, their neighbor probably does and they'll keep making adjustments."
Forum on Native American history curriculum in the classroom
KFYR-TV
Educators and tribal leaders are working to figure out how to implement a law passed in recent years requiring Native American history to be included in the classroom. North Dakota Senate Bill 2304 requires every school in the state to provide education on Native American history and culture. Gov. Doug Burgum, R-ND, signed the bill into law in 2021.
Gov. Burgum speaks at Summit on Innovative Education
KVRR
Gov. Doug Burgum says West Fargo Public Schools have been leaders helping prepare students with hands-on experience. "Some fantastic stuff going on here at Northern Cass school, where they are doing a studio approach where students work collaboratively with three teachers over a six-year period on hands-on real-world experiences." says Gov. Doug Burgum, (R) North Dakota
Anthrax cases rise in North Dakota
Beef Magazine
"While typically only a few anthrax cases are reported in North Dakota every year, it can cause devastating losses in affected herds," Agriculture Commissioner Doug Goehring said. "Weather and soil conditions have contributed to the number of cases we're seeing this year."
Grants Awarded to Grape, Fruit and Wine Industry
Morning Ag Clips
Agriculture Commissioner Doug Goehring has awarded grants totaling $80,000 for industry research of the grape, fruit and wine industry in North Dakota. "North Dakota's grape and wine industry continues to grow," Goehring said. "The research funded by this grant will help keep that industry advancing."
State Lab 'caught up' with processing rape kits and other evidence
Prairie Public
North Dakota's Attorney General says the state crime lab has now caught up with processing such things as rape kits and firearm evidence. Drew Wrigley said in 2022, he heard a lot of complaints from law enforcement about a backlog. "We address that with some grant dollars we received, so we could pay overtime, utilizing the existing staff that we have," Wrigley said. Wrigley said the backlog has now been erased.
North Dakota to launch principal apprenticeship program
The Bismarck Tribune
A new program in North Dakota aims to create a pathway for educators to become principals through an apprenticeship program. North Dakota is the first state in the country to obtain approval for a federally supported apprenticeship program for school administrators, according to State School Superintendent Kirsten Baesler.
Washington, D.C.
Rep. Kelly Armstrong: Giving producers certainty and stability is key for the farm bill
Grand Forks Herald
At a time when much of the country thinks that food comes from the grocery store and electricity comes from the light switch, I'm more committed than ever to making sure our producers have the tools and flexibility to thrive. Farming and ranching are more than just businesses, they are a way of life.
Bipartisan, Bicameral letter calls for accountability
Williston Herald
U.S. Senator Kevin Cramer (R-ND), member of the Senate Armed Services Committee (SASC), joined a bipartisan, bicameral letter to President Joe Biden regarding allegations of threats and intimidation by Iran against U.S. citizens and corporations which have prevented the transfer of oil from the Suez Rajan, a seized oil tanker anchored outside of Galveston, Texas.
Minot celebrates newest affordable housing
Minot Daily News
Hoeven called the project an "amazing partnership" assembled by Beyond Shelter. "It's kind of a natural because up here we are used to working as partners to get things done. It takes that," he said. "The federal end is really important in these projects, both in terms of getting them funded upfront but then also in terms of rent support to make sure that all these units are truly affordable."
EPA awards $1M to Turtle Mountain Band of Chippewa
Minot Daily News
Sen. Kevin Cramer, R-ND, announced the award this week. The EPA funds will be used to conduct remediation activities at the main hospital of the former San Haven Medical Complex, which is contaminated with asbestos, lead, and polychlorinated biphenyls, affecting building materials, soil, and water.