Happy Monday!
Dear Fellow Republicans,
We wanted to provide you with a roundup of everything you might have missed from North Dakota's great Republican leaders this past week. Please share with family and friends!
Perrie Schafer, NDGOP Chairman
Photo of the Week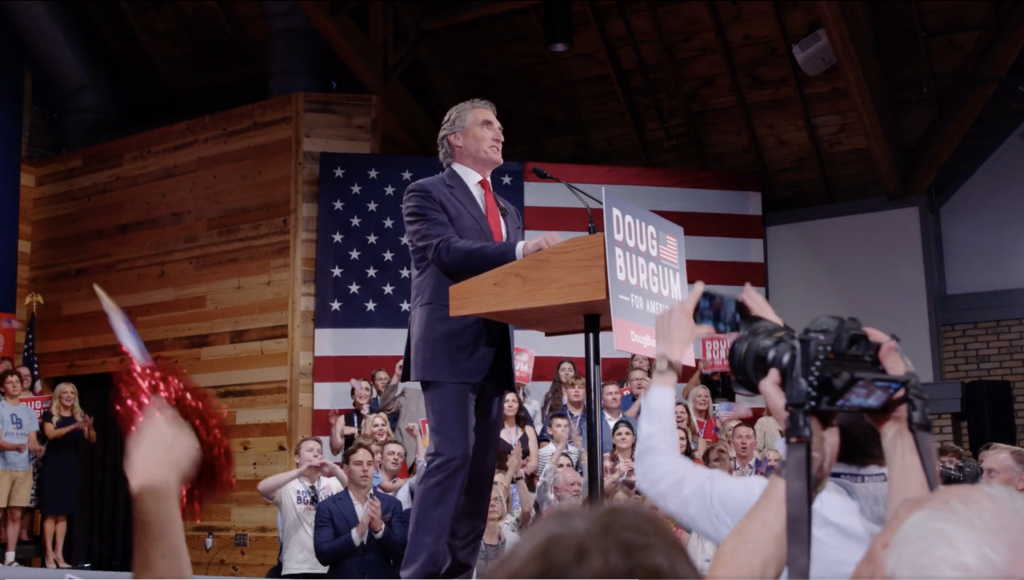 "Everything he (Burgum) talked about in his speech is all true. I know he's proud of Arthur, and we're proud of him," Johnson said. The town of Arthur felt like a ghost town the day Burgum announced his candidacy for president. Everyone traveled to Fargo's Sanctuary Events Center to watch or went home to view the speech on television, Johnson said. "We're die-hards. Arthur takes care of its people. We're a very lucky small town," she said. 
---
RNC
Bank Your Vote!
The RNC has launched an online information hub to educate and activate voters prior to Election Day called "Bank Your Vote." BankYourVote.com will encourage voters to pledge to "bank" their vote, which will activate digital reminders from the RNC on all applicable pre-Election Day voting options. Moving towards the 2024 election, the RNC will partner with state parties and campaigns to create pages outlining pre-Election Day voting processes for 56 states and territories, which include links to state government sites where voters can request their ballot directly.
It's exciting to see our Party catching up in this critically important area before 2024! – Perrie
North Dakota
Burgum will fulfill governor duties while running for president, spokesman says
The Bismarck Tribune
"As he does whenever he's out of state (such as for meetings of the National Governors Association, Republican Governors Association, Western Governors' Association etc.), Gov. Burgum will work remotely, communicating with team members, Cabinet officials and others as he makes decisions in the best interest of the state and its citizens," spokesman Mike Nowatzki said in a statement to the Tribune. "He will continue to fulfill his constitutional obligations, including chairing the Industrial Commission and Land Board."
US Treasury approves $68M for North Dakota career academies
The Bismarck Tribune
The U.S. Treasury Department has approved North Dakota's application for $68 million to help finance the construction of 13 career academies across the state. Gov. Doug Burgum earlier this year signed House Bill 1199, providing for a $68 million line of credit from the state-owned-Bank of North Dakota for the academies — a move to boost fields with workforce needs. U.S. Sen. John Hoeven, R-N.D., on Friday announced the federal funding, saying it "means the short-term loan from the state can be promptly repaid and will enable construction to move forward." Career academies help students prepare for careers in the trades, health care, technology and other industry sectors. All of those fields are in need of workers in North Dakota.
Goehring Announces APUC Awards Funding
Morning Ag Clips
Agriculture Commissioner Doug Goehring has announced North Dakota Agricultural Products Utilization Commission (APUC) awards for five projects. The awards totaling $426,932 were approved at the APUC quarterly meeting May 18 in Dickinson. APUC is a program of the North Dakota Department of Agriculture that administers grant programs for research and development of new and expanded uses for North Dakota agricultural products which support the development of concepts and products that support our rural communities and agriculture operations. The grants can be used for basic and applied research, marketing and utilization, farm diversification, nature-based agritourism, prototype and technology and technical assistance.
North Dakota: Proposals sought for Ag in the Classroom programs
Tri-State Livestock News
"Agriculture in the Classroom programs help young people learn where their food comes from and how to make better food choices for themselves," Agriculture Commissioner Doug Goehring said. "The program provides teachers with curricula and class lesson development materials, training seminars, a magazine, website and other tools to make agriculture part of the school day. The materials provided support all core areas of study." Goehring said up to $100,000 will be available for the programs in this biennium.
Washington, D.C.
Minot CTE to benefit from federal funds
Minot Daily News
"Our economy is only as strong as our workforce," Cramer said. "When we increase access to job training programs and pathways to obtain high-demand careers, we can prepare the next generation of workers to meet the opportunities of tomorrow.""Securing this award for North Dakota's CTE Centers is an important win for the state. Today's announcement means the short-term loan from the state can be promptly repaid and will enable construction to move forward," Hoeven said Friday. "We've been working with Treasury to advance this process and provide much-needed certainty for the development of these CTE Centers, which will help our state better meet its workforce needs while giving students' more options to pursue cost-effective education and build a successful career."
North Dakota delegation among lawmakers urging CBP to extend northern port of entry hours
Grand Forks Herald
North Dakota's congressional delegation is among a bipartisan, bicameral group of lawmakers calling on U.S. Customs and Border Protection to restore normal operating hours at ports of entry on the U.S.-Canadian border. On Wednesday, June 6, Sens. John Hoeven and Kevin Cramer, R-North Dakota, and Rep. Kelly Armstrong, R-North Dakota, were among 10 lawmakers who signed a letter to Pete Flores, executive assistant commissioner of field operations at U.S. Customs and Border Protection. The letter asks CBP to extend hours at ports of entry to at least match operating hours with adjacent Canadian Border Services Agency ports.
North Dakota delegation responds to Trump indictment
Valley News Live
Senator Kevin Cramer | (R) North Dakota: "DOJ is partisan and corrupt, and anything they do relating to former President Trump should be automatically dismissed. The Biden administration has zero credibility when it comes to its multi-tiered justice system. For a sitting president to indict his political opponent is chilling and should outrage every American. If Joe Biden had an ounce of integrity, he would tell his AG to drop the whole matter. I'm not holding my breath. Perhaps the DOJ should stop protecting the Bidens' criminal activities instead of going after concerned parents and political opponents." Congressman Kelly Armstrong | (R) North Dakota: "There is a sign at DOJ that says "The Hallmark of Justice is Consistency". There is nothing consistent as to how this DOJ has treated Donald Trump. If they had used these same tactics, James Comey and Hillary Clinton would be convicted of similar charges and serving out their sentences. It only takes months to charge President Trump with obstruction but after several years they can't figure out how to charge President Biden's son for lying on a gun form?" Senator John Hoeven | (R) North Dakota: "It is hard to understand why the National Archives has not worked this out with President Trump, and with the DOJ stepping in, the American people are concerned about political bias. This needs to be resolved as soon as possible without political bias to ensure people can have confidence in the judicial system." Though other candidates have largely attacked the Justice Department, rather than Trump, for the investigation, the indictment's breadth of allegations and startling scope will be harder for Republicans to rail against than an earlier New York criminal case that many legal analysts had derided as weak. The 49-page charging document alleges that Trump not only intentionally possessed classified documents but also cavalierly and boastfully showed them off to visitors.
North Dakota's harsh winter leads to millions in damage from spring floodsThe Center Square
The state's winter snowfall doubled from an average of 50.5 inches, Rep. Kelly Armstrong and Sens. John Hoeven and Kevin Cramer said in their letter. Gov. Doug Burgum said in his letter to Biden last week that the counties experienced about $4.1 million in flood-related damages, with the total damage estimates at more than $5 million. "The state continues to recover from a particularly severe winter and is therefore requesting a major disaster declaration for 21 counties as a result of flooding during the period of April 10, 2023, to May 6, 2023," the delegation wrote. "We support the state's request and urge you to approve it as soon as possible so the necessary Federal resources can be made available to North Dakotans."
Contaminated North Dakota sites to be cleaned up with $3.5M in federal money
The Bismarck Tribune
"Remediating sites contaminated by hazardous substances and returning them to productive use is a win-win for our communities," said U.S. Sen. Kevin Cramer, R-N.D. "These Bipartisan Infrastructure Law grants will help create new opportunities at currently unusable locations."