Happy Monday!
Dear Fellow Republicans,
We wanted to provide you with a roundup of everything you might have missed from North Dakota's great Republican leaders this past week. Please share with family and friends!
Perrie Schafer, NDGOP Chairman
Photo of the Week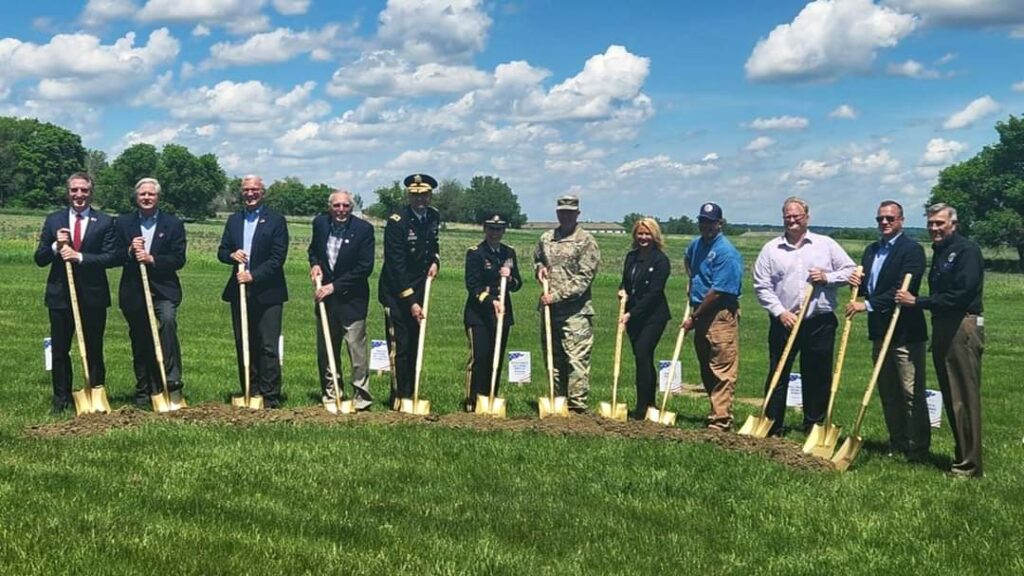 Senator Hoeven: We can never fully repay our veterans, but there are many ways we can work to honor their sacrifices and those of their families. The nearly $1.9 million investment we secured in the ND Veterans Cemetery's new columbarium is one such effort, which we broke ground on today.
RNC
---
Exciting news from Chairwoman McDaniel! We have an update on the second presidential debate – right in our own backyard! See below. – Perrie
Republicans set Aug. 23 for the presidential debate in Milwaukee with the potential for a second debate the next day
Milwaukee Journal Sentinel
The move will ramp up the campaign season in the city where Republicans will host their national convention next year. The debate will be broadcast by Fox News in partnership with Rumble and Young America's Foundation. "The RNC is committed to putting on a fair, neutral, and transparent primary process and the qualifying criteria set forth will put our party and eventual nominee in the best position to take back the White House come November 2024." RNC Chairwoman Ronna McDaniel said in a statement.
North Dakota
Burgum sending more Guard troops to southern border; North Dakota leading border security lawsuit
The Bismarck Tribune
"The North Dakota National Guard has already deployed two units to the southern border in the past two years, and these additional military and law enforcement resources announced today will further strengthen efforts to secure the border and keep Americans safe," Burgum said.
18 States Sue Biden As Illegal Aliens Enter the U.S., Reaping the Benefits of a U.S. Citizen
Townhall
Attorney General Drew Wrigley (R-ND) said, "Rather than enforcing our border security laws, the federal government is encouraging illegal aliens to schedule their entry into this country through a phone app, after which they predictably disperse around the country without any meaningful oversight."
With millions in damages to ND roads, Burgum requests disaster declaration
KVRR
Around $5 million in damages have hit North Dakota roads and public infrastructure due to spring flooding. Gov. Doug Burgum requested a Presidential Major Disaster Declaration, following an executive order he issued in April declaring a statewide flood emergency. He sent a letter to President Biden through the (FEMA) to request the major disaster from April 10 to May 6 for counties including Grand Forks, Ransom, Richland, LaMoure, Pembina, Steele and more across the state.
New ND corporate farming bill: 'This can change the bottom line for our ag operations'
Farm & Ranch Guide
North Dakota Agriculture Commissioner Doug Goehring said the goal when creating the bill was to put North Dakota producers in position to enjoy the success of neighboring states. "All of our neighboring states are just doing that much better, to the point that 40-50 percent of their typical gross receipts that come from agriculture were coming from animal agriculture – animal agriculture was complementing the farming side of it," he said.
Belchim Herbicide Receives Special Local Needs Registration for Sugarbeets
AgriBusiness Global
North Dakota Agriculture Commissioner Doug Goehring, stated "In many areas, kochia has demonstrated resistance and is very difficult to control." Goehring continued, "In crops such as sugarbeets, growers rely on soil-applied herbicides that require rainfall or tillage to be effective. This SLN gives these growers an alternative product when early treatments are unsuccessful."
Secretary of State to improve campaign finance reporting and election administration
KFGO
Michael Howe said the Legislature approved $5 million for new election administration software, as well as funding for a new campaign finance system. The goal is to have the systems in place for the 2026 election. "This upcoming biennium will be for RFP (Requests For Proposals) and implementation," Howe said. Howe said the state had contracted with a vendor on the campaign finance software, where North Dakota is the only client. He said that vendor wants to get out of that software line. "I feel, just as a candidate myself, and to the public, that system isn't very transparent," Howe said. "That's the whole point of having the campaign finance system, is to be transparent."
ND raises 'serious concerns' about BLM plan
Minot Daily News
North Dakota Attorney General Drew Wrigley, in collaboration with Gov. Doug Burgum and several executive branch agencies, submitted official comments to BLM on behalf of the state on Monday…"As Americans struggle with high energy prices and inflation, the Biden administration continues to wage its misguided war on the energy industry in North Dakota – including this Resource Management Plan that attempts to further restrict development of our abundant oil, natural gas and coal resources," Burgum said. "As a nation, we should be responsibly developing our natural resources and selling energy to our friends and allies instead of buying energy from our enemies."
Burgum reappoints Sadie Hanson as student member on North Dakota Board of Higher Education
Williston Herald
Gov. Doug Burgum has reappointed University of North Dakota student Sadie Hanson to a second one-year term as the student representative on the state Board of Higher Education…"Sadie has proven to be a capable leader and an effective voice for students in the rapidly changing world of higher education. We look forward to her continued leadership on the board as she represents her peers at North Dakota's public colleges and universities," Burgum said.
North Dakota ranks in the top ten for lowest property taxes
The Center Square
North Dakota outpaces its neighbors in having a competitive property tax structure, ranking in the top ten nationally, according to a report. North Dakota placed 9th overall in the Tax Foundation's analysis of states' property taxes, which examines state and local taxes on real and personal property, net worth, and asset transfers. The state improved its score, jumping one spot up from last year's assessment…Property taxes are set to improve even more for North Dakotans after Gov. Doug Burgum signed a bill that brings $515 million in tax relief, including a $500 tax credit on primary residences.
Proposals Sought for Honey Bee Industry
Morning Ag Clips
Agriculture Commissioner Doug Goehring has announced that funding is available for research of honeybees. "The North Dakota Department of Agriculture is seeking grant proposals for research into finding practical solutions to honeybee health issues" he said.
Chlorpyrifos Disposal Options Announced
Morning Ag Clips
"Due to the late-season timing of the revocation announcement, many stocks of unusable chlorpyrifos remain in the supply chain," Agriculture Commissioner Doug Goehring said. "I applaud Corteva and ADAMA for their correspondence with the EPA to take back the unusable product; however, I'm disappointed that other registrants have not taken the same responsibility. I hope that others will follow in their example of good stewardship."
Carbon capture could mean more money for Coal Creek plant
KX News
The project plans to store up to 200 million metric tons of CO2. State Ag commissioner Doug Goehring says that concentrated carbon dioxide can then be sold as a commodity. "Because we have the geology," Goehring said, "we now have the ability to save our own power plants, capture the CO2, and then turn around and use it for enhanced oil recovery down the road."
Washington, D.C.
Thousands gather at North Dakota Veterans Cemetery for Memorial Day
The Bismarck Tribune
Remarks were given by Gov. Doug Burgum; U.S. Sens John Hoeven and Kevin Cramer, both R-N.D.; and state Guard Adjutant General Maj. Gen. Al Dohrmann. Hoeven donned a National Guard hat, and said he wants to honor soldiers "not just on Veterans Day, not just on Memorial Day, but every day." Burgum reiterated his goal to make North Dakota one of the most military-friendly states in the country. He mentioned how burial costs at the cemetery are covered for both military personnel and their spouses. "When an individual serves, the whole family serves," he said. A round of applause was given to families of veterans. A groundbreaking for a new columbarium for cremation urns followed the ceremony. The 2,240-compartment structure is for veterans and their spouses. It is funded by a $1.86 million grant from the National Cemetery Administration and $600,000 from the North Dakota Veterans Cemetery Foundation.
Debt ceiling deal 'far from perfect,' but it does have benefits for North Dakota, Rep. Kelly Armstrong says
The Jamestown Sun
North Dakota Rep. Kelly Armstrong said a bill passed by the House Wednesday to suspend the nation's debt ceiling "is far from perfect" but does have benefits for North Dakota. Prior to the vote, Armstrong said the bill "is going to help get infrastructure in the ground in a quicker time and thereby free up capital for infrastructure projects."
Senator John Hoeven sets sights on Taliban
Williston Herald
"The Biden administration's reckless withdrawal from Afghanistan has allowed that nation to backslide, which again serves as a haven for terrorists and drug trafficking, while its people suffer under severe human rights abuses," said Hoeven. "Our legislation rightly imposes tariffs, and supports our allies in doing the same, in order to hold the Taliban accountable and push the regime to make real reforms, prevent the spread of terrorism and build a truly representative government that respects the natural rights of its people."
North Dakota Senators share reasons for voting in favor of debt ceiling deal
AM 1100 The Flag
"While we would have preferred more savings, this legislation is far better than a debt ceiling increase with no spending reforms that the president first demanded, and is a step in the right direction as we continue working to rein in spending and control the debt and deficit, "said Senator Hoeven. ""Failure to raise the debt limit would force the United States' first-ever default, rattle markets, and delay pay and benefits for our military, veterans, and seniors, "said Senator Cramer, "Default is not an option, but neither is a blank check. This strikes the right balance, and I commend Speaker McCarthy for the cuts and reforms he achieved. Now it is time for Congress to build on this momentum by getting back to regular order, funding our national defense, and governing responsibly."