Happy Monday!
Dear Fellow Republicans,
We wanted to provide you with a roundup of everything you might have missed from North Dakota's great Republican leaders this past week. Please share with family and friends!
Perrie Schafer, NDGOP Chairman
Photo of the Week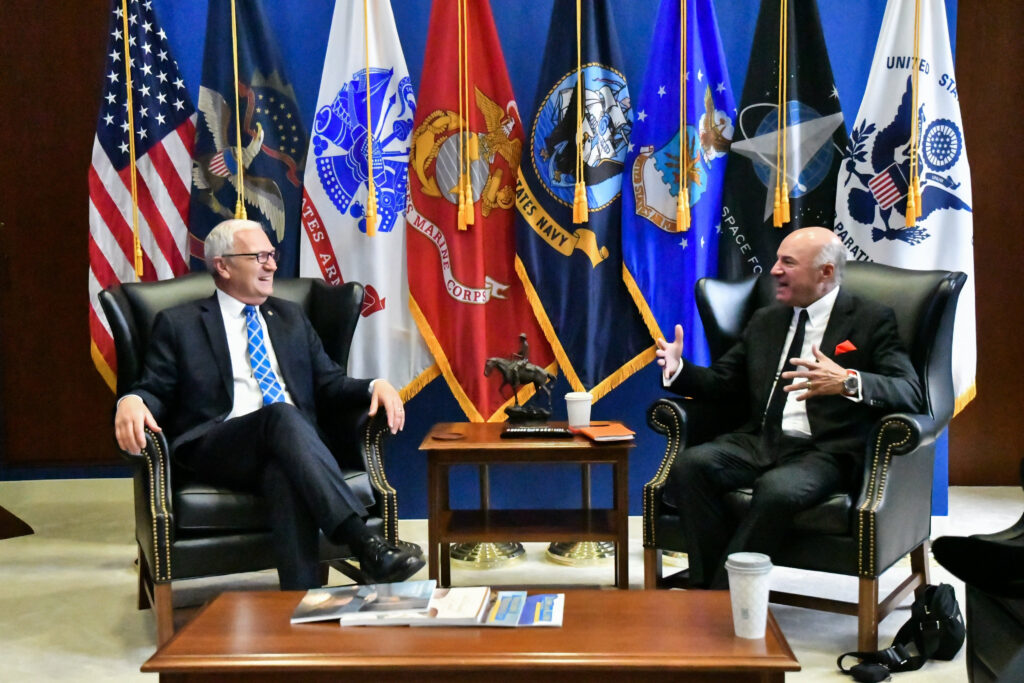 Senator Cramer: Great to meet Kevin O'Leary this morning! We discussed North Dakota's rich business environment and entrepreneurial spirit.
RNC
---
Exclusive: RNC Launches New Year-Round Election Integrity Department Ahead Of 2024
The Federalist
"The RNC built a historic election integrity program in 2022: we put 80,000 volunteers on the ground, secured key legal victories, and learned how we can grow even stronger in the future," RNC Chairwoman Ronna McDaniel told The Federalist. "As we prepare for 2024, the RNC will establish a full-time permanent Election Integrity Department that will combine our existing tools to build on our unprecedented progress." The report sent to RNC members Thursday details the party's plans to transform the GOP's election integrity efforts from pop-up operations into year-round initiatives that remain ongoing immediately after each election. Prior to 2021, the national Republican Party was restricted from engaging in electoral oversight, such as hiring poll watchers over a 1981 consent decree. That meant any initiatives designed to maintain integrity in American elections were patchwork efforts coordinated by independent campaigns with the support of the GOP congressional campaign committees. The decades-long order was lifted in 2018 after more than three decades, and the party officially resumed efforts on poll watching and voter fraud in the 2021-2022 election cycle. "The need for the RNC to be the permanent and year-round home for the Republican [Election Integrity Operations] is glaringly obvious, and the party is fortunate that we now have that," the report reads. "For the past two years, the RNC has worked tirelessly as a bridge among those groups with unprecedented cooperation."
North Dakota
Law to boost animal agriculture in North Dakota could create local market for soybean meal, Burgum says
The Jamestown Sun
A new law that loosens restrictions on corporate farming in North Dakota is good news for agriculture manufacturing ventures like the planned Epitome Energy soybean crush plant in Grand Forks, says North Dakota Gov. Doug Burgum. The law, which went into effect immediately after it was signed on Friday, April 28, aims to boost animal agriculture in North Dakota, by allowing livestock operations to attract outside investments. The Epitome plant will produce soybean oil that can be used for renewable fuel or in food, but will also produce soybean meal, used primarily for feeding livestock. "We've got the carve out and then we have an opportunity for economic investment," Burgum said in a meeting with the Grand Forks Herald editorial board on Wednesday, May 10.
Burgum honors Medora man, Dickinson woman with tourism awards
The Dickinson Press
Lt. Gov. Tammy Miller and other state officials presented the 2023 Governor's Travel and Tourism Awards at the North Dakota Travel Industry Conference in Bismarck. These awards recognize outstanding leaders, projects and innovations in the tourism industry. "Travel and tourism are essential drivers of North Dakota's economy, and today we honor the hardworking individuals and organizations who make our state a top destination for visitors," Gov. Doug Burgum said. "These awards recognize the dedication, innovation and passion that industry leaders bring to their work, and we're grateful for their contributions to our state's continued growth and prosperity."
New Law Easing Corporate Farming Restrictions in North Dakota Benefits Agriculture Manufacturing Ventures
NewsDakota
Governor Burgum, during a meeting with the Grand Forks Herald editorial board on May 10, emphasized the significance of the law. He underscored the carve-out provision and its potential for attracting economic investments that can drive expansion in the industry. Previously, family ownership requirements limited the ability to start new livestock operations, making external capital essential for growth. Governor Burgum acknowledged the challenges of solely relying on family-owned operations, as not all relatives may possess the necessary capital to invest. The relaxation of restrictions allows for real capital infusion and stimulates the establishment of new ventures. With the new law in effect, North Dakota farmers can now benefit from outside investments, albeit with certain limitations. The majority of partners in a corporate structure must be farmers, and no corporation can own more than 160 acres of farmland.
Years in the making, the Northern Valley Law Enforcement Memorial dedicated at service
Grand Forks Herald
Wrigley spoke about honoring law enforcement's loved ones by not allowing them to mourn alone, and always remembering the sacrifices of law enforcement. He said it's a time of rising violence, and North Dakota's 2022 crime statistics — which are anticipated to be released to the public next week — reflect that trend. "Something is changing, and it's not for the better. We cannot pay a proper tribute today without noting the evolving climate that the men and women in uniform face," Wrigley said. "How are you treated when making an arrest? How many officers are assaulted by members of the public when they're making arrests or having contact? How many people are fleeing from law enforcement, just in the last weeks in our state?" Wrigley said proper respect can't be paid without noting these changes and being prepared to do something about them. "We need to raise our voices to face those hard truths about violent offenders," Wrigley said. "And our justice must be swift, and it must be sure, and it must be clear-eyed in protecting our peace officers and by extension their families, and their loved ones and the communities they lay it on the line for every day."
Outdoors Notebook: North Dakota state parks offer new amenities for 2023 camping season
Grand Forks Herald
ANS can cause harm to established habitats, endanger recreational fisheries, destroy infrastructure and negatively impact communities that rely on lakes and rivers for their water supplies…Following those recommendations can help control the spread of ANS. The DWR, Game and Fish and Gov. Doug Burgum designated May 14-21 as Aquatic Nuisance Species Awareness Week in North Dakota. The public is encouraged to help monitor, control and prevent the spread of nuisance species in North Dakota.
Pembina Gorge campgrounds among tourism and recreation projects funded in North Dakota legislative session
Grand Forks Herald
The recreation area is about two hours from Winnipeg, Manitoba, which has a population of nearly 750,000. "When you think about the Pembina Gorge, it's the only place in the state that's within two hours of another 700,000 people, not including North Dakotans — Grand Forks, Fargo," Jace Beehler, Gov. Doug Burgum's chief of staff, said in a meeting with the Grand Forks Herald on Wednesday, May 10. "So if you combine the whole region as well, (it's) over a million people when we put Winnipeg in that loop as well."
Teacher Innovation Award aimed at Esports, drone racing
The Valley City Times Record
North Dakota School Superintendent Kirsten Baesler said a Sawyer High School teacher has been awarded a $10,000 innovation grant to establish esports and drone racing programs at his school, starting with the 2023-24 school year.
Awareness Helps Stop Invasive Pests
Morning Ag Clips
With warmer weather on the way, it is important for the public to be aware of invasive species. Each year, harmful invasive weeds, plant pests and diseases cost the U.S. $40 billion in crop losses, damage to forests and expensive eradication and control efforts, according to the United States Department of Agriculture (USDA). "Plant pests, diseases and noxious weeds can be spread a number of ways," said Agriculture Commissioner Doug Goehring. "It only takes one infected plant or piece of firewood to move invasive species into North Dakota."
'Selling the whole package': Job service director says Grand Forks County has more than 1,500 job openings
Grand Forks Herald
In light of difficulties filling the thousands of job openings in North Dakota, Patrick Bertagnolii, executive director of Job Service North Dakota, spoke of the need to "sell the whole package" of what living in the state entails, during an address to the Greater Grand Forks Human Resource Association on Thursday. A native of Montana, Bertagnolli — who was appointed to his role by Gov. Doug Burgum in February 2022 — previously worked as a driver and multi-state operations manager with the United Parcel Service (UPS) before moving to North Dakota. He said a strong feeling of community during a lunch with a friend in Watford City convinced him to move to North Dakota to take a job in the oil industry.
North Dakota House, Senate chambers set for upgrades
The Bismarck Tribune
The $42.9 million 2023-25 budget for the legislative branch, recently signed by Gov. Doug Burgum, also includes $220,000 for replacing carpet in both chambers, refinishing woodwork on the front rostrums and replacing the chairs.
Make Sure Trees, Shrubs are Winter Hardy Before Purchasing
Morning Ag Clips
Agriculture Commissioner Doug Goehring is encouraging homeowners to research products before buying and planting nursery stock for their property. "With warmer weather finally approaching, homeowners may be anxious to add trees and shrubs to their landscapes," Goehring said. "Many varieties of trees and shrubs adapt well to North Dakota's climate and soils, but before you plant, you may want to talk with a trusted nursery dealer, horticulturist or local extension agent. They will help you select nursery stock that you will enjoy for years to come."
Washington, D.C.
Department of Energy awards $38 million to support carbon capture at Coal Creek Station
KFYR-TV
Senator Hoeven says the funding of $38 million will be used to help Rainbow Energy's coal creek facility in Underwood. "Capture and store CO2, which is vitally important to the long-term future operations of the power plant," said Senator John Hoeven, R-North Dakota. The Energy Information Administration says North Dakota contains the world's largest known deposit of lignite and it is the fifth largest coal-producing state in the country. Lignite Energy Council President and CEO Jason Bohrer said this money is important to the coal industry.
Federal lands could be open to conservation groups
KFYR-TV
North Dakota's senators are opposed to the proposed rule. Senator John Hoeven says, if it's instituted, he plans to introduce legislation that would rescind the rule.
Senators push back on Department of Education Title IX sports proposal
Williston Herald
U.S. Senator Kevin Cramer (R-N.D.) joined Senator Tommy Tuberville (R-Ala.) in submitting a comment letter to U.S. Secretary of Education Miguel Cardona regarding his department's proposed changes to Title IX. The rulemaking would force schools to allow biological males and females to compete against each other in sports, undoing critical, longstanding safeguards for women's athletics.
Legislation aims to pull U.S. from New START Treaty
Williston Herald
"Russia has made it clear it will not play by the rules when it comes to their nuclear arsenal. It's time to take a stand and stop tolerating its treaty violations," Cramer said. "Pulling the U.S. out of New START ensures we are not tying our hands while Russia cheats and China grows unconstrained. We need to modernize and grow our nuclear deterrent, and ensure any future negotiations with both Russia and China are from a position of nuclear strength."
CRAMER: Water infrastructure protects communities, safeguards farms, prevents insurance spikes
The Washington Times
Make no mistake: North Dakota will continue to flood. Thankfully, we avoided severe floods this year, but luck is not an adequate mitigation strategy. Our communities and economies are worth protecting. I look forward to the completion of these projects and finally celebrating the joys of spring without the heartache (and backache) of fighting another flood.
Armstrong proposes bill to study, improve federal broadband permitting
The Ripon Advance
Bipartisan legislation offered by U.S. Rep. Kelly Armstrong (R-ND) would require both the U.S. Department of the Interior and the U.S. Department of Agriculture to each study any existing barriers to the review of federal broadband permitting. "Reliable broadband infrastructure is essential for rural states like North Dakota," Rep. Armstrong said. "In our state, broadband infrastructure often crosses federal lands, requiring federal permits, which can take years to achieve, preventing many rural and tribal communities from getting the broadband access they need. This bill streamlines the permitting process and makes it easier for communities to increase connectivity."
FBI Whistleblower: 'This Government Will Crush You and Your Family if You Try to Expose the Truth'
Breitbart
Late in the hearing, Rep. Kelly Armstrong (R-ND) asked, "If one of your really good friends, former colleagues, came to you and said, 'I have this thing that is being covered up, and I think the American people need to know about it,' What advice would you give them?" "I'd tell them first to pray about it, long and hard. And I would tell them I could take it to Congress for them, or I could put them in touch with Congress, but I would advise them not to do it," he said. Armstong followed up, "How do you think that solves being able to shine light on corruption, weaponization, any kind of misconduct that exists with the American people?" "It doesn't solve it, but the FBI will crush you," he emphasized. "This government will crush you and your family if you try to expose the truth about things that they are doing that are wrong. We are all examples of that."
US preps military aid package for Taiwan to confront China: Pentagon
New York Post
The idea already has support in Congress. Sen. John Hoeven (R-ND), who recently returned from a visit to Taiwan, told Austin on Tuesday that the island needs to become a figurative porcupine "sooner rather than later."
Senator Cramer raises Lake Ilo concerns in hearing
The Dickinson Press
Cramer first outlined the fallout from Lake Ilo's draining, which area residents must now manage by cleaning up the rotting fish left behind. He also criticized the federal agency's "poor communication" with local groups and emphasized the recreation and agricultural use of the water. "The permanent fix the Service has been working on is expected to be completed in a couple of years. This is a big, immediate problem and I'm pleading with you to work with me. Tell me how I can help you fix this earthen dam sooner than a couple of years from now, because another spring would be really difficult like this. Can we try to work faster?" Cramer asked.
Durham report fuels further House GOP skepticism over FBI surveillance
Politico
Rep. Kelly Armstrong (R-N.D.), a member of Jordan's subpanel investigating Republican claims of politicization within the federal government, said he would vote against reauthorizing Section 702 as it currently exists. He also called the Durham report an "absolute indictment" of the broader surveillance law.
Republicans push two-step deal on energy permits in debt talks
Politico
Sen. Kevin Cramer (R-N.D.), who's been involved in previous rounds of permitting discussions, said Republicans would be willing to negotiate later on transmission, but said he was torn over the idea of pursuing a narrow deal focused on NEPA reforms as part of debt ceiling negotiations. "I have a mixed feeling about whether this creates momentum or whether this lets people say, 'We're done. Accomplished,'" Cramer said. "But as long as there's more to discuss that's important to both sides, maybe it creates momentum. I do think in the transmission space there is a spot somewhere we can land."