Happy Monday!
Dear Fellow Republicans,
We wanted to provide you with a roundup of everything you might have missed from North Dakota's great Republican leaders this past week. Please share with family and friends!
Perrie Schafer, NDGOP Chairman
Photo of the Week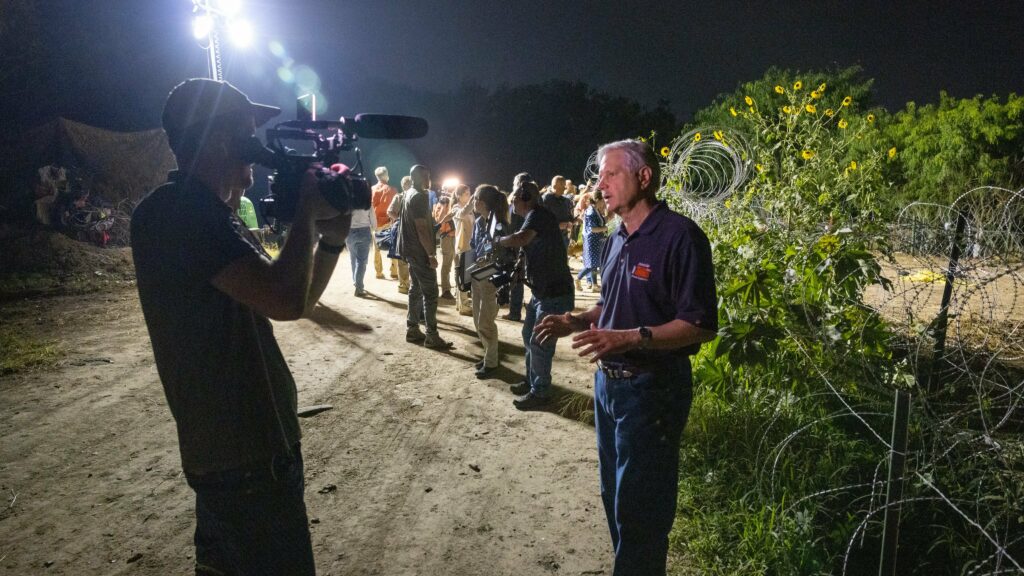 Senator Hoeven live from the Southern Border: Every American needs to tell the Biden administration to enforce the law. That message needs to be heard across this country. We could stop this if the Biden administration enforced these policies and people knew they had to follow the law.
RNC
Great news from Chairwoman McDaniel ahead of next year's elections. Read below. – Perrie
---
Exclusive: RNC Hopes to Attract Young Voters Ahead of 2024 by Launching 'Youth Advisory Council'
Breitbart
RNC chairwoman Ronna McDaniel told Breitbart News that the party recognizes it needs "to be engaging with young voters earlier, more often, and in different ways than ever before" and hoped the council would help share the party's message with the younger generations…McDaniel added, "Together with the Youth Advisory Council and our new class of Rising Stars, Republicans across the country are strengthening youth voter outreach and paving the way for our next generation of conservative leaders."
North Dakota
North Dakota's state, federal leaders react to the end of Title 42
KFYR-TV
"Every state in the nation including North Dakota depends on strong border security to stop illegal immigration and drug and human trafficking and ensure the safe and efficient flow of goods and services," said Gov. Doug Burgum, R-ND.
Burgum discusses Grand Forks projects funded in legislative session; total is more than $100 million
Grand Forks Herald
As North Dakota works with an all-time high budget going into the 2023-25 biennium, more than $100 million of the total has been dedicated to projects in Grand Forks. In a meeting this week with the Grand Forks Herald, Gov. Doug Burgum outlined the state's budget and talked about a number of Grand Forks projects set to receive funding in the 2023-25 biennium. In total, the state's budget for the biennium is $19.61 billion, with a $6.1 billion general fund. Much of the money coming to Grand Forks in the biennium was appropriated to continue programs already underway in the city.
25 GOP Governors Say Proposed Biden Admin Rule Would Prevent States from Protecting Women's and Girls' Sports
Breitbart
Half of the nation's governors wrote to Department of Education Secretary Miguel Cardona on Friday, asking he withdraw a proposed Title IX regulation they say would "prevent states from enforcing our duly-enacted statutes protecting fairness in women's and girls' sports."…The letter was led by…Doug Burgum (ND)[.]
Burgum signs 45 bills that remained after Legislature adjourned
Williston Herald
Gov. Doug Burgum completed the signing of 45 bills Thursday that remained after the North Dakota Legislature adjourned its 2023 biennial regular session on April 30. Burgum had 15 business days to sign bills remaining in the governor's possession when the assembly adjourned sine die.
New law ends audit requirements for some North Dakota entities
The Center Square
About 200 North Dakota entities will no longer need an audit as part of a bill that raises the financial threshold for auditing local governments. Senate Bill 2180, signed by Gov. Doug Burgum, raises the threshold from $750,000 in annual receipts to $2 million. The entities will still file financial reports with the North Dakota Office of the State Auditor. "The goal for the change was to still provide transparency (since annual financial reports are still required to be submitted) but to also help these smaller local governments save money by not needing a full audit," Emily Dalzell, communications director for the auditor's office told The Center Square. Eliminating audits for fifty-five small cities would save the auditor's office $1 million during the biennium, according to a presentation to the Legislature. More than $1 million would be saved by raising the audit threshold for school districts and others.
Consider planning your next vacation in North Dakota
KX News
The time to highlight the importance that tourism and travel have in our economy is here. Governor Doug Burgum has proclaimed May 7 through the 13 as Tourism Week here in North Dakota. According to Sara Otte Coleman, the director of the state's Tourism and Marketing Division, North Dakota visitors spent nearly $3 billion in 2021. In addition to the economic boost it provides, tourism also grows the state's workforce with 76% of new residents saying they visited before moving here. And even as a resident of the state, there are ways you can contribute to the state's tourism industry by exploring other parts of ND.
Full interview: Gov. Doug Burgum discusses the Legislative session
The Jamestown Sun
WATCH: WDAY's Dana Mogck and Kerstin Kealy sat down with North Dakota Governor Doug Burgum to discuss the latest session of the North Dakota Legislature and the bills that were passed.
Meet North Dakota's 2023 Presidential Scholars
KX News
On Wednesday, May 10, North Dakota School Superintendent Kirsten Baesler announced that three high school seniors have been selected as this year's Presidential Scholars. This year's North Dakota scholars are as follows: Srinath B. Kandooru, Century High School, Bismarck, Annelise Klein, Century High School, Bismarck, Kaylee Mae Kirkeby, Central High School, Grand Forks (also honored as a Career and Technical Education Presidential Scholar). "Being named as a Presidential Scholar is a capstone achievement for any high school student," said Baesler in a press release. "Congratulations to these young people for attaining this honor, and I join them, their families, their teachers, their friends, and the state of North Dakota in celebrating it."
North Dakota signs bill protecting Native children
KELO
North Dakota Governor Doug Burgum has signed a bill into law to protect tribal cultures by codifying the federal Indian Child Welfare Act into state law. The Act, enacted in 1978, gives preference to Native American families in foster care and adoption proceedings of Native children.
Governor Proclaims Educator Appreciation Week
NewsDakota
Gov. Doug Burgum has proclaimed May 8-12 as Educator Appreciation Week, North Dakota School Superintendent Kirsten Baesler said Monday, May 8th. "Thousands of devoted educators across North Dakota put in countless hours, extra time, and their own resources to prepare learners for what they choose later in life, whether it be post-secondary education, the workforce, or the military," the governor's proclamation reads in part. Separately, Baesler emailed a thank-you letter to North Dakota educators Monday to "extend my deepest thanks and appreciation to you, my colleagues in education and members of the world's most important profession." "I thank you for the commitment, empathy, intellectual courage, and love that you extend to your students and bring to your classrooms every day," the superintendent wrote. "I thank you for the difference you make in the lives of your students, their families, and your shared community."
Burgum appoints new OMB director
KFYR-TV
Governor Doug Burgum appointed CPA Susan Sisk as OMB director. Sisk has served as vice president and director of finance for the engineering firm KLJ in Bismarck, chief financial officer for CHI St. Alexius Health and director of finance for the North Dakota Supreme Court. She will replace outgoing director Joe Morrissette, who announced his retirement last summer. Sisk will assume the role June 12.
Washington, D.C.
Kevin Cramer: It's time to pass the LAKES Act
Grand Forks Herald
As winter comes to an end, families from North Dakota to New Mexico are looking forward to getting outside. Summers are great, but they're even better when you can drive across a grated public road, launch your boat at the ramp, then pitch your tent on a level campsite at the end of night. If that sounds good to you, let's get the LAKES Act passed.
Biden's border solution is to process migrants 'faster': Sen. John Hoeven
Fox News
WATCH: Sen. John Hoeven, (R-ND), joined 'Fox News Live' to discuss the highly anticipated migrant surge following the controversial upheaval of Title 42.
North Dakota's state, federal leaders react to the end of Title 42
KFYR-TV
"We must secure our border to stop this unprecedented national security and humanitarian crisis, and to stem the flow of fentanyl that is killing our citizens. The Secure the Border Act will end catch and release, increase support of Border Patrol, and finally help us get a handle on this crisis," said Armstrong…Sen. Kevin Cramer, R-ND, points to the number of migrants crossing the border, which are near record highs. "In 2022 alone, more than three times the population of North Dakota illegally crossed the southern border and tens, if not hundreds of thousands more, are now expected to pour in once Title 42 expires," said Cramer. Sen. John Hoeven, R-ND, traveled to the southern border today to assess the situation. "By returning to the remain in Mexico protocol and the third safe country protocol, which we had under the previous administration, CBP and border control can and will secure the border," said Hoeven.
ND has true champion in Cramer
Minot Daily News
Thanks to the passage of the Infrastructure Investment and Jobs Act (IIJA), which passed with Senator Cramer's support, we can look forward to $1.7 million in funding for Minot International Airport. In sum, nearly $2 billion in funding has been announced for North Dakota via IIJA funds to pay for more than 100 projects spanning a wide range of areas, from transportation to water.
Cramer, Hoeven sponsors of Back the Blue Act
Wahpeton Daily News
"We are grateful for law enforcement officers in North Dakota and across the country and remain committed to ensuring they have the necessary support, equipment, and training that they need to keep our communities safe. The Back the Blue Act will help officers better protect themselves and increase penalties on those that do them harm," Hoeven said…"Liberal 'Defund the Police' policies have left too many law enforcement officers on the receiving end of deliberate, targeted violence while they risk their own safety to protect our communities," Cramer said. "This must be met with strict penalties to deter this senseless violence."
Comer releases Biden family probe update without showing link to president
Politico
Rep. Kelly Armstrong (R-N.D.), another member of the committee, credited Comer for handling the political crosswinds of his high-profile committee. Asked about his expectations for Wednesday, Armstrong caveated that lawmakers "don't prosecute crimes" but said he believes Republicans will lay out "very clearly that the Biden family was influence peddling." "You're not getting Jim Jordan lite. You're getting a very different person," Armstrong added of Comer. "He's methodical. He's smart. He trusts his staff. He trusts his members and he communicates well. Pretty good place to be when you're dealing with a pretty fractious caucus."
Senators Introduce FEND Off Fentanyl Act
Williston Herald
"The never-ending flow of illegal drugs coming into our country has reached an unprecedented level, and these deadly drugs are taking the lives of Americans every day. Enough is enough," Cramer said in a press release. "We must push back against this scourge by cutting off the profits of these criminals."
Hoeven: EPA issues costly regulations on existing power plants
Williston Herald
"Despite being blocked by the Supreme Court, the Biden administration is once again advancing costly and overreaching rules meant to shutter baseload power plants, including coal-fired plants in North Dakota, putting the reliability and affordability of the electric grid at risk," said Hoeven.
Rural Lenders, Crop Insurance Agents Push For Bolstered Safety Net At Farm Bill Hearing
Indiana Capital Chronicle
Republican Sen. John Hoeven of North Dakota asked what would happen if Congress attempted to weaken crop insurance through cuts. "Without the safety net for our farmers and ranchers, grocery shelves could quickly empty after a bad growing season across America's heartland," Korin said. "It's so important to our small rural communities, not just the farmers relying on it," Cole said. "These vendors here rely on it heavily — the tractor dealerships, the seed and chemical dealerships."
More Troops, Families Could Get Free Credit Monitoring to Catch Identity Theft
Military.com
More service members and now military families could get free credit monitoring under a bill in the Senate. The expanded benefit could help reduce troops' higher risk of identity theft…Klobuchar said in a news release that the free credit monitoring would provide "peace of mind" to military families, and Cramer said it will "help keep their information secure."
GOP senators move to ban drag shows from military bases: 'Gross misuse of taxpayer funds'
Fox News
Republican senators on Tuesday introduced legislation that would ban taxpayer-funded drag queen events on military bases, following reports that Malmstrom Air Force Base in Great Falls, Montana hosted a drag queen story hour for children on base in 2021…The bill is co-sponsored by Sens. Tom Cotton, R-Ark., Kevin Cramer, R-N.D., Ted Budd, R -N.C., and Marco Rubio, R-Fla.
Federal work on metro flood diversion project coming in $170 million under budget
Inforum
On the overcast morning of Tuesday, May 9, Sen. John Hoeven, R-N.D., and Fargo Mayor Tim Mahoney joined Corps of Engineers officials in touring the Red River inlet structure to check on the project's progress. Lt. Gen. Scott Spellmon, chief of the Army Corps of Engineers, said the ability to pay the federal share upfront enabled Ames Construction to save the $170 million. Typically, large federal public works projects are funded incrementally, creating uncertainty for the contractors, who compensate by adding contingency costs that can inflate a project's cost by up to 40%, Spellmon later explained to The Forum Editorial Board. By paying upfront, "They can plan," hiring workers and buying materials more efficiently, he said. "Ultimately, the taxpayer benefits from it," Hoeven added, with savings applied to other taxpayer-funded projects.
Sen. Cramer: New Mortgage Rule 'Nonsensical'
NTD.com
WATCH: A group of Republican senators is writing a letter to the Federal Housing Finance Agency about the new rule on mortgage loans. One of them is Sen. Kevin Cramer (R-N.D.), who shares his perspective with NTD.