Happy Monday!
Dear Fellow Republicans,
We wanted to provide you with a roundup of everything you might have missed from North Dakota's great Republican leaders this past week. Please share with family and friends!
Perrie Schafer, NDGOP Chairman
Photo of the Week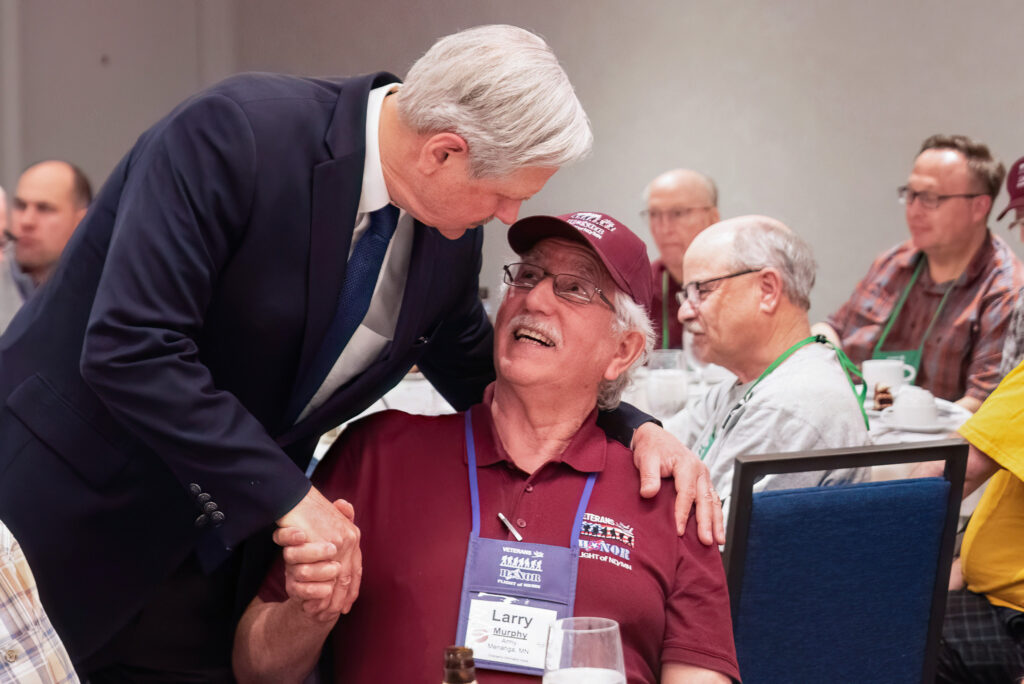 Emotional Day For Local Veterans on Honor Flight in Washington, D.C.
KVRR
This was likely the most emotional day of the Honor Flight for Veterans in our nation's capital. About half of them served during the Korean War. Half during the Vietnam War. They both saw the memorials to the conflicts that they fought in, and lost comrades. From the changing of the guard at the Tomb of the Unknown Soldier, to the Iwo Jima Memorial, including surprise visits from North Dakota Sen. John Hoeven." We can never say thank you enough," said Hoeven. Congressman Kelly Armstrong said, "Freedom's not free. It's the memorial. It's also the people here. It's the people of North Dakota that served."
RNC
Check out this great new op-ed from RNC Co-Chair Drew McKissick! – Perrie
---
Biden Wants to Make Americans Less Free
Townhall
Last week, Joe Biden announced that he's officially running for president again. In his new campaign video, Biden had the nerve to cast himself as defending our freedoms. Does he think the American people can't see right through his cheap political spin? Biden has opposed freedom at every turn. This is the same president who tried to force you to choose between getting a shot and providing for your family. This is the same president whose administration worked with far-left teachers' unions to keep your kids locked out of school. In what universe can the failed leader who wants 87,000 new IRS agents knocking on your door be some kind of freedom fighter? Just a few days before announcing his campaign, Biden suggested that you might not even be free to raise your kids as you see fit – in his word's, "our nation's children are all our children."
North Dakota
Burgum signs order waiving driver hours of service requirements
The Bismarck Tribune
Gov. Doug Burgum has signed an executive order waiving the hours of service requirement for drivers of commercial vehicles hauling agricultural inputs. The 30-day waiver applies to vehicles hauling fertilizer, anhydrous ammonia, pesticides and seed. All road safety and vehicle compliance regulations still apply. The order is in response to a shortened time frame for spring planting caused by late winter storms and record snowfall. The compressed time frame has forced truck drivers to move greater amounts of inputs in a shorter amount of time to enable producers to complete their spring work.
Education, CTE gets big checks from ND legislature
KFYR-TV
The Legislature also increased per-pupil payments by 4% each of the next two years. That's big news for school employees because 70% of that new money must be used for compensation. "It can be used for teachers, bus drivers, teachers' aids, child nutrition staff, crosswalk guards, whatever the school district needs. The only thing it can't be used for is salary and wages for administrative positions," said state superintendent Kirsten Baesler. Lawmakers also increased the per-pupil payment for students with disabilities, which superintendent Kirsten Baesler says will help districts better meet the needs of those students.
13 School Districts Awarded $5.93M For Student Mental Health & Security
NewsDakota.com
State School Superintendent Kirsten Baesler said 13 North Dakota school districts have been awarded $5.93 million in federal mental health and school security grants. North Dakota was allocated $4.83 million for the grants by the federal Bipartisan Safer Communities Act. Because of strong grant demand from North Dakota schools, the Department of Public Instruction supplemented that amount with other federal funds that are intended for learning loss initiatives, Baesler said.
GODFREAD: Legislature strengthens ND's insurance industry
Minot Daily News
Overall, this session was successful and will undoubtedly strengthen North Dakota's insurance industry, making it more competitive for companies while keeping consumers in mind. Although the insurance issues outlined here may not always make the front page coming out of Bismarck, they are no less important. I want to thank the 68th Legislative Assembly for their time and careful consideration of these issues, as well as their continued commitment to the citizens and insurance consumers of North Dakota.
Primary seatbelt law goes into effect August 1 across ND
KVRR
Starting in August, anyone driving or riding in a passenger vehicle will need to buckle up in North Dakota. Governor Doug Burgum signed the bill into law after the legislature passed a primary seatbelt bill. The law requires everyone in a vehicle to be buckled up. Under current secondary law, a driver has to be pulled over for another traffic violation before getting a seatbelt ticket.
Burgum announces 2023 Governor's Band and Chorus programs
KX News
"These two exceptional groups of young people do an outstanding job representing their schools, their communities, and the state of North Dakota through their musical performances," Burgum said in a press release. "Congratulations to the Washburn High School Band and Williston High School Chorale for being fantastic examples of the incredibly talented musicians who enhance the vibrancy and cultural richness of our North Dakota schools and communities."
North Dakota lawmakers OK $99M attorney general budget; 13 new full-time workers included
Grand Forks Herald
North Dakota lawmakers in the final week of the 2023 legislative session approved an attorney general budget some $11 million lower than originally requested, but it's one Drew Wrigley says represents cooperation between his office and the Legislature. "We didn't ask for five of anything we needed three of," the attorney general said. "I'm very pleased with how the Legislature responded to our requests." Wrigley at the start of the session put forth a budget request of $110 million, about 29% or $24.6 million higher than the previous biennium. That request included 26 additional full-time employees and additional space and equipment at the State Crime Lab. The approved 2023-25 budget total is just short of $99 million.
Roosevelt Library details fundraising after lawmakers OK $70M line of credit; project has over $100M cash
The Bismarck Tribune
Organizers of the planned Theodore Roosevelt Presidential Library have over $100 million of cash on hand and pledges that double the total. The library's CEO provided the figures to the Tribune after North Dakota lawmakers, who approved a $70 million line of credit from the state-owned bank for the Medora-area project, tossed around a wide range of figures last month. Rep. Bob Martinson, R-Bismarck, put it at "over $100 million cash." Rep. Mark Sanford, R-Grand Forks, put pledges and cash at "in excess of $200 million, $250 million." Sen. Ron Sorvaag, R-Fargo, cited "close to $100 million of cash" and "commitments of $183 million and they have another $18 million or so outstanding." Gov. Doug Burgum during a recent state Industrial Commission said the project had "raised" $200 million.
Mental health support bolstered by suicide review panel, crisis line funding in North Dakota
The Jamestown Sun
North Dakota legislators passed several bills aimed at boosting mental health support and suicide prevention before adjourning their session last weekend. A $1.86 million appropriation for the 988 Suicide and Crisis Lifeline passed Saturday, April 29, before the Legislature adjourned early Sunday…The funding is expected to be made available in July. Another bill to establish a suicide fatality review commission, sponsored by Hanson, passed a few weeks prior and was signed by Gov. Doug Burgum.
Soil Health Cover Crop Grant Program applications open
The Bismarck Tribune
The North Dakota Department of Agriculture is accepting applications for cost-share assistance to producers through the Soil Health Cover Crop Grant Program. "The primary goal of the program is to protect and enhance soil health statewide," Agriculture Commissioner Doug Goehring said. "In particular, the program targets cropland areas impacted with saline or alkaline soils." Cover crops must be planted by June 15, and the online application must be completed by June 20. There is a cost-share payment of $25 per acre for applicants. There is a 160-acre cap per applicant per year.
North Dakota Gov. Burgum signs bills to aid pregnant women in wake of abortion ruling
Inforum
North Dakota lawmakers sent a raft of legislation to Gov. Doug Burgum for aid to pregnant women in the wake of the U.S. Supreme Court's Dobbs ruling. The ruling overturned the constitutional right to an abortion, prompting a lawsuit over North Dakota's 2007 trigger ban. The dozen or so pieces of legislation are aligned with a call last year from the North Dakota Catholic Conference tabbed "responding with love." "Building a culture of life means making abortion unthinkable," the organization said in a statement last year. "This will require all parts of society to reexamine and address what they can do so that no woman ever feels that the death of her child is the answer to any situation. Businesses, families, churches, charities, and governments must support and implement policies and practices that are pro-family, pro-woman, and pro-child."
Bill requiring state agencies to preserve emails is a good thing, North Dakota AG says
Grand Forks Herald
After learning about Stenehjem's emails, Wrigley said he and his team made it "crystal clear" that his emails, as well as his chief deputy's, will be preserved if they leave their position or die. This was also extended to division directors. "I didn't need a state policy to say that," said Wrigley. "I said … 'if something happens to me, do not ever delete those. Somebody has to go through them and figure out what's to be preserved." Wrigley said emails may be necessary for litigation and investigations, but also have archival use. The bill, which was recently signed by Gov. Doug Burgum, also outlines what happens if an agency is found to be noncompliant. The report may be submitted to human resource management services or the state auditor's office. The agency may also undergo training.
North Dakota Wheat Commission nominations sought
The Bismarck Tribune
State Agriculture Commissioner Doug Goehring is seeking nominations to submit to the North Dakota Wheat Commission Nominating Committee for the commission's member-at-large position. Nominees must be a resident of North Dakota, a qualified elector and a producer who has not requested a wheat checkoff refund in the last 12 months. The four-year term begins July 1. "The Nominating Committee will select three names to submit to the governor, who will appoint an individual to the Wheat Commission in the member-at-large position," Goehring said.
Washington, D.C.
Hoeven: Border security is national security
The Williston Herald
"With the Title 42 Public Health Order set to expire next week, the illegal immigration crisis at the southern border is only going to get worse," said Hoeven. "It's past time for the Biden administration to get serious about securing our southern border. Border security is vital to our national security, and we must regain control of our border."
Biden Admin To Crack Down On Foreigners Attempting To Buy Land Near Military Bases
The Daily Caller
Opposition to the Fufeng Group's $700 million proposal to construct a wet corn milling plant from Grand Forks Air Force Base grew, leading North Dakota Gov. Doug Burgum and Republican North Dakota Sens. John Hoeven and Kevin Cramer to probe the national security implications of such a deal, the AP reported…"Accordingly, China's investments in the U.S. need to be carefully scrutinized, particularly for facilities like the Grand Forks Air Force Base, which is a key national security asset that serves as the lead for all Air Force Global Hawk intelligence, surveillance and reconnaissance operations and has a growing role in U.S. space operations," Hoeven said, according to the AP.
Kelly Armstrong visits with 'Together with Veterans'
KFYR-TV
A group aimed at improving access to mental health for our state's veterans is trying to grow some of its programs. Rep. Kelly Armstrong, R-ND, met with members of Together with Veterans this week to talk with them about their efforts and learn about their mission. Armstrong highlighted the importance of veteran suicide prevention and offered financial advice to the group. Group founder Randy McDonald said their goal is to build community and mental wellness among veterans.
Can Democrats go around McCarthy to force a debt ceiling vote? It's possible
NBC News
Rep. Kelly Armstrong, R-N.D., gave a direct answer when asked if he thinks Democrats will succeed at getting the 218 votes: "No, I don't." "My understanding is they are two weeks away from even being able to get signatures. If they think they can do nothing in that time except give inflammatory speeches and demonize our attempt to try and bring some fiscal sanity to D.C., they are moving us dangerously close to default," Armstrong said. "Not if their posture is 'we won't negotiate anything.' We passed a bill. The Senate should pass a bill."
Hoeven presses Biden administration to hold oil, gas lease sales
The Williston Herald
Senator John Hoeven continued his efforts Tuesday to push back on the Biden administration's policies, which Hoeven says are undermining domestic U.S. energy production and resulting in higher prices for American consumers.
Democrats 'underestimated McCarthy' on debt ceiling, Senate Republicans say
The Washington Examiner
"I think [Democrats] maybe did underestimate what the House was able to do, and they underestimated the support from Republican Senators," Sen. Kevin Cramer (R-ND) told the Washington Examiner. "Republicans put forward requests that are not unreasonable. They may not be requests that every Democrat will support, but the starting point is a legitimate one, and now it's a legitimate discussion, a legitimate negotiation, and I look forward to seeing what comes with it."
Scenic byway receives development funds
Minot Daily News
The Federal Highway Administration has awarded $400,000 to the North Dakota Department of Transportation to support the development of a new shared use path along Highway 43, part of the Turtle Mountain State Scenic Byway near Lake Metigoshe, according to Sen. Kevin Cramer, R-ND. The project includes trail bed preparation and signage updates, construction of a separate facility to enhance safety for pedestrians and bicyclists and improvements to a nonmotorized connectivity, which would eliminate a gap in the existing scenic byway trail network.
Army Corp of Engineers District Commanders To Visit F-M Diversion Project
KVRR
"The comprehensive flood protection that we've worked to advance in the Red River Valley is a first-in-the-nation project and has created a new paradigm for U.S. Army Corps projects. That's exactly why Chief Spellmon will be holding meetings with Army Corps leadership in Fargo-Moorhead in order to take the lessons learned here and use it as a nationwide model," said Hoeven.
ND delegation urges FEMA to abandon or delay proposed flood map for Bismarck
KFYR-TV
Senators John Hoeven and Kevin Cramer and Congressman Kelly Armstrong called on the Federal Emergency Management Agency (FEMA) to abandon or delay its implementation of a new Flood Insurance Rate Map (FIRM) for the City of Bismarck…"Proceeding with the current timeline will have a negative impact on Bismarck's most vulnerable populations," wrote the delegation. "The City of Bismarck has made great strides in flood mitigation and has plans to complete additional flood mitigation improvements that will benefit all the people of the city, including those living in South Bismarck… Providing the City an opportunity to implement these flood mitigation improvements will give the community their best chance at enhanced flood protection without increased household costs, and we, therefore, urge you to allow these improvements to be made prior to the preliminary FIRM changes taking effect."
Clean Slate Act would seal records for non-violent offenders
Valley News Live
North Dakota Representative Kelly Armstrong is co-sponsoring a bipartisan bill that he says would increase employment opportunities for North Dakotans who have earned a second chance. The Clean Slate act would automatically seal arrest records of people acquitted of their charges, and those convicted of low-level, non-violent drug offenses who have completed their sentences. It would also seal records of non-violent federal crimes for people who have maintained a clean record for an extended period of time. The bill would not apply to people convicted of violent crimes.