Happy Monday!
Dear Fellow Republicans,
We wanted to provide you with a roundup of everything you might have missed from North Dakota's great Republican leaders this past week. Please share with family and friends!
Perrie Schafer, NDGOP Chairman
Photo of the Week
Senator Hoeven in Fargo last week to welcome nearly 100 veterans back home after a 3-day trip to D.C. organized by the Veterans Honor Flight of ND/MN.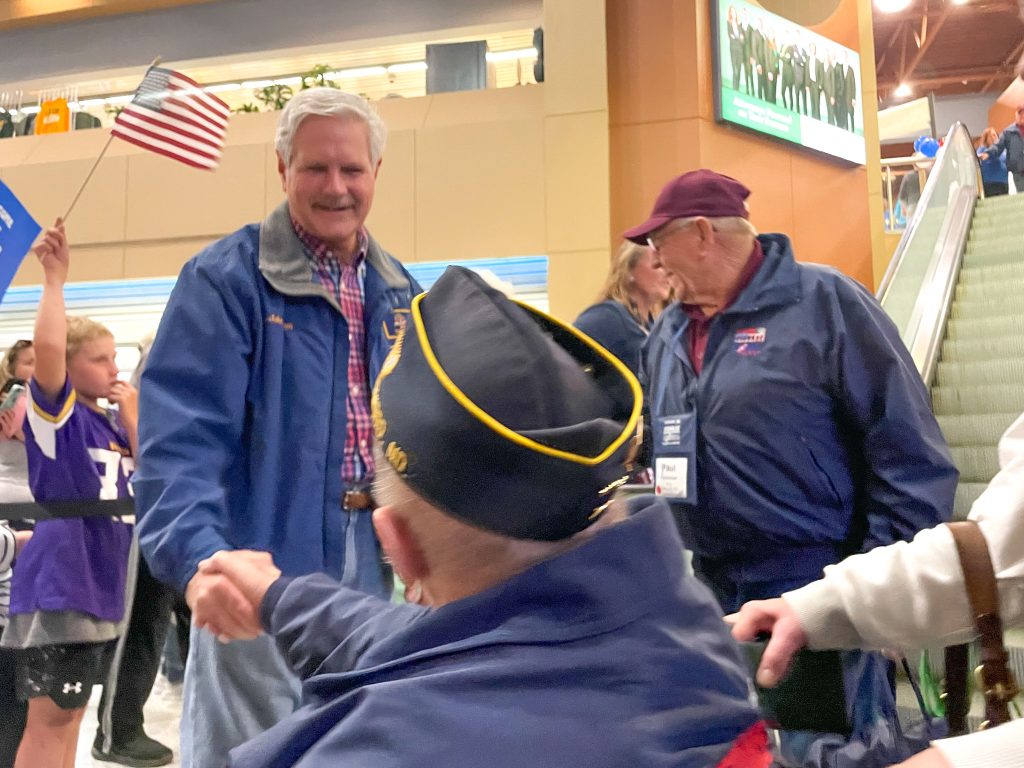 RNC
Check out this unbelievable video put together by the RNC. As Democrats try to run from their soft-on-crime, "defund the police" rhetoric with the election approaching, we will remind them how their dangerous policies put us all at risk. – Perrie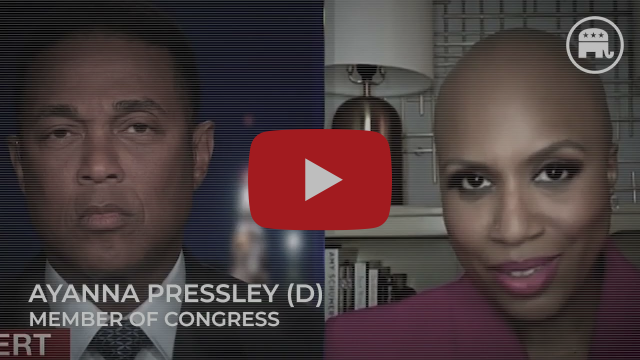 NDGOP
It's been a busy parade season for NDGOP! We are always excited to support our candidates. Over the past few weeks, we have been at 19 events in 15 different cities representing 39 different legislative districts! Check out the fun below: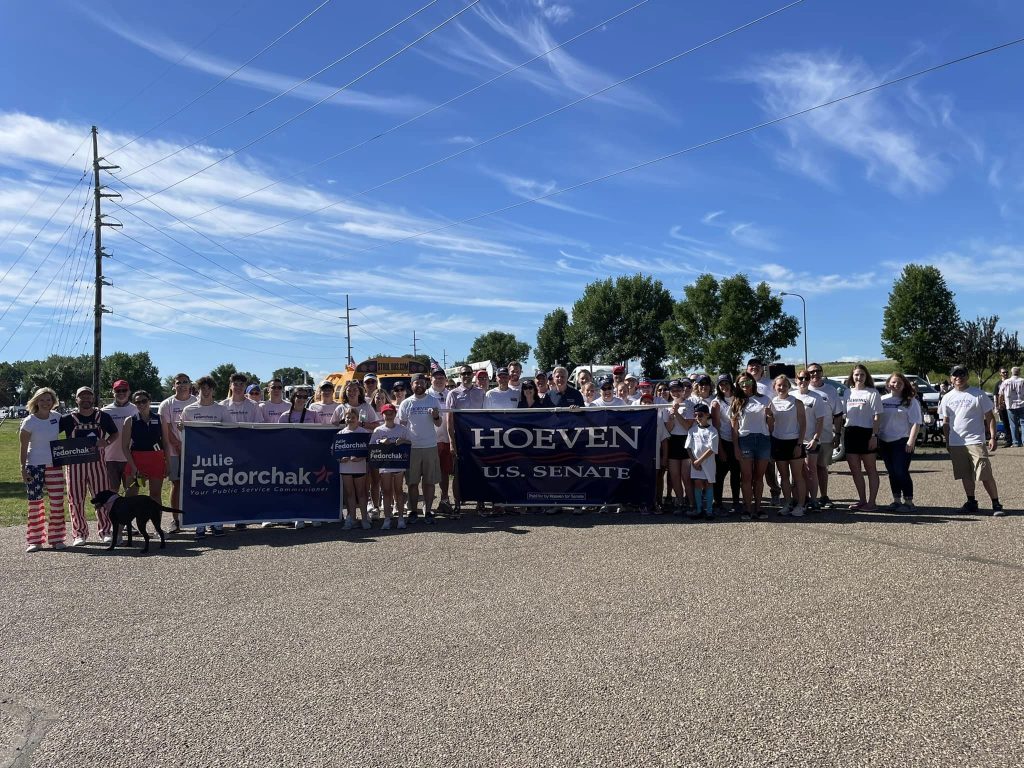 North Dakota
Burgum leading trade delegation in JapanAM 1100 The Flag
Governor Doug Burgum is leading a trade delegation to Japan. The 35-member delegation includes officials various state departments, North Dakota State University, University of North Dakota, and Ag Commissioner Doug Goehring. Representatives from about a dozen state companies are also part of the group. "Japan is an important trade partner for North Dakota and a key strategic ally for our nation. This trade and investment mission aims to strengthen that relationship and support our citizens by identifying new markets for North Dakota products and attracting investment and jobs to our state in a variety of sectors including agriculture, energy and technology," Burgum said in a statement released to WDAY Radio. "We are grateful to our Japanese hosts for the opportunity to share all that our state has to offer and work toward agreements that benefit all of our citizens.
Burgum declares Fallen Firefighter Weekend
The Bismarck Tribune
Burgum noted the state has more than 300 volunteer and career fire departments "staffed by dedicated men and women selflessly serving their neighbors in times of need." "Volunteer and career firefighters place themselves in harm's way to protect the lives and property of North Dakotans," the proclamation states.
What does Biden's marijuana overhaul, pardons mean for MN, ND?
Post Bulletin
Approved by the state's Pardon Advisory Board in July 2019, the policy allows individuals to submit a summary pardon application if they have been prosecuted for and convicted of possession of marijuana, ingestion of marijuana or possession of marijuana paraphernalia, and have not had any convictions in the past five years. Burgum granted pardons for half of the applicants. "These pardons are consistent with our recent efforts with the Legislature to reduce the penalties for low-level marijuana offenses and eliminate barriers to employment created by often distant past offenses, as well as with our approach of treating addiction like the disease that it is," Burgum said following his first round of marijuana-related grants of clemency. "By removing the stigma of these minor offenses, we can offer individuals a second chance at a successful, healthy and productive life and help address our state's workforce shortage."
Editorial: Drew Wrigley is the clear choice to continue as North Dakota's attorney general
The Dickinson Press
Drew Wrigley was the obvious choice when he was appointed North Dakota attorney general in February following the unexpected death of Wayne Stenehjem. And now Wrigley is the obvious choice in the November election to continue in that office. Wrigley has more than 15 years of law enforcement experience, beginning in the early 1990s as a city prosecutor in Fargo, followed by five years as an assistant district attorney in Philadelphia. Most significantly, Wrigley is the only North Dakotan to serve two terms as U.S. attorney, having been nominated by two presidents, George W. Bush and Donald Trump.
Noxious weed detected in Dickinson area
The Dickinson Press
"We continue to encourage producers to monitor fields for noxious and invasive weeds, especially palmer amaranth to prevent it from going to seed," Agriculture Commissioner Doug Goehring stated in a press release. "The public should contact and work with their local weed officers and other experts to identify and report any suspect plants."
How a new program founded in North Dakota protects 60 million Americans from cyber attacks
The Jamestown Sun
The JCSOC is only one of the more recent changes Shawn Riley has overseen in his role as chief information officer for the state of North Dakota. When Riley first started in the role five years ago, the department only covered the state's executive branch. Now, the IT department touches 250,000 North Dakotans on a daily basis through all three branches of government, K-12 and higher education as well as every city and county in the state…That change in philosophy ultimately led him to North Dakota, where he met with Gov. Doug Burgum to discuss the CIO position. In a suit and tie, Riley was led to Burgum's office, where he saw a man in jeans at a standing desk. He wondered when the governor would arrive, when the man turned around, introduced himself as Doug Burgum, then proceeded to roll up a yoga ball and discuss opportunities with Riley for two hours.
North Dakota insurance commissioner cautions parents on school bus safety
KX News
A North Dakota insurance leader has a reminder for parents as their kids head back to school. He's recommending parents take another look at their insurance policies…"If a child is involved in a school bus accident and they're injured, it's their parent or guardian's primary auto insurance that'll kick in and help cover that," Godfread said.
Thompson named to lead WSI
The Bismarck Tribune
Gov. Doug Burgum has appointed Art Thompson as director of North Dakota Workforce Safety & Insurance effective Nov. 1. Thompson, a Washburn native, for four years has been director of the North Dakota Concrete Council. He worked previously as general and business manager of JMAC Resources, and has served as operations manager for Knife River Corp. and senior public relations representative for MDU Resources Group. Early in his career he was WSI's public relations manager.
North Dakota joins trio of states to fight for federal 'hydrogen hub' dollars
The Center Square
"By bringing together our expertise in agriculture and energy production, we can create a world-class hydrogen hub and do even more as states to feed and fuel the nation and the world," Burgum said. "We are grateful to these states and their governors for their participation, collaboration and shared interest in American energy production, U.S. energy security, job creation, economic development and environmental stewardship."
Land Board Completes Missouri River Acreage Adjustment Project
AM 890 AG News
The North Dakota Board of University and School Lands (Land Board) Monday announced the successful completion of Part I of the River Acreage Adjustment Project, which returned a net of approximately $120 million to North Dakota private mineral owners and oil and gas operators. The project involves adjusting the acreage of state-issued oil and gas leases to align with the newly established Missouri River ordinary high-water mark (OHWM) west of the Fort Berthold Indian Reservation, as determined by a survey commissioned by the North Dakota Legislature in 2017. The OHWM delineates the boundary of state/private ownership on both sides of the river. "We are pleased to reach this significant project milestone and that tens of millions of dollars have been injected back into the North Dakota economy through private mineral owners and oil and gas operators," said Gov. Doug Burgum, who chairs the five-member Land Board. "The Board appreciates the North Dakota Department of Trust Lands team for their diligent work and the North Dakota oil and gas industry for their collaboration, with completion of the full project expected by the end of this year." The five-member Land Board consists of Burgum, State Superintendent Kirsten Baesler, State Treasurer Thomas Beadle, Secretary of State Al Jaeger and Attorney General Drew Wrigley.
October is Influenza Prevention Month, get your flu shot
KX News
Governor Doug Burgum proclaimed the month of October as Influenza Prevention Month. "The influenza vaccine prevents millions of illnesses and flu-related doctor's visits each year and an annual vaccine is an important action North Dakotans can take to protect themselves and their loved ones against flu viruses," said State Health Officer, Dr. Nizar Wehbi.
PSC to hold hearing on 'elecrification' of transportation
Prairie Public News Room
"People are very unrealistic of their expectations about the utilities' ability to electrify the transportation sector, and change everything from thermal to renewable energy, all at the same time, by 2035," Fedorchak said. "It is absolutely not possible under any scenario."
Washington, D.C.
Our View: Kelly Armstrong deserves a third term in the U.S. House of Representatives
Grand Forks Herald
Kelly Armstrong thinks like a North Dakotan, and his first two terms in Congress reaffirm to us that the rising star who emerged from the Legislature is on the right track in Washington, D.C…Armstrong has more on his mind than one issue, and he hasn't done anything to warrant a one-way ticket back to North Dakota. On Nov. 8, we'll vote for Armstrong and we suggest North Dakota voters do the same.
Armstrong visits SW North Dakota oil producers, criticizes Biden energy policies
The Dickinson Press
During a visit to the Western Edge on Thursday, Rep. Kelly Armstrong, R-ND, met with Fitterer Oil executives and other local leaders in the energy industry for a panel discussion on oil production at the Holiday Inn Express in Dickinson. He made a point to thank the oil workers and entrepreneurs who've contributed substantial economic growth to the region over the past several decades. "Western North Dakota went from, when I grew up, not having any jobs and opportunities here to having every kind of opportunity here. It's because a bunch of really hard working guys go to work every single day," he said. "A bunch of companies decided to take a lot of risk and invest a bunch of capital out here. I'm glad they all did and I appreciate them all the time." He contended that the Biden Administration is not doing enough to approve new oil drilling permits in order to meet the high demand of the current market. He said that "when" his party regains control of Congress next month, he hopes to push legislative permitting reform that will place more regulatory authority back in the control of Congress rather than bureaucrats, as intended by the Framers of the Constitution.
Kevin Cramer: North Dakota's UAS ecosystem crucial to keeping up with adversaries
Grand Forks Herald
Ultimately, if we are going to keep up with China, the U.S. will have to build off North Dakota's success story. What we are doing will have a substantial effect on how we keep up with China and the rest of the world when it comes to UAS technology. And, North Dakota is setting the example for how other technologies need to grow.
Senators Hoeven, Cramer highlight UAS advancements, space programs during UAS Summit and Expo
KFYR-TV
North Dakota's interest in unmanned aerial systems has made it a prime location for research and development. This week, Senators Kevin Cramer and John Hoeven spoke on how the UAS industry is growing and its benefits on a national level. During the 16th Annual UAS Summit and Expo in Grand Forks, Cramer explained that North Dakota's UAS ecosystem is helping the United States keep pace with China in terms of development. He also invited SpaceX Senior VP Tim Hughes to discuss the shared interests between the UAS and commercial space industries "The unique UAS ecosystem which has been developed here in northeastern North Dakota, northwestern Minnesota, and Grand Forks specifically, to include the test site at Grand Sky, the University of North Dakota and all the other players need to keep up with that speed. And they have," said Cramer. Hoeven helped unveil a new reusable hypersonic vehicle that will be used for testing hypersonic missiles in Grand Forks. He also explained how Grand Forks Air Force Base will play a role in operating space satellites as well as using UAS for intelligence, surveillance and reconnaissance missions. "When we started the UAS Summit sixteen years ago, innovation meant getting unmanned aircraft into our domestic airspace. Now, we have built partnerships that go well beyond our original vision, reaching all the way to space," said Hoeven. Hoeven added that the University of North Dakota's space studies programs can help meet the demand for qualified engineers and scientists.
UND awarded $2.5 million for veteran pilot training program
Inforum
"We are 18,000 pilots short across the nation. We have an incredible pilot shortage. So, it also helps the traveling public, particularly in rural America, because we need more pilots so we have those flights. You've seen how we have lost flights in rural America," Hoeven said. There are about 100 veteran aviation students at the university right now. The university is hoping to recruit 40 current students into the program and 15 new students.
GOP Sen. Hoeven: OPEC Sees We Have to Replenish SPR and They're Going to Make Biden 'Buy it Back at a Higher Price'
Breitbart
Hoeven later added, "And think about this, the administration, at some point, is going to have to reverse taking a million barrels a day out of the Strategic Petroleum Reserve and start buying it back and putting it in. Now, if you're OPEC, think about what you're doing. You're now — I mean, it's like jiu-jitsu. They're going to make the administration buy it back at a higher price."
Veterans return home
Valley News Live
There were so many people, signs, even North Dakota U.S. Senator John Hoeven was there and shook every the hand of every returning veteran. "When you're here and you see all their friends and family, people from the community coming out and saying thank you for defending our country, boy it hits home," Sen. John Hoeven said. "These guys are the best. We love them." During three days, they made 12 separate stops, drove past the White House and Capital Building several times, dodged rain and brought everyone home safely. Tuesday night was a pretty good way to end a once in a lifetime trip.
A conversation with Kelly Armstrong
KFYR-TV
He says as a lawmaker, he's shown he's got what it takes to represent North Dakota. "It's really important that we have someone who has credibility on both sides of the aisle but actually is willing to dig in and take on complicated subjects that aren't always politically popular," said Armstrong.
Funding awarded to update Trapper Field
The Jamestown Sun
The Department of the Interior awarded almost $149,000 to the Jamestown Parks and Recreation District to update and revise Lawrence "Trapper" Softball Field in Jamestown, according to Sen. Kevin Cramer, R-N.D. The Department of the Interior awarded more than $1.2 million to North Dakota from the Land and Water Conservation Fund. The Ashley Park District was also awarded $71,500 to construct three pickleball courts at Ashley City Park.