Happy Monday!
Dear Fellow Republicans,
We wanted to provide you with a roundup of everything you might have missed from North Dakota's great Republican leaders this past week. Please share with family and friends!
Perrie Schafer, NDGOP Chairman
Photo of the Week
"It was great to be with the Williston Area Chamber of Commerce. The growth of Williston in recent years shows that no matter the challenges a community faces, North Dakota is the perfect place to raise a family and pursue a career." – Congressman Kelly Armstrong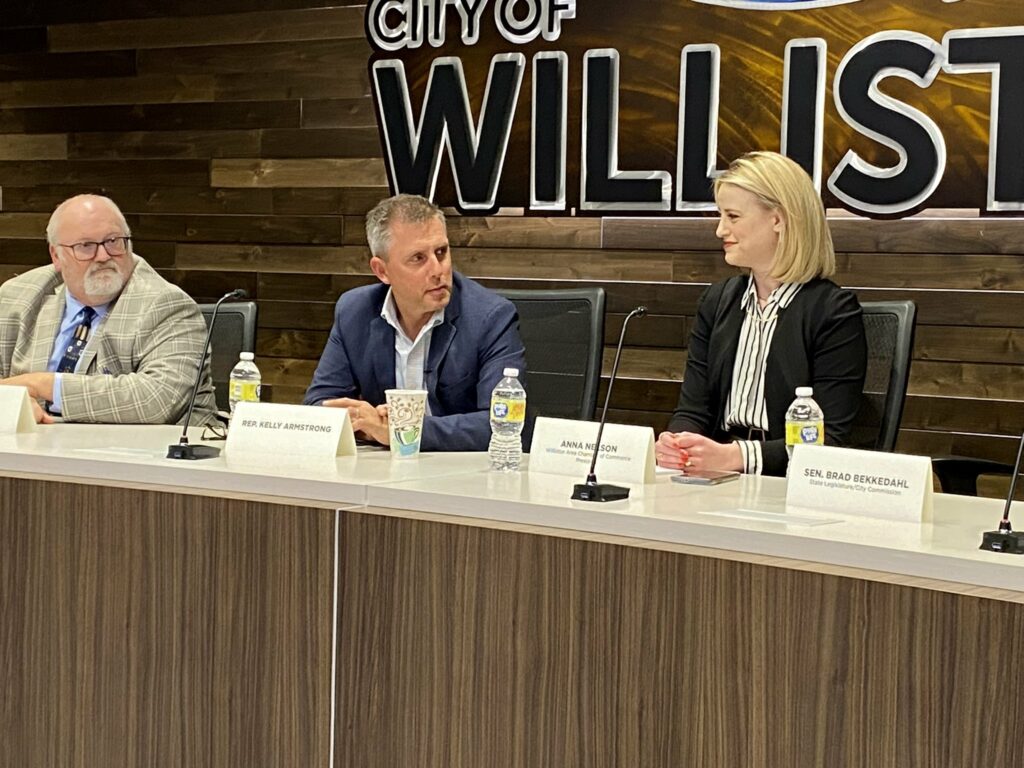 In Memoriam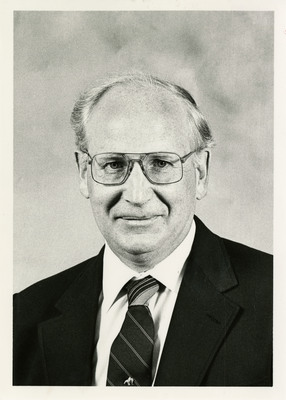 "Earl Strinden's love for North Dakota and UND was legendary, shining through in his dedicated service and exceptional leadership in the Legislature, the UND Alumni Association and the UND Foundation. His efforts to promote our state and support the university he cherished will have lasting benefits for students and citizens alike for generations to come." – Governor Doug Burgum
"A lifelong North Dakotan, Earl Strinden leaves a legacy of service, having dedicated decades of his life to bettering his community, state and nation. From his role as House majority leader to his pivotal contributions to UND, Earl's contributions to the growth and prosperity of Grand Forks and North Dakota will be felt for years to come." – Senator John Hoeven
"Earl Strinden was a North Dakota political legend. He was a born leader who always sought the most pragmatic solution to an issue or problem. He earned the respect of his colleagues with his wry humor, skill at consensus building, and sincere interest in their lives. He influenced the political and public service careers of many people, myself included, and set a very high bar for future generations to follow." – Senator Kevin Cramer

"On behalf of the North Dakota Republican Party, I would like to offer our deepest condolences to the extended Strinden family upon the news of Earl Strinden's passing this week. Earl leaves behind a tremendous legacy of service and integrity, both from his role as UND Alumni CEO and his time spent in the North Dakota House of Representatives. As we reflect on his life, we note with particular pride how he has paved the way for the next generation of North Dakota leaders, including his grandsons State Treasurer Thomas Beadle and NDGOP District 41 and Southeast Regional Chair Jacob Strinden, as well as his daughter-in-law, State Representative Michelle Strinden. May God Bless the entire Strinden family." – NDGOP Chairman Perrie Schafer
RNC
I wanted to give you an update from RNC Chairwoman Ronna McDaniel about the fantastic work she is doing with the Party's Election Integrity Program. See below. – Perrie
The RNC has built a robust Election Integrity Operations infrastructure (EIO) that draws on its legal, political, data, and communications resources. Our efforts will help ensure a free, fair, and honest election before, on, and after election day.
The RNC Political Team has election integrity staff on the ground in 17 states and to date has recruited 27,778 poll workers and 28,671 poll watchers.
The RNC has engaged in 70 lawsuits in 20 states this cycle alone protecting and promoting election integrity, and it continues to engage in new litigation leading up to the election.
The RNC has hired 37 state-based election integrity counsels to monitor issues, gather important information from election officials, develop litigation opportunities, and ensure that state and local officials are following the law.
LEARN MORE: https://www.protectthevote.com/
NDGOP
LISTEN: NDGOP Chairman Perrie Schafer Discusses Opposition to Measures 1 & 2 on Scott Hennen.
---
NDGOP Chairman Perrie Schafer on Measure 2: "As Chairman of the North Dakota Republican Party and as a businessman in North Dakota, as well the surrounding states, I personally oppose Measure 2. Marijuana is a gateway drug. It leads to harder drugs and tells the user intuitively that if marijuana is ok then the "next" drug is ok as well. Further, legalizing marijuana will cost the state – and will not make the state money, as opponents claim – when you consider the resulting social costs. Another point to consider is that this is a huge liability to any business that fields a crew to do work. While the NDGOP has not made a statement officially on Measure 2, I believe that the majority of North Dakota Republicans DO NOT approve of legalizing marijuana."
---
Letters to the Editor In Opposition to Measure 1:
Citizens served by informed lawmakers
Say no to North Dakota term limits
Elected officials oppose term limits
Vote "No" on term limits for legislators
North Dakota
North Dakota won't require coronavirus vaccines for school children, Governor Doug Burgum says
Duluth News Tribune
North Dakota's governor says the state will not require children to get vaccinated against Covid-19. Gov. Doug Burgum, a Republic tweeted on Saturday, Oct. 22, he believes parents and families should decide if their children need the vaccine. "North Dakota's immunization requirements are set by state law, not the CDC," Burgum tweeted, in part. "They do not — and will not — include the COVID-19 vaccine." The tweet was in response to recommendations made Thursday by the Centers for Control and Disease Prevention's Advisory Committee on Immunization Practices, a group of medical and public health experts, to add the coronavirus shot to the vaccine schedule for adults and children.
Battery minerals processing facility planned for central ND
Minot Daily News
"We've worked hard in North Dakota to create a stable tax and regulatory environment that attracts capital and talent, and today's announcement that Talon Metals plans to create 150 jobs and invest more than $400 million in a battery minerals processing facility sends a strong signal that North Dakota is open for business," said Gov. Doug Burgum.
Medicare Part D Enrollment Open, Beware Deceitful Tactics
NewsDakota.com
Medicare Part D enrollment is open through December 7 for those eligible. These plans are purchased through private companies, but each plan has to be approved by the federal government. These plans can cover at least some costs of prescription drugs, but each plan has a set list of drugs they cover. North Dakota Insurance Commissioner Jon Godfread says you should be checking your insurance options on an annual basis.Because there are so many options for Medicare Part D enrollment, Godfread says his department is seeing some deceitful marketing practices from companies such as Medicare Advantage.
Report: ND energy important to attaining U.S. energy independence
KFYR-TV
A North Dakota think tank published a report Monday that outlined the importance of the state's energy sector in the global marketplace. American Experiment North Dakota's paper discusses the importance of producing energy like coal and oil in North Dakota for America to become energy independent again. Public Service Commissioner Julie Fedorchak says a transition to green energy might be coming, but that renewable energy sources simply can't replace baseload power. "Energy policy really needs to be driven by facts, because it's a science and there are certain elements of it that you just can't wish into being. And one of those elements is how the electric grid functions. It is controlled by physics," said Julie Fedorchak.
'A gift to fuel literacy': Rotary Club delivers books to local third graders
The Dickinson Press
State School Superintendent Kirsten Baesler announced that updated school accountability reports, which show performance information about North Dakota's schools, have been published for students, their families, school teachers and administrators, and taxpayers to review. "North Dakotans provide billions of dollars for their local schools, and they deserve information about their investment," Baesler said. "These accountability reports give our citizens and taxpayers an indication of how their schools are doing."
Langdon photographer wins award in North Dakota Governor's Photo Contest
Grand Forks Herald
At Monday's event, Burgum said, "Today, we celebrate these talented photographers who captured the essence of what makes North Dakota a great place to visit, live, work and raise a family. They do a fantastic job of highlighting the wide-open spaces, world-class outdoor adventures, and diverse opportunities available in our communities."
Wrigley, Lamb offer different visions of attorney general's role
Grand Forks Herald
"I think my background and experience brings with it a credibility when I engage in discussions with legislators and, frankly, with the public," Wrigley said. If he's elected one of his top priorities would be leading a statewide "full engagement on violent crime," he said. He'd try to do that by communicating with sheriffs and chiefs of police, legislators and state's attorneys. "I'm going to be an engaged, visible leader on issues involving violent crime in the state of North Dakota," he said.
Wardner honored for community service and legislative support
The Dickinson Press
"It's been a great honor for me to serve this community, and the state of North Dakota. It's been fun working for people like that, because they are true North Dakotans just like you folks who keep working hard to make a difference for everyday people. And that's what tourism people have done in this city," Wardner said.
North Dakota lawmakers eying child care affordability
The Center Square
'"In many cases, parents are having to choose between working and paying for childcare, or not working at all," Burgum said. "Providing better availability to affordable, quality childcare will make it easier for working families – especially young families just beginning their careers – to engage in work and help grow our economy and support local businesses and their communities." The proposal results from 14 months of meetings with child care providers, business leaders, and the Workforce Development Council, said Lt. Gov. Brent Sanford. "To make a meaningful impact for children, working parents and businesses, we need to adopt a comprehensive strategy that includes government and employers partnering with communities to reach solutions," Sanford said.
North Dakota's oil tax will likely be back to 10 percent, effective Nov. 1
Prairie Public
It appears North Dakota's oil tax will go back to 10 percent on November first. The tax went to 11 percent in June, because the price of oil went above a "trigger price" of $94.69 per barrel for three consecutive months – March, April and May. The price was above $100 per barrel. But now, the price has dropped. "Oil is in that $86 to $87 range," said North Dakota Tax Commissioner Brian Kroshus. "Through October, it's averaging close to $87, through the first 19 days." Kroshus said for that trigger to not go off, oil would have to average $107 per barrel for the last days of the month of October. He said while that's unlikely, world events could change that equation. Kroshus said the extra one percent meant $120 million in additional revenue through October.
North Dakota AG Wrigley wants stiffer sentences and more funding in response to rising crime rates
WDAY
"We've put together a budget that we're already talking to legislators about it, letting them know our priorities of combating the absolute, very troubling, emerging but escalating threat of violence in the state of North Dakota. This year crime statistics for last year, violent crime and robbery was up 11 percent in North Dakota. That was on top of an increase the year before," said Wrigley.

North Dakota Agriculture Commissioner Doug Goehring: The state's biggest challenge for AG industry is "keeping a finger on the pulse"
AM 1100 The Flag
"There is a lot to do out there… this is much like farming, if you're bored that means you didn't look out your door," said Goehring, speaking about the campaign so far. Goehring says the federal government has adopted four programs which were pioneered by North Dakota, which he says were developed through a cooperation between the Agriculture industry and the state's Department of Agriculture. He says the programs have genuinely improved the livelihoods in our state and across the nation.
Jim Hill gets new fitness center, along with two others in North Dakota
KX News
Jim Hill Middle School has a brand-new fitness center. The school was one of three North Dakota schools to receive a $100-thousand-dollar state-of-the-art "DON'T QUIT!" fitness center. The "DON'T QUIT!" fitness campaign by the National Foundation for Governors' Fitness Councils helps students get in shape. Governor Doug Burgum even declared October as "DON'T QUIT!" fitness month. The fitness center has cardio, strength training, and more for the students.
Red River Valley farmers harvest as drought hits region
Inforum
North Dakota Agriculture Commissioner Doug Goehring said he has seen drought all across the state, and he hopes spring rains cooperate. "I'm hopeful that we will (see spring rains). You kind of have to take it as it comes. After 30-plus years in the business, you never count your chickens before they hatch, and you never just play the doom and gloom card," Goehring said. Farmers have to be optimistic in their line of work. As the harvest nears its end in the region, the hope is that weather swings from drought to fields healthy enough to kick off a good spring planting season.
2 North Dakota townships violated sunshine laws
The Bismarck Tribune
North Dakota Attorney General Drew Wrigley on Monday issued opinions finding two townships in violation of state open meetings and records law. He found the Butte Township Board of Supervisors in McLean County violated open meetings laws for failing to post notice of three special meetings in May and June 2021. The board must provide copies of the meeting minutes to the requester. Wrigley also found Pelican Township in Ramsey County violated open records law when it erroneously cited litigation in denying a records request. The township must provide the requested records.
'Advocacy into Action' focus of next Recovery Reinvented
Wahpeton Daily News
For nearly a decade, First Lady Burgum has spoken openly about her own addiction story. Recovery Reinvented continued a mission of better communication with people living with, recovering from and advocating for a life beyond addiction. "National and local thought leaders at this year's Recovery Reinvented will bring a wealth of knowledge and innovative ideas for how we can build and support strong communities of recovery," First Lady Burgum said. "This year, like every year, we will continue to lift up courageous, inspiring stories of recovery from those with lived experience that provide the hope that people can and do recover from this disease."
N.D. Commission Approves $4.3 Million in Cost-Share for Water Projects
AM 890 AG News
At the North Dakota State Water Commission (SWC) meeting chaired by Lt. Gov. Brent Sanford Thursday, the SWC approved $4.3 million in cost-share requests. The SWC voted to approve funding for several municipal, regional and rural water supply projects, as well as projects related to flood control and general water…"These projects support the development of critical infrastructure that will help meet the water supply, flood protection and safety needs of North Dakotans across our state," Sanford said. "We appreciate the Water Commission members and Department of Water Resources team for continuing to drive these important infrastructure projects with local and regional partners."…The 10-member SWC consists of Gov. Doug Burgum as chairman, Agriculture Commissioner Doug Goehring and eight members appointed by the governor to serve six-year terms.
Washington, D.C.
Endorsement: John Hoeven has earned a third term in the Senate representing North Dakota
The Jamestown Sun
John Hoeven has racked up an impressive record — including his steadfast efforts to strengthen agriculture and energy — in his two terms representing North Dakota in the Senate. He has earned a third term.
Grand Farm breaks ground near Casselton
Valley News Live
North Dakota Governor Doug Burgum, U.S. Senator John Hoeven, former U.S. Secretary of Agriculture Ed Schafer, and former Governor Jack Dalrymple helped break ground at the site near Casselton on October 19. State leaders are touting the advantages that the new farm will bring to the Midwest in terms of tackling food issues and keeping young, innovative minds in the state. "Every major step in proving the Grand Farm concept and commercializing this technology keeps North Dakota on the cutting edge of autonomous agriculture and increases the potential for this technology to improve productivity for farmers and help address our state's workforce challenge through automation. We're grateful for all of the private and public partners who continue to drive this important initiative," said Senator John Hoeven.
Senators say North Dakota farmer detained in Ukraine is home
AP
A North Dakota farmer who had been detained in Ukraine since November 2021 on accusations he planned to kill his business partner is back home, the state's two U.S. senators announced Friday…Republican U.S. Sens. Kevin Cramer and John Hoeven said they are grateful for Groszhans' safe return home but did not offer further information.
North Dakota Realtors for John Hoeven
Realtors for Hoeven
"John understands the importance of remote online notarization technology to a vibrant housing market. John supports legislation which would set federal standards to ensure appropriate standards and guidelines for this technology. ohn supported the effort to remove burdensome federal regulations on small and medium-sized banks that were hurting banks' ability to make mortgage small businesses loans. His leadership will help get our housing market back on track, once again helping grow small businesses and boost our economy. John supports helping commercial property owners and small businesses utilize important economic tools, like the 1031 like-kind exchange, to foster economic growth and invest in their communities."
WATCH: Sen. Hoeven to Newsmax: Fentanyl Crisis Is America's New War on Drugs
Newsmax
Sen. John Hoeven, R-N.D., believes the fentanyl crisis in America requires a "war on drugs-type" response, in terms of the U.S. government rallying citizens of all ages, ethnicities, incomes, and political backgrounds to combat this "huge problem." "We had more than 78,000 [fentanyl-related] deaths last year, and it was the leading cause of death in America for people, ages 18-45," Hoeven told Newsmax on Thursday evening[.]
Committee on Foreign Investment in the United States will review proposed Fufeng project in Grand Forks
Grand Forks Herald
The Committee on Foreign Investment in the United States this week said it will review a proposed Grand Forks project that some say could be a threat to national security…In September, the city paused all Fufeng-related construction after CFIUS said more information is needed before it can determine whether the Chinese-owned agribusiness poses a risk to national security, especially considering its relative proximity to Grand Forks Air Force Base. That's been a chief concern among many opponents, including U.S. Sen. Kevin Cramer, R-N.D., who spoke about national security implications in a broadcast interview on Wednesday. "Both Senator (John) Hoeven, my North Dakota colleague who's importantly a defense appropriator, and myself — on the Senate Armed Services Committee — we both believe strongly that Grand Forks should reject this opportunity and look somewhere else," Cramer said during the interview with Newsmax. "We're more than happy to help them find a better tenant for that land than Fufeng and the [Chinese Communist Party]." Cramer also talked about the proximity of Fufeng to the base. "We've heard from people within the industry as well as from within the Air Force and other agencies that they are concerned about the proximity of this facility [to Grand Forks Air Force Base]," Cramer said. "But remember, this is a local decision along with the state. I would like to help them find a better partner than the Chinese Communist Party."
LISTEN: North Dakota U.S Senator John Hoeven: "Common sense is what I bring to D.C"
WDAY
John Hoeven is running for re-election to maintain his status as one of North Dakota's U.S Senators. He joined WDAY Midday to share his progress in Washington D.C, what he is looking to bring back to the capitol if re-elected, and what he is looking to do for state residents. "My focus is North Dakota, always has been," said Hoeven, "What's good for North Dakota, both as governor and now in the United States Senate, of course should know what's good for our country." Hoeven says more energy needs to be produced at home, saying "energy security is national security." The U.S Senator says inflation is a large reason why prices at the pump and on the shelves are going up, and ties them to President Joe Biden "handcuffing" domestic energy production. "We need to produce more energy, more oil and gas, at home," said Hoeven, "That's not just an important issue for North Dakota, as a leader in energy, but as a nation."
GOP Sen. Hoeven: I Wanted to Fill SPR When Oil Was Cheap, Biden Can Only Do That if There's a Recession
Breitbart
Hoeven said, "And of course, now he's saying, oh, well, he'll buy it back cheaper. Well, because he won't produce more supply, the only chance he has to buy it back cheaper is if our country goes into a recession. And you've seen economists now talking about, potentially, in the first and second quarter of next year, having negative GDP growth. So, that hurts — so, you not only hurt Americans with inflation, higher gas prices at the pump, higher prices for everything, energy being a big part of it, then you also put the country into recession. That hurts them again. That is not a solution to get lower oil prices or energy prices. The solution is more production here at home."
Altru, Essentia, Spirit Lake Nation and city of Devils Lake commit to health care collaboration
Grand Forks Herald
Logistical discussions about a collaborative future for health care in Devils Lake can now begin after the city of Devils Lake, Altru Health System, Essentia Health and the Spirit Lake Tribe signed a letter of intent to work together and create a new medical campus in the community…In March, U.S. Sens. Kevin Cramer and John Hoeven said they both had been in contact with Johnson regarding health care in Devils Lake. Cramer and a representative from Hoeven's office were at Wednesday's event. Cramer said in his capacity as a senator, his ability to help with local health care issues is limited, but he does have the power to connect people who can have an impact. "The role that I played was more of a facilitator, not as an adviser, not an agent of any type other than to introduce people that I believe can make a difference," he said. "To watch this today is really heartwarming."
WATCH: Sen. Cramer voices concerns over Fufeng plant
KVRR
North Dakota Senator Kevin Cramer voices a big opposition to the Fufeng corn milling plant on the edge of Grand Forks saying the company's leadership is intertwined with the Chinese Communist Party. Cramer also doesn't want to give the Chinese government access to critical American supply chains like agriculture. "If you look at the CEO, the president of Fufeng, is, in fact a very active member of the CCP and he's received high recognition for being a model of the CCP. So, it's not just, you know, one, sort of, fringe element," Cramer said.
WATCH: Biden to announce release of more oil from Strategic Petroleum Reserve just weeks before midterms
Fox Business
US should be using its resources to influence the world: Sen. Kevin Cramer
Armstrong outraising Mund in North Dakota congressional race
AM 1100 The Flag
Republican Congressman Kelly Armstrong is far outraising independent challenger Cara Mund. Recent campaign finance reports show Armstrong raised almost a half-million dollars between July 1st and September 30th, for a total campaign war chest of more than one-point-eight million dollars. Mund has raised her entire campaign nest egg of nearly 78-thousand dollars in the same time period.
Tillis, Hoeven unveil bill to coordinate data for missing persons, unidentified human remains
The Ripon Advance
"This legislation is about ensuring we have a missing persons reporting system that works, so that law enforcement and families can locate and find missing persons," Sen. Hoeven said. "This is a common-sense fix. Updating and streamlining these databases will be a helpful improvement for officers, families and communities searching for their loved ones."