Happy Tuesday!
Dear Fellow Republicans,
We wanted to provide you with a roundup of everything you might have missed from North Dakota's great Republican leaders this past week. Please share with family and friends!
Sandra Sanford, NDGOP Chairwoman
Photo of the Week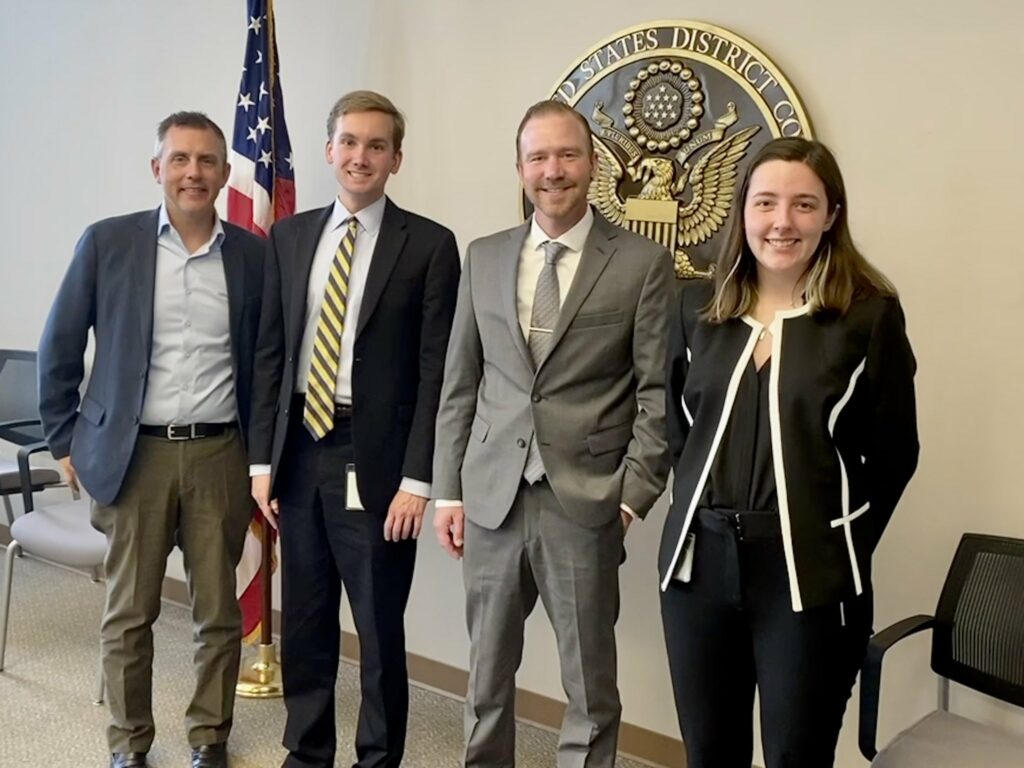 Rep. Armstrong: Grabbed lunch today with three @UNDLawSchool students who are externing with the U.S. District Court of North Dakota in Bismarck for the summer. Good luck and study hard.
---
North Dakota
Burgum names Venhuizen as Northeast Central Judicial District's 6th judge
KFGO
Gov. Doug Burgum has appointed Grand Forks attorney Kristi Venhuizen as the Northeast Central Judicial District's sixth judge…Venhuizen is a Grand Forks native who has practiced law for 25 years and has been the prosecutor for the City of Grand Forks since 1999.
Project Safe Send dates scheduled in Carrington, Napoleon
The Jamestown Sun
Agriculture Commissioner Doug Goehring says farmers, ranchers, pesticide dealers and applicators, government agencies, homeowners and members of the general public should bring unusable pesticides to any of the 12 Project Safe Send collections in July.
North Dakota Indian Education Summit held in Bismarck
Prairie Public
State school superintendent Kirsten Baesler said the idea for the Summit came after she first looked at the state's high school graduation rates. She said while the overall rate was at 90 percent, for Native American students, it was 50 percent or less.
ND spring flooding declared major disaster
Wahpeton Daily News
The spring flooding, according to Burgum's office, is estimated to have caused more than $5 million in damage to North Dakota roads and other public infrastructure. Burgum, R-N.D., announced the presidential approval on Wednesday, July 5.
AG's office reaches settlement with gaming distributing companies
KFYR-TV
Back in April, Wrigley filed an administrative complaint against the three companies saying they facilitated excessive rent payments for the gambling equipment and attempted to use The Wall of Honor nonprofit to improperly acquire charitable gaming sites.
ND Fire Marshal's office moves back under State Insurance Commissioner
KFGO
"In the insurance industry and insurance department, we're primarily focused on risk mitigation – how do we reduce any risk that we can see? So, there's some natural ties there," Godfread said.
Grant program aims to help tourism in North Dakota
KX News
Governor Doug Burgum and the 68th Legislative Assembly have approved $25 million of funding for the Destination Development Grant Program. The program will fund multiple projects throughout ND, all with the purpose of developing and expanding the tourism experience throughout the state, attracting more visitors, and keeping North Dakotans in-state for their trips.
Washington, D.C.
Cramer announces mobile office hours in Fessenden
The Jamestown Sun
U.S. Sen. Kevin Cramer, R-N.D., has announced mobile office hours for Fessenden on Tuesday, July 18.
Republican lawmakers push back on Secret Service claim it cannot find out who owned cocaine
The Washington Examiner
"White House cocaine culprit unlikely to be found, as long as White House officials don't want them found," Cramer tweeted on Thursday night.
North Dakota's Delegation Responds To Bidens Disaster Declaration
KEYZ AM
U.S. Senators Kevin Cramer and John Hoeven and Congressman Kelly Armstrong issued the following statement after President Biden approved a major disaster declaration for spring flooding from April 10 to May 6, 2023… "This disaster declaration is an important step in supporting the state's recovery as our communities work to repair the damage to roadways and other infrastructure, while also helping to mitigate the impacts of future disasters."
Grant advances ND coal ash recycling
Minot Daily News
"North Dakota is a leader in harnessing its abundant lignite energy reserves, providing an important energy source for our state and nation," Hoeven said. "This grant will help our state in efforts to better manage and recycle coal byproducts."
ND gets $130M, MT $628M in federal grants to improve rural internet availability
KFYR-TV
"These funds present a new opportunity to provide a high level of access and opportunity to several of our more rural areas," said North Dakota Senator Kevin Cramer.