Happy Monday!
Dear Fellow Republicans,
We wanted to provide you with a roundup of everything you might have missed from North Dakota's great Republican leaders this past week. Please share with family and friends!
Sandra Sanford, NDGOP Chairwoman
Photo of the Week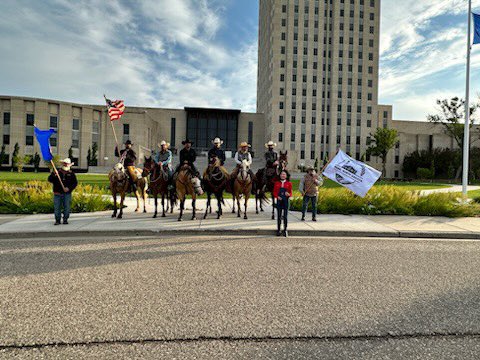 Lt. Gov. Tammy Miller: Fun morning with the Wishek Pony Express! The Pony Express is delivering a congratulatory letter for the Wishek QuasiCentennial from the Capitol back to Wishek by horseback, a 25 year tradition.
---
RNC
Check out the RNC's new website: FactCheckBiden.com
NDGOP
Local GOP optimistic about state party changes
Minot Daily News
"I have talked to the district chairs on several occasions. They have been open about the improvements they'd like to see. I look forward to supporting these efforts by offering the resources, tools and training needed to continue to win Republican offices," Sanford said in a prepared statement. Also newly elected to the executive committee were John Trandem, Fargo, as first vice chair, Jennifer Benson, Fargo, as second vice chair, Stephen Hillerud, Bismarck, as treasurer and Andrew Bornemann, Kintyre, as secretary.
North Dakota
Industrial Commission approves OHF, renewable energy grants in North Dakota
Grand Forks Herald
The North Dakota Industrial Commission recently approved $6.3 million in Outdoor Heritage Fund and Renewable Energy Program matching grants. Both programs are funded solely by oil and gas production tax revenue. The state Industrial Commission consists of Gov. Doug Burgum, Attorney General Drew Wrigley and Agriculture Commissioner Doug Goehring. The Outdoor Heritage Fund was established in 2013 to provide grants for projects that enhance outdoor conservation practices in the state. The Renewable Energy Program was established in 2007 to promote research and utilization of North Dakota's renewable energy resources, including advanced biofuels.
Portal gets a new natural gas provider
Prairie Public
"Sask Energy informed the city that it would require additional insurance in order to renew that agreement," said North Dakota Public Service Commissioner Julie Fedorchak. "The city determined that the cost of the additional insurance was not affordable." Fedorchak said that's when Portal Mayor Lisa Smith approached MDU. "They reached an agreement to construct a new system," Fedorchak said. She said the city approved a franchise agreement for MDU – and the utility will own the new distribution system. Fedorchak also said the city will be receiving a Community Development Block Grant from the state of North Dakota, to help cover some of the costs. "MDU's proposed rates represent a reduction in natural gas costs for the customers," Fedorchak said.
ND taxable S & P's show healthy gains
Knox Radio
North Dakota's taxable sales and purchases for the first quarter of 2023 are up 21.4% compared to the same timeframe in 2022. Taxable sales and purchases for January, February and March of 2023 were $5.7 billion. Fourteen out of 15 major industry sectors report taxable sales and purchases increases when compared to the first quarter of 2022. Most notably, the mining and oil extraction sector increased by $258 million (a 58.8% increase) and the wholesale trade sector increased by $429 million (a 40.8% increase). Tax Commissioner Brian Kroshus says "We experienced significant year-over-year growth throughout 2022 in taxable sales and purchases. That same growth is continuing into 2023, reflecting our strong state economy."
Insurance Awareness Day in North Dakota
KX News
In order to show the importance of insurance for North Dakota families and communities, Governor Doug Burgum proclaimed Wednesday Insurance Awareness Day here in North Dakota. Insurance Commissioner Jon Godfread says that even though insurance may not be fun or interesting to think about, it is something that should be discussed because it can save you and your family from experiencing many future headaches down the road.
Project Tundra enters final development stage, announces new partners
The Bismarck Tribune
The Project Tundra carbon capture project in western North Dakota is moving into the final development stage with the addition of new partners, Minnkota Power Cooperative announced Wednesday…"Bringing together the considerable expertise and resources of these industry leaders is a huge momentum boost for the project and bodes well for its future," Gov. Doug Burgum said in a statement.
Fundraising campaign kicks off for North Dakota military museum
The Dickinson Press
As a member of the Joint Military Museum Advisory Committee, Miller said this project has been a priority for Gov. Doug Burgum and the funding was included in his executive budget recommendation in December. "Our administration is committed to finding additional ways to support veterans, active duty, and National Guard and Reserve members to make us the most military-friendly state in the country. That begins with a deep appreciation for those North Dakotans who have served our nation with honor, courage and conviction," Miller said.
PSC rail inspection program renewed without much debate
Prairie Public
Commissioner Julie Fedorchak said funding for the program was debated in several sessions. But in the recently completed session, the controversy went away – and Fedorchak said legislators now understand the program's value. "We are an energy and agriculture state," Fedorchak said. "Both industries are very dependent on railroads, for shipments of products into the state, and other products out." Fedorchak said investing in the safety of the system helps keep the system efficient. "It also helps reduce problems for trains that go through the middle of most North Dakota communities," Fedorchak said.
Washington, D.C.
Hoeven leads meeting to address Lake Ilo Dam issues and presses for solutions
The Dickinson Press
Senator John Hoeven, U.S. Fish and Wildlife Service representatives, Dunn County Commissioners, state legislators and ranchers met to discuss ongoing challenges being faced at the Lake Ilo dam including issues involving seepage and its effects on area stakeholders on Thursday, June 29…"Safety of the dam is a vital concern, but the draining of the lake has had real effects on landowners, resulting in a lack of water upstream and flooding downstream, while harming the lake's fish population and limiting opportunities for sportsmen," said Hoeven. Hoeven calls on USFWS to improve its collaboration with area landowners and commits to continuing to press the agency to ensure that repairs are made promptly. "The Fish and Wildlife Service needs to enhance its collaboration with neighboring private landowners who are impacted by the water management decisions at Lake Ilo. At the same time, we will continue pressing the agency to expedite the repairs so the lake can be safely brought back to normal levels and re-stocked as quickly as possible," Hoeven said.
USDA awards grants to expand North Dakota's meat processing capacity
Valley News Live
The United States Department of Agriculture (USDA) awarded a combined total of $25,834,000 through the Meat and Poultry Intermediary Lending Program which provides grant funding to intermediary lenders who finance or plan to finance the start-up, development, operations, and processing of meat and poultry. U.S. Senator Kevin Cramer said the funding is distributed as follows: $15,000,000 to the Oyate Community Development Corporation; $10,000,000 to the Rural Development Finance Corporation; $834,000 to the Farmers Union Foundation.
Farm Rescue celebrates 1,000 farm assistance cases
Valley News Live
"Farm Rescue has helped farm families to keep their operations going when faced with overwhelming challenges from illness and injury to natural disaster. This organization embodies the spirit of community and lifts the burden on farm families when they are in most need," said Sen. John Hoeven. "We congratulate Farm Rescue and its volunteers on this tremendous milestone and join the 1,000 families they've assisted in thanking them for their service in our farm communities."
Biden Admin Launches $7 Billion Residential Solar Grant Scheme
The Epoch Times
At a recent Hudson Institute forum on energy policy, Rep. Kelly Armstrong (R-N.D.) argued that the United States is "weakening ourselves" with radical climate policies. Armstrong said such policies could draw out already lengthy government approval processes for new fossil fuel infrastructure construction. He expressed skepticism with regard to the feasibility of transitioning away from traditional energy sources, while arguing that environmentalists' goal of "outsourcing their guilt" over carbon emissions to other countries only hurts the environment and America's national security. "We have to have permitting reform, regardless of what kind of infrastructure you want to put in the ground," Armstrong said, referring to infrastructure like oil refineries and pipelines.
Hoeven, Peterson, and NDSU Leaders discuss establishing an Agricultural Research Center at NDSU
KVRR
"NDSU would be a part of that working with other universities, that we are not only driving Ag research forward, but that we are getting the right form of farm policy that benefits our farmers and ranchers, benefits our country, and really what is most cost effective, in terms of the taxpayer as well." says Sen. John Hoeven, R, North Dakota.
United Way hosts Rep. Kelly Armstrong
KFYR-TV
The United Way opened an upgraded homeless shelter in April. Armstrong took a tour of the new facility and spoke to staff members about the challenges they face. He said, although the problem of homelessness uncomfortable, it's important to talk about. "If you don't have a place where somebody can come, I mean, you know, they've got rooms for families, rooms for men, rooms for women. But, regardless of how anybody ended up in that situation, I don't think anybody wants to see a ten-year-old not have a place to put her head down at night. And that doesn't happen without an organization like the United Way," said Armstrong.
Office of Sen. Cramer announces Project Tundra's final development stage
The Dickinson Press
"Today's announcement from Minnkota on Project Tundra is another exciting step toward scaling up carbon capture in North Dakota," Cramer said. "Congratulations to Minnkota, TC Energy, Mitsubishi, Kiewit, and its affiliate team on their partnership and moving to the final stage of development. I look forward to North Dakota's historic and continued leadership in CCUS technology."
CRAMER: U.S. needs a thorough plan to address China's economic aggression
The Jamestown Sun
The United States should be clear-eyed about our past folly and the mistakes made regarding the Chinese Communist Party. It's time we pursue a wide-ranging U.S. manufacturing overhaul, leveraging an America First trade agenda to create a competitive advantage for U.S. industry and return manufacturing jobs to our shores. When we enhance our economic security and detangle ourselves from China's control of supply chains, America will send a strong message to Xi Jinping's dictatorship that we now understand the CCP's game.
Cramer, Hoeven among Real Emergencies Act sponsors
Wahpeton Daily News
Both of North Dakota's U.S. senators are among the 10 Republicans sponsoring a bill that would prevent climate change from being declared a national emergency. The Real Emergencies Act, introduced by Sen. Shelley Moore Capito, R-W. Va., was reintroduced Monday, June 26 by senators including Kevin Cramer and John Hoeven, both R-N.D., John Barrasso and Cynthia Lummis, both R-Wyo., and one Republican senator each from the states of Alaska, Arkansas, Kansas, Mississippi, Nebraska and West Virginia. A companion bill was introduced in the House of Representatives by Rep. August Pfluger, R-Texas.
DOT awards over $18 million to Standing Rock Sioux Tribe
Williston Herald
U.S. Senator Kevin Cramer (R-ND), Ranking Member of the Senate Environment and Public Works (EPW) Subcommittee on Transportation and Infrastructure, announced the U.S. Department of Transportation (DOT) awarded $18,572,895 to the Standing Rock Sioux Tribe…"RAISE grants are a powerful boost to local infrastructure projects, and the Highway 6 project on Standing Rock is a great example," said Senator Cramer. "It's always a good day when IIJA dollars improve the lives of North Dakotans, and this grant will ensure needed repairs and resurfacing are possible. High quality, functional roadways are essential to improve safety and provide better access to emergency services for the citizens of our rural reservations."
Senators demand EPA withdraw rule regulation
Williston Herald
North Dakota Senator John Hoeven and Montana Senator Steve Daines sent a strongly-worded letter to the Environmental Protection Agency this week, demanding the EPA withdraw its proposed rule on Mercury and Air Toxic Standards (MATS). "EPA's proposed rule will threaten grid reliability and drive up electricity costs by replacing the existing cost-effective standards on coal-fired power plants, and we request that the proposed rule be withdrawn," wrote the senators.